You know what time it is when you see wine shades.
It's fall, and wine/burgundy shades are in trend again! Etude House recently released an eyeshadow palette that satisfies that need for even more wine coloured eye shadows.
They're currently having an 30% off online promotion (from 16 August to 31 August). Instead of the usual price of US$26.40, you can get it for US$19.80 now!
Click here
to get it from their online store! I am aware I should have posted this 10 days ago.. Anyway, let's take a look at the palette.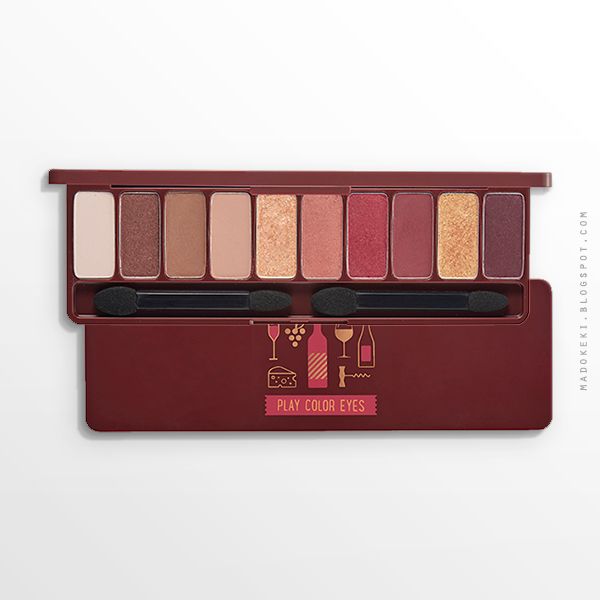 The palette consist of 10 shades
:
4 existing shades from their Look At My Eyes series, and 6 brand new shades. There is a good mix of matte, satin, and shimmer.
At a glance, you can see this palette is reddish toned (Duh! It's called Wine Party for a reason!). The browns also have a slight reddish hue to it, as opposed to a more yellowish brown. In between we have 3 reddish shades. At the bottom we have a purple shade. In the midst of the darker shades we have 2 golden sparkly shades.
Here they are swatched on the eye individually.
I put together the swatches and the palette into one single image. Perhaps this is easier to compare the shades' intensity as compared to what you see in the palette.
Etude House's formula has always been smooth (based on my limited experience with a few of their
Look At My Eyes single eye shadows
), but you can see from this official swatch that they tend to be on the sheerer side. The colour looks even, so that's a plus. I actually quite like that they apply sheer, because it makes it easier to create the soft edges that should blend seamlessly into the rest of your skin.
If you want really intense colour out of this palette, you could either use a eye primer before hand, or try using a damp brush so it picks up more pigments? Layering should help too!
I notice that the shimmer in the "not-matte" shades are rather refined. Instead of having chunky glitter or a strong frosty sheen (which sometimes looks metallic), it looks as if it's a very thin veil of golden silk - spun by the mythical gold silkworm - layered over the colours. Some people like it subtle, and maybe I'm one of them! This is the kind of shimmer that gives off a faux glossy effect, without having to smear clear lip gloss over your eyes for that wet look. It also adds a lot of dimension naturally, accentuating the natural contours of your eyes (as opposed to using a matte white shade to make certain parts of your eyes stand out).
Ending Note
This looks like a pretty great palette. If I can wear makeup right now, and if I don't already have so many eyeshadow palettes, I might get my hands on this. I don't know what's up with me, suddenly I'm really into the subtle sparkles.
Given that it's currently on offer till 31st August, it's quite a
good deal at US$19.80
.
Image credits: Etude House