got my hands on the Dr Jart BB cream finally!
so i read lots of raves about it, and my cousin who use it also recommends this one to me,
and the colour tone is a perfect match for my cousin (so i assumed it'll be the same for me),
so i asked my friend to get this for me.
before i go into the swatch and the before&after photos,
let me take some time to go a lil' bit into the product information (stuffs i failed to do for my video).
i'm taking this whole chunk directly off the box of the bb cream.
Dr. Jart
Detox healing Blemish Base

SPF 25/PA++
whitening & anti-wrinkle

this unique triple action formula containing innovative active ingredients aims at naturally covering skin blemishes, protecting skin from UV ray and activating skin rejuvenation. it also smoothes wrinkles and fine lines while providing nourishment to the skin.
so the main feature of this bb cream is to achieve the above 3 points.
and if you all know, dr jart actually has another bb cream in the same line (the silver label),
i believe the only difference is that.. the black label is more suitable for people with dry/combination skin, whereas the silver label is more suitable for people with oily skin.
i definitely belong to the dry/combi group,
and i take lots of efforts to keep my skin supple.
and for those of you who can understand what the ingredients means, this is for y'all.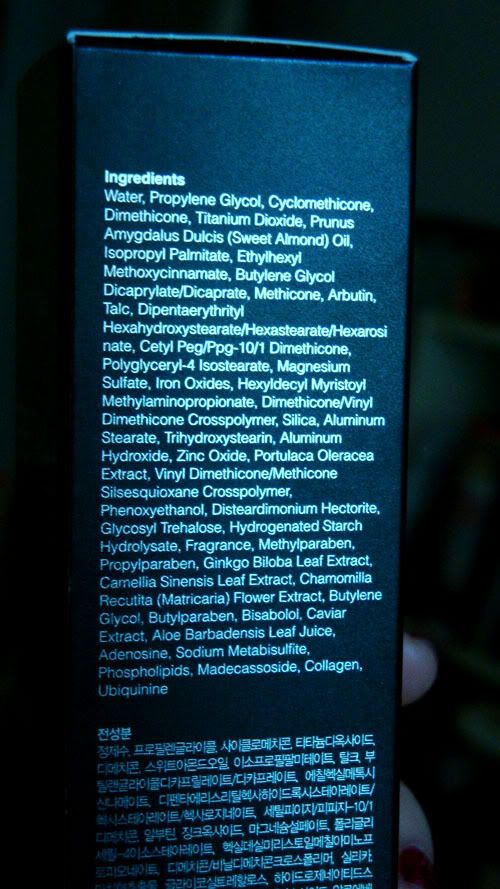 sadly for me, i don't know what these ingredients mean to me. but nevertheless, there's something called google.
adapted from
Dr. Jart's official website
:
Arbutin:

It is a whitening agent which disrupts the process of forming black pigment, an improvement from Hydroquinone, It can prevent the activation of tyrosinase, cutting the activity of enzyme, which suppress the production of black pigment and leads to whitening effect. Arbutin is also more stable than tyrosinase.
Adenosine:
The batteries of the cells, providing energy.



Caviar extract:
Strengthens skin elasticity, smoothens wrinkles. Protects skin from damages of free radicals, also improve natural defences.



Ginkgo extract:
Help to resist the damages from free radicals, improve moisturizing of skins, and to relief sensitive skin, with anti-inflammation, anti-sepsis and calming effect.



Collagen:
Highly effective moisturizing ingredient, it helps vitalizing skin and skin regeneration. It is the main bonding material in connective tissue, has a high molecular weight, better moisturizing than polylol. Its main purpose is to support cells, especially suitable to apply onto skin after exfoliating, when skin is at a weaker stage which needs extra caring.



Camellia extract:
For moisturizing purpose.



Chamomilla extract:
Anti-inflammation, itching relieving, sterilization and to ease allergy conditions. Widely used in astringent, cream, mask and hair conditioner, also used as a perfume-free aromatic substance. It can prevent killo, black spots, and to reduce the damage from ineffective skin barrier.



Bisabolol:
An aromatic substance. Calms and relieve, helps wound healing. It has the effect of anti-sepsis, anti-inflammation and to improve allergic conditions.



Aloe Barbadensis Juice:
Effectively relief skin irritation, suppress growth of bacteria, prevent wound inflammation, speed up wound healing and skin repair, it is one of the anti-allergy ingredients.



Dimethicone:
Does not cause any pore blocking, it is a very mild moisturizing, softening, protecting agent. Has the ability to instantly vaporize and leaving a thin layer onto skin, which makes the skin has a much softer sensation, and helps makeup to create a better texture. It is also suitable for sensitive skin.



Zinc Oxide:
It is a sun-screening agent of physical powder, absorber of UV, using the method of reflection to resist UVA and UVB. It can block out almost all the wave lengths of UVA and UVB. It is a type of hexagonal crystal, non-dissolvable in water, but dissolvable in acid material. It absorbs oil, with the characteristic of astringency. It also has the effect of anti-inflammation, anti-sepsis, with medium covering ability.
so if i were to digest all these information, dr jart's bb cream seems like a skin care product that not only covers up your blemishes but also aids in improving your overall complexion/condition!
as far as i'm concerned, this product does not irritate my skin.
for all of you who doesn't know, i actually have eczema. (nasty!)
that means i have dry skin and pretty sensitive ones too.
akin to pimple outbreaks, whenever i'm under heavy stress/didn't sleep well/unhealthy, my skin suffer outbreaks.
luckily for me, i'm not sensitive to this product, so i can continue to slather this onto my face.
details aside, i'll let the pictures do the talking now.
i tried to swatch the bb cream so that you all can see the colour of it.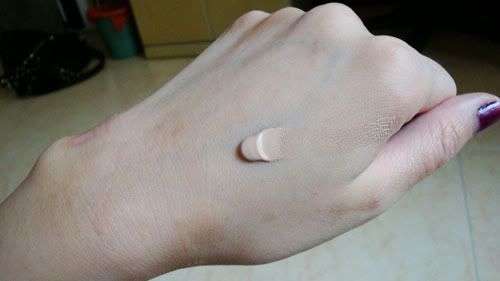 under day light.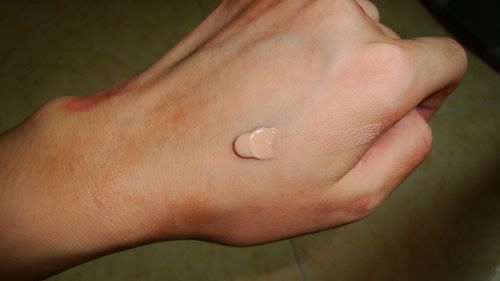 under the camera flash.
when i first squeeze it out of the bottle, the colour seems to be a little darker than my skin.
however, once i spread it onto my face it thins out and blends perfectly with my natural skin tone,
and brightening it up a lil' in the process.
(super love it!)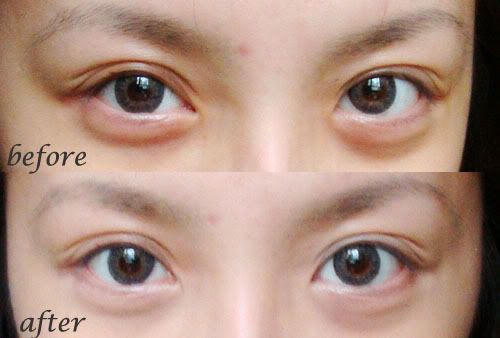 this is how well it covers.
i have very bad dark circles under my eyes, and to top that all off, i have some eye bags as well.
i don't really mind my eye bags but i mind VERY MUCH about the dark circles because they make me look very tired.
if i remember, i applied one thin layer over the lil' red spot near my brow, and 2+ layers underneath my eyes.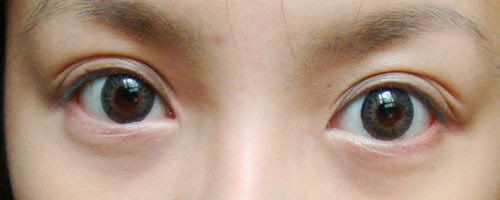 tried to find a photo of me not squinting my eyes so it sort of "eliminates" the eye bags.
wanted to show you all the covering ability of this bb cream.
as you can see it does a pretty good job brightening up my face.
i don't apply the cream to my whole face in fact,
mostly to my t-zone (to high light it! HAHA who says i can't use this as an high lighter? and to also cover a few spots that results from my itchy hands trying to squeeze something out of nothing) and under my eyes and around my nose wing.
i also apply a little to my cheeks as a base because i'll be applying my blusher later.
i really like this bb cream alot just because of it's higher converage and it's said benefits.
as i do not have super bad skin to start with i don't really know if my skin benefited from continual usage of this bb cream,
therefore all i can say about this bb cream (for now) is that it lived it name for covering skin blemishes (despite the need for a concealer for my panda eyes T.T).
i got my bb cream off yahoo auction, if you're interested, you can take a look
here
!
it's the cheapest (only HKD$110!) i can find around all the other sellers, and they do sell authentic goods (do you trust me?).
so this marks the end of my first detailed product review.
i think i'll catch up with the contact lens reviews later on. : )
PEACE!
and may all the ladies out there continue to be vain.