Spanking New ETUDE HOUSE Dreaming Swan Collection
etude house has partnered up with australian illustrator, kerrie hess, for this limited edition "dreaming swan" collection. the theme is pink and ballet, so feminine, princess-y and sweet! i figured those are the words that i'll use to describe the over all brand image of etude house.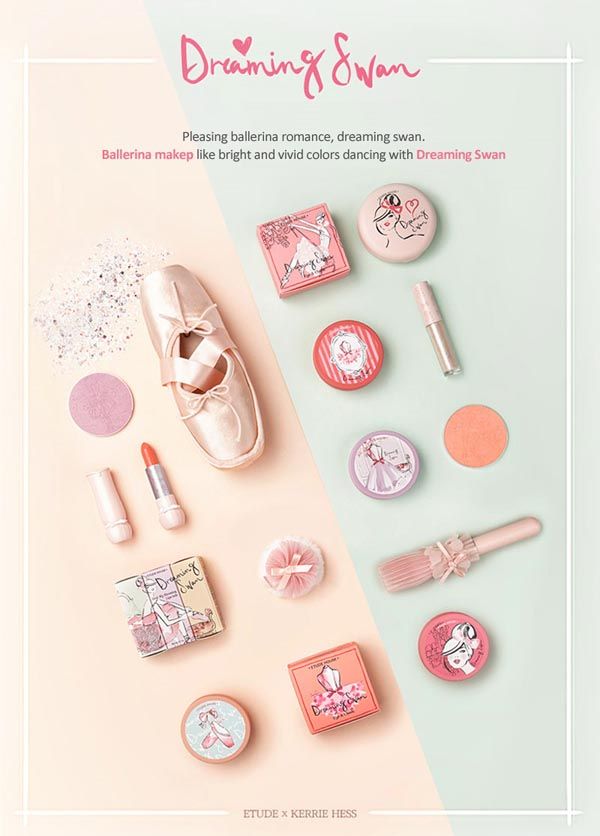 there are 9 items in this limited release, of which 6 are cosmetics while 3 are tools (or some sort, you'll see later).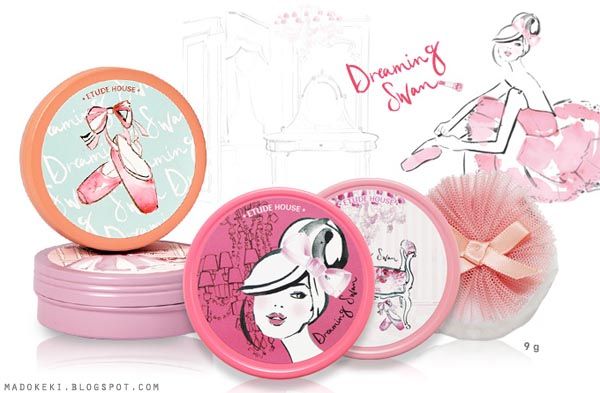 as the name suggest, the product can be used as a blusher and as an eyeshadow. it claims to be able to blur and cover up pores for smooth cheeks (and eyes) with its silky primer powder.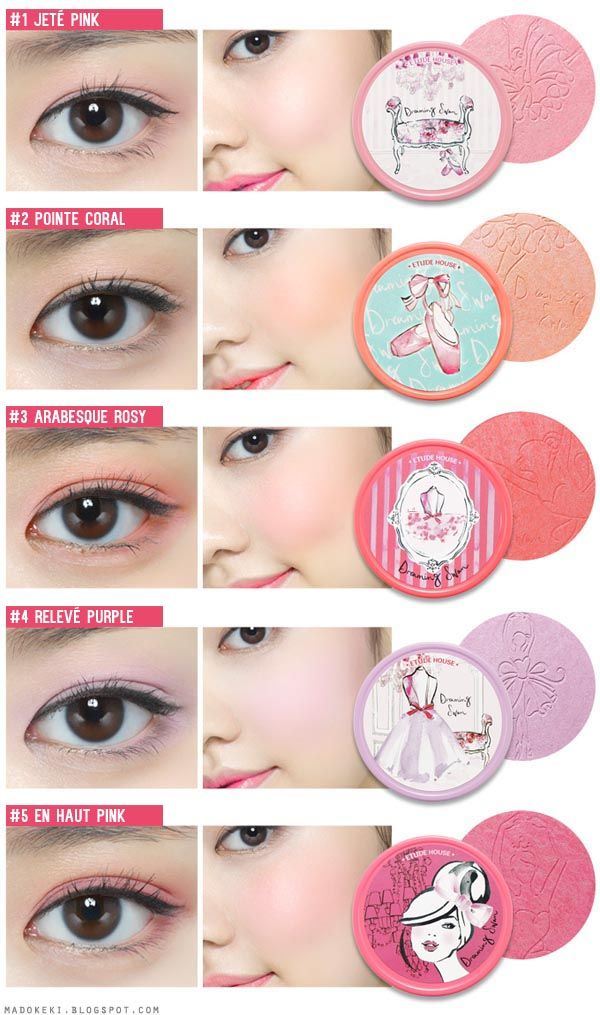 comes in 5 colour variation - pinks, coral, and lavender. lavender??? that's something new!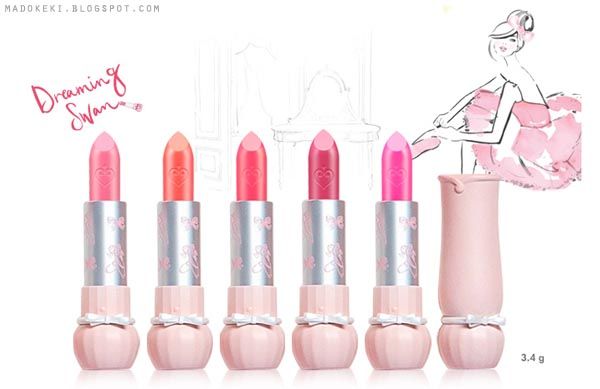 said to be a chiffon lipstick with a silky texture that glides lightly onto lips with a smooth and powdery finish (i think they mean the lipstick has a matte/velvet finish), the dear my blooming lips talk lipstick comes in 5 colour variation for this collection - mostly pastel shades for spring!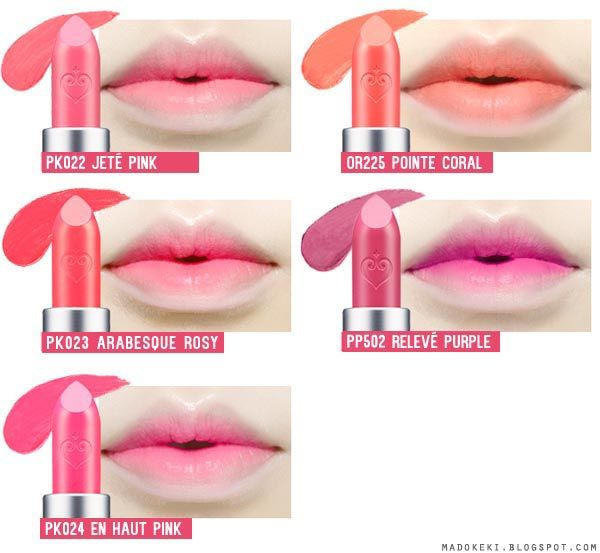 the naming of the colours are the same as the blush! in fact, it mirrors the shades of the blush too, with a good mix of pinks, coral and purple. i'm really attracted to PK023 and OR225!!!
muse from
musings of a muse
did a swatch of OR225 and it didn't look as impressive as the official swatches. kind of disappointed :(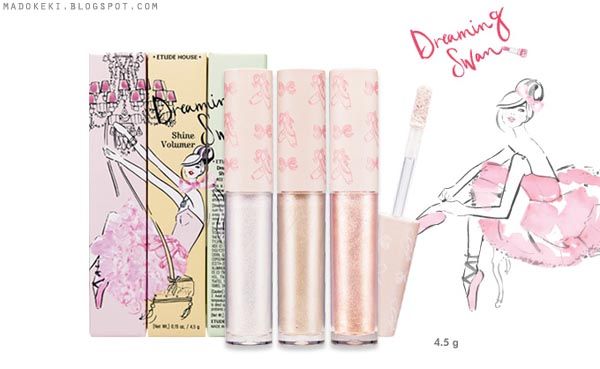 a pearly cream shadow that can be used anywhere - on the eyes, on the cheeks or nose bridge for highlighting, even on the collar bone if you want to show them off this spring.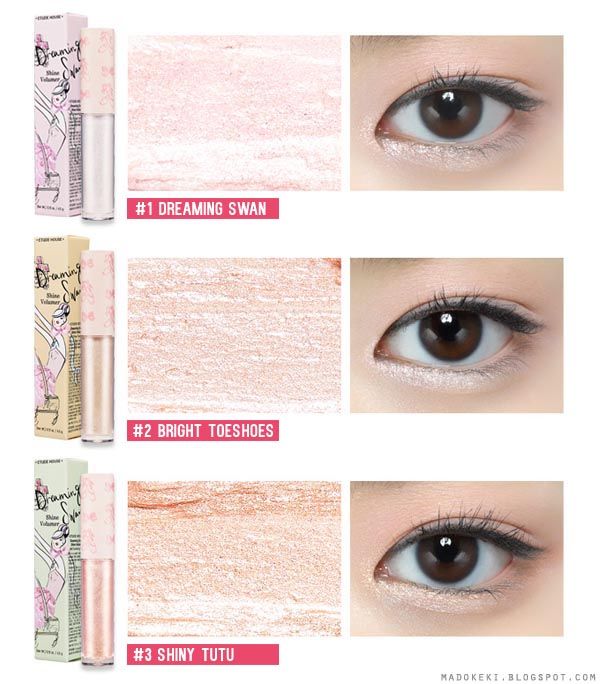 available in three shades, #1 is a pearly silver (looks a little pinkish in the swatch though), #2 a pearly champagne, #3 a pearly gold.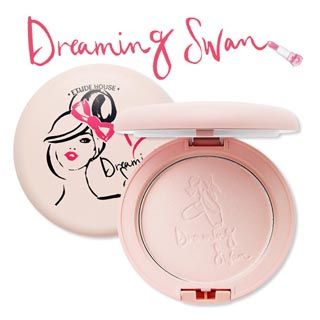 i'm guessing this is the powder equivalent of a CC cream - brightens your complexion with minimal coverage. it contains transparent light reflecting particles to create glowy skin, while the peachy tones erase any signs of dullness on your skin. also formulated with pore covering powder to create baby smooth skin. last but not least, it'll keep your oils at bay with its sebum absorbing powder.
only available in one shade. i think you can be creative with this powder, using it either as a primer powder before layering powder foundation, or use it as a finishing powder. the "light reflecting" property entices me, looking forward to swatching it in real life! you know i'm after a glowy powder!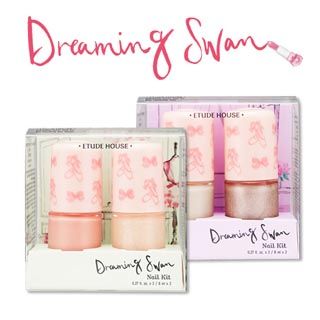 get ballerina inspired nails with the nail kit - consist of 2 nail polish and nail stickers.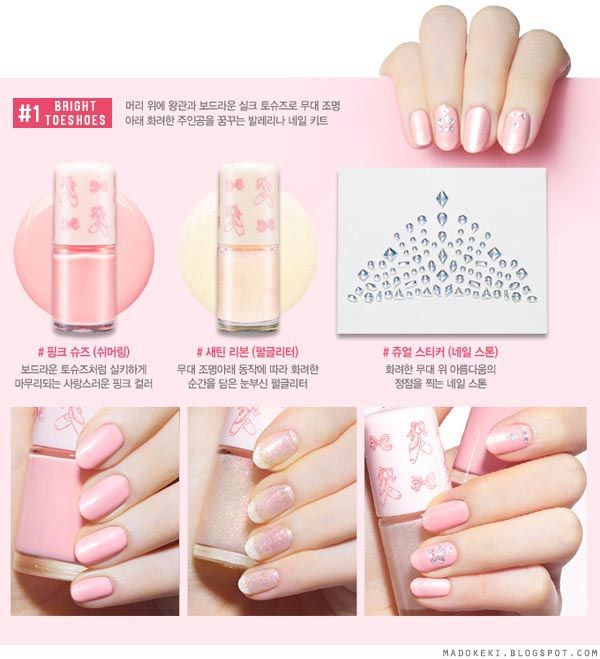 #01 Bright Toe shoes
A nail kit for the dream of becoming a ballerina with a tiara on the head and soft silk toe shoes under the stage light.

- Pink Shoes (Shimmering): Lovely pink color nail polish with silky texture like soft toe shoes.
- Satin Ribbon (Pearl Glitter): Pearl glitter nail polish that catches a shiny moment under the stage light.
- Jewel Sticker (Nail Stone): Nail stones to highlight the beauty of the stage.
(from the official website)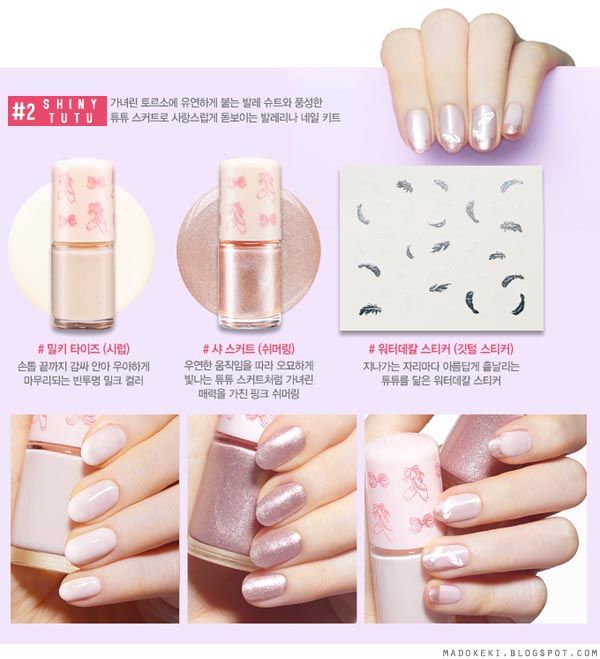 #02 Shiny Tutu
A nail kit for the scene of a lovely outstanding ballerina under ballet suit and tutu skirts.

- Milky Ties (Syrup): Translucent milky color nail polish that covers the edge of nails perfectly.
- Tutu Skirt (Shimmering): Pink shimmering nail polish that makes subtle shiny tutu skirts look.
- Water-Décor Sticker (Feather sticker): Fluttering feather-look water-décor sticker.
(from official website)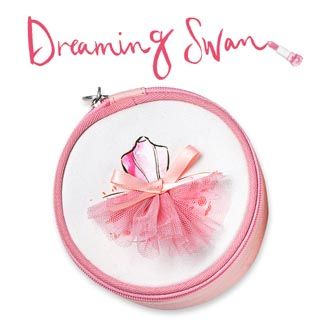 a cute little makeup pouch that stores your cosmetics neatly with its two level design (removable tray inside!). it may look small, but it's quite deep!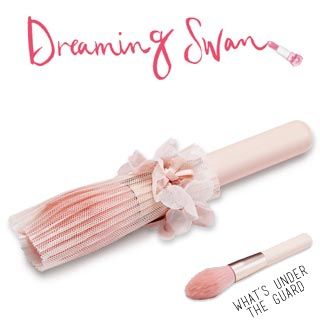 DREAMING SWAN VEILING PACT BRUSH
| USD$10
a bullet brush made with soft bristles, meant to kiss every corner of your face. judging by the length of the bristles, this brush must be really soft, i think it picks up very little product, making it perfect for setting your makeup. the cutest thing is probably the "brush tutu", aka the brush guard!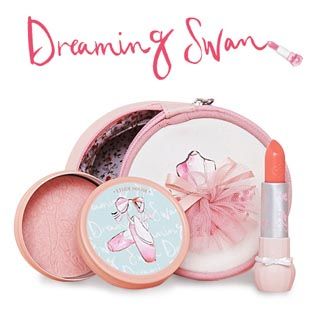 if you'll like the pouch, lipstick and blusher, they come in a extra value set (worth $29.5!). however, they only come in one colour selection - pointe coral.
Dreaming Swan Eye and Cheek #02 pointe coral
Dear My Blooming Lips-Talk #02 pointe coral
Dreaming Swan Mini Pouch
(from official website)
etude house is probably the queen of cute packaging! this collection is almost as pretty as the etoinette collection from a few years back, but this has a whimsical feel to it, on top of the princess-ness.
the blush and lipstick are beautiful, and it's quite rare to see a lavender blush! and who doesn't love multi-functional products? i'm kind of drawn to en haut pink and arabesque rosy, both of them are more saturated compared to the rest. and those lipsticks.. i really need to get my hands on an etude house lipstick soon.
in case you don't already know, the etude house online store charges the same price as the actual korean price, so it's a lot cheaper to get it online than the store (in singapore especially).
QUESTION
what would you like to try?
image credit: etude house official website