Maybelline ColorSensational SoNude - Rosy Rebel
a light pastel shade that covered my lips in just one swipe! this would be my favourite if they change one thing..
nude lips really hit me hard for a while after my radar picked them up from american makeup looks. while i love bold and vivid colours on my lips, i also see the beauty in soft nudes.
the maybelline colorsensational so nude collection is a set of milky nude colours. as they are mostly pastel shades, they work best on fair skin. if you're familar with maybelline products, the colorsensational line promises vivid colour payoff, and so far, that's true.
i'm not sure if this product line is still available in singapore. i can't seem to find it on their official website anymore. they are available in japan, but under a different name "
water shiny milky so nude
"
"brighten up pigments and smoothing essence" printed on the plastic sleeve that wraps the lipstick.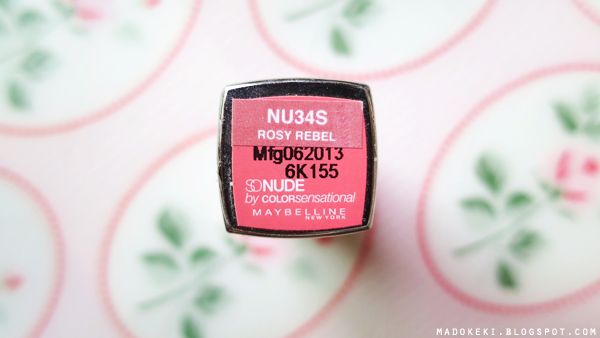 i got it in the shade NU34S rosy rebel. initially, i wanted NU36S because it's closer to the nude that i want - a toned down brownish beige.. but it was out of stock. :( so i picked this shade instead.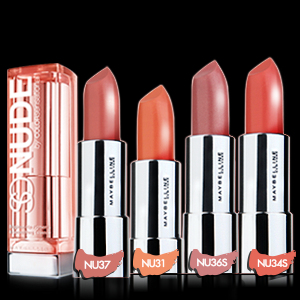 there are 4 shades in the collection. honestly, they're all so lovely, it was hard for me to choose.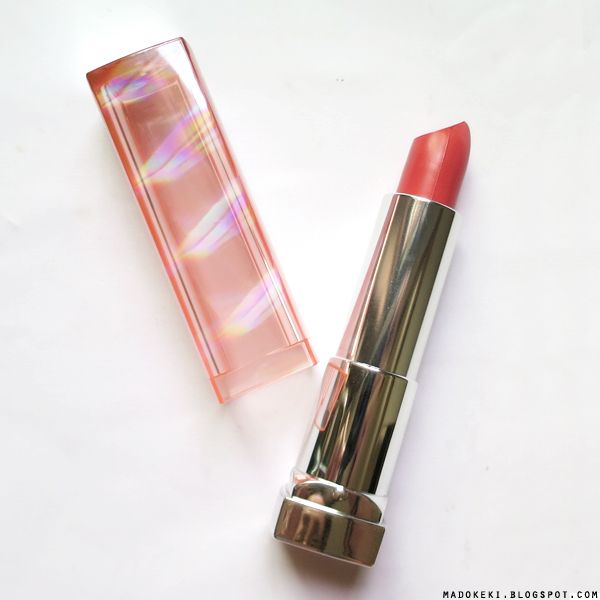 just like the bold matte, none of the product name is actually printed on the outer casing. the holographic effect over the neon pink casing is quite pretty though! the inner plastic casing is the same as the bold matte. this is the first time i'm nitpicking a product for its packaging.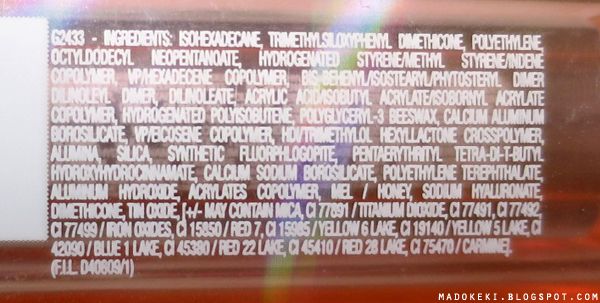 ingredient list! it contains a lot more polymers as compared to the bold matte lipstick, so it's no wonder they have a pretty different feel to it. (hint: i don't really like it)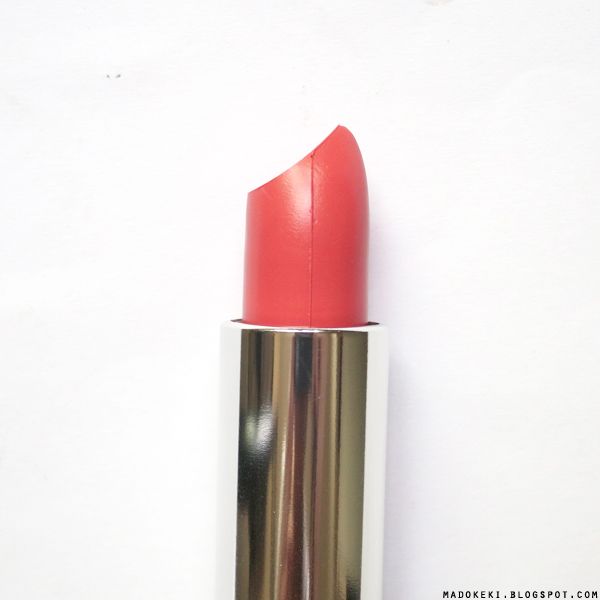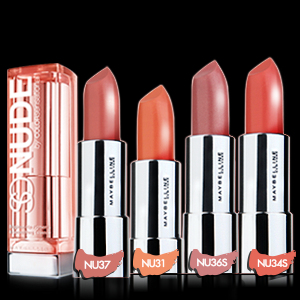 pretty close to the official swatches huh?

NU34S rosy rebel is a pastel peachy pink. pigmentation is superb, as you can see it pretty much covered my lips entirely with just one layer! it's much redder than what i wanted, but that's okay.
the texture is slightly different from the bold mattes. this glided over my lips easily too, but it has a slightly slick feel to it. they may go on unevenly and requires a few more swipes to even things out.
it does hydrate my lips for the first few hours but that's it.
there is something else i observed - this lipstick seem to be formulated to be long wearing. how so? because it feels exactly the same as the
revlon ultimate suede lipsticks
, AND I HATE THAT! if you've used the latter, you'd know the lipstick will set and form a film over your lips. a very uncomfortable plastic film that reminds me of its presence on my lips every single time i speak or do something. on the bright side, it does cling onto my skin throughout the entire day. there was one time when i applied this lipstick on in the morning, then i went out and forgot to bring the lipstick with me so there's no way i can reapply it. i tried removing it with my tissue but it just won't work. at the end of the day, my lips had patches of the lipstick still on, and my poor lips were totally parched. :(
IMHO
i am pleasantly surprised by the pigmentation, because most pastel products usually end up sheer and thinned out. but not these. they covered my original lip colour in one setting and it definitely could have been my favourite pastel lipstick if not for the fact that it sets into that yucky plastic film. it makes smacking my lips hard, and i become self conscious about smacking my lips because i know i'll risk bunching the products together (my experience with the revlon ultimate suede. it was so sticky!!!).
to maybelline, you did a good job on the pigments, but the formulation could have been better. i'd rather it do without that "long wear" thing. i don't mind reapplying my lipsticks at all! i have to, because no lipstick can provide me with hydration for a straight 8 hours anyway.
if you love
revlon's ultimate suede
, these may be the thing for you. it's just not my cup of tea.
it's kind of a blessing in disguise that the NU36S was out of stock, because now i can continue my hunt for that colour. i'm looking at the loreal color riche because i love the formulation to death.
i purchased this lipstick for SGD$17.90 when it was having a one for one promotion.