VISEE WINTER LINEUP: WINTER DOLL
Inspired by the colour of snowy scenery and the warmth of fur, blue and taupe has been chosen as the focus colour for eyes this season to create a grown up dolly make that invokes a sense of nostalgia.
Visee has released a limited edition line up that includes eyeshadow, mascara, lipstick, and a finishing powder, reminiscent of sparkly snow flakes!
The official release date of these products is 16 November, so a few more days from today!
SHIMMER RICH EYES | 1400 YEN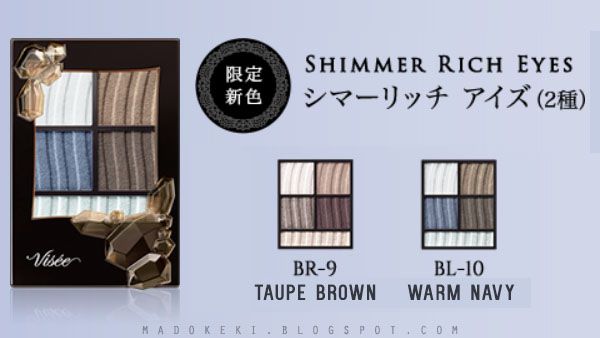 A blend of pigmented deep colours and shimmery shade (aptly named Shimmer Spice) comes together to help you create big and lovely eyes.
BR-9 Taupe Brown is inspired by the warmth of fur, while BL-10 Warm Navy is inspired by the snowy scenery.
The way they described the colours makes me want to wrap myself snugly with warm fleece while sitting near the icy cold window overlooking the snowy landscape. Kinda like enjoying the sun in an air conditioned place, I want to enjoy the cold in a warm and cozy room!
LASH VOLUME MANIA | 1400 YEN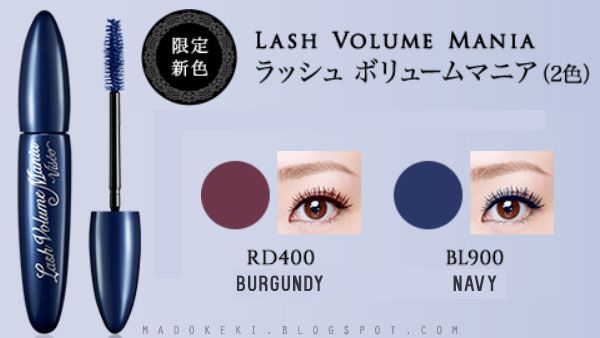 Voluminizing mascara that voluminizes (ahem, no surprise here isnt it?) and also holds your curls. It's a film type mascara that can be removed with warm water easily.
For light weight volume, apply one coat. Go for two if you want gorgeous lashes.
COLOR POLISH LIPSTICK | 1500 YEN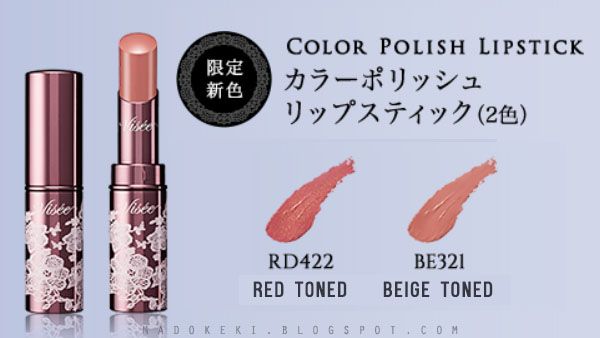 Based on their highly pigmented and glossy lipstick lineup, here are two new and limited shades.
These lipsticks are formulated with moisturizing ingredients, making them suitable for the dry winter. The gloss will plump up your lips to volume up your pout.
Going with the dolly theme, the shades are nudish, with red and beige undertone respectively.
INNOCENT VEIL POWDER | 1700 YEN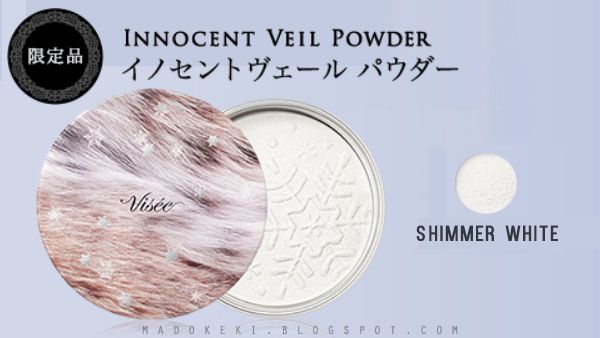 Inspired by the sparkly snowflakes, this powder wants to recreate that translucency and delicate sparkle on your skin.
As a finishing powder, the refined shimmer will add dimension to your face subtly and even out pores. The powder is light and promises an airy finish, almost undetectable on the skin.
Can also be used on the body such as the decollete, arms and legs. Formulated with moisturizing ingredients, this powder won't dry out your skin.
Ending thoughts:
The only thing that caught my attention is the Innocent Veil Powder. I haven't seen a shimmery finishing powder from Japanese drugstore brands before. I wonder if this will look like the canmake highlighter I own from eons ago? Also, at 1700 yen, it's on the pricier side. But still, I would love to get it IF it really does what it promises. I've been scouring the internet for its swatches, but it's not released as I'm writing this entry so.. I'll have to wait.