A little late on the news!
Happy lunar new year! I spent the last weekend at my grandmother's place, which explains the lack of post last week.
Kate's new products were released on 1 February in Japan, so I'm actually late to the party. I just found out today so I quickly did this entry up. I remember lamenting the little sadness last time when there were no news of new Spring products from Kate. It's wasted feelings because Kate did have something planned!
It's a small collection, but I'm always excited to see what's new!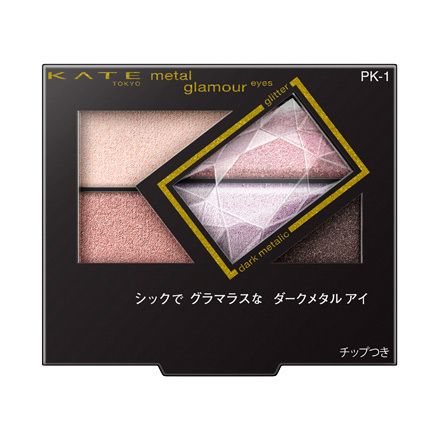 METAL GLAMOUR EYES | 1700 YEN
Kate's new eyeshadow is here to give you the ability to create glamourous eyes and control just how much shine you want.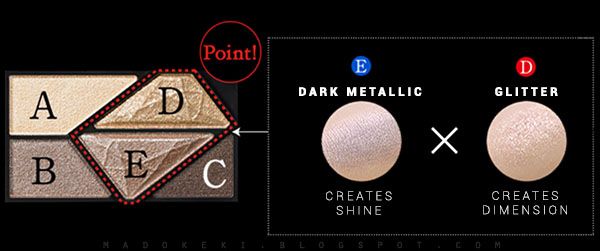 The eyeshadow quad consist of 3 main shades that creates the perfect gradient effect for a naturally pleasing look, and an additional 2 shades as the finishing touch. The metallic/pearlescent shade contrasts the darker colours to create dimensions, allowing you to create more refined features.
That the official fluff anyway. The eye shadow quad reminds me of their older eyeshadow palette, the COLORCIOUS DIAMOND. Except the new one have only 1 glittery/mirror finish shade as opposed to the 2 glittery shades in colourcious diamond. The additional of a metallic medium (they call it their dark metallic) colour is new.
Available in 6 shades.
Over on their
official site
they went one step further to show you how to achieve certain effects with the metallic and glitter shades. Funny they used a caucasian eye shape to showcase it because most of its target consumers probably do not have that specific eye shape. Then again, it's just for illustration purpose, so I understand :) Also, I'm not one to complain about having more reference photo to take a look at their finish. It appears the metallic shade isn't THAT metallic.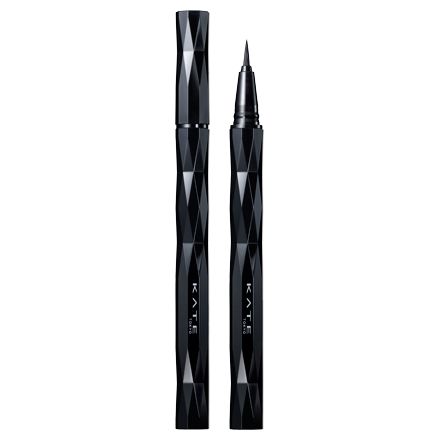 SUPER SHARP LINER EX | 1100 YEN
The new Super Sharp Liner EX promises to be easy to use, bleed proof, sweat/water/sebum resistant, yet easily removeable. The jet black eyeliner has a glossy finish, brand new faceted packaging, and ultra fine pen tip (that's developed together with pentel, then pen maker).
The new product packaging is supposed to help with application. By holding it on its grooves, you can pivot the eye liner properly to easily fill in the gaps between your lashes (NOT the water line). The result is bigger eyes and fuller looking lashes.
I've owned one of their eyeliner from the super sharp series before, and I won't say it's my favourite eyeliner. I'm not sure if this would be the same formula as before. Regardless, the new packaging is BEAUTIFUL.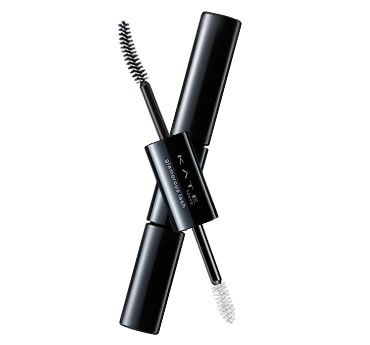 GLAMOUROUS LASH | 1400 YEN
The new volumizing mascara comes with a primer (fiber volume base), and a black mascara. This film type mascara can be washed off by warm water.
COLOUR ENAMEL GLOSS | 450 YEN
The sheer lip gloss has high shine like glossy enamel, adding more definition to your pout. Formulated with moisturizing ingredients such as almond oil, jojoba oil, and olive oil, it keep your baby lips kissable at all times (do wipe away that gloss before kissing though).
Available in 6 shades.
Ending thought:
After owing so much makeup, I'm really more of a spectator than a player on the field now.
Seeing what they have to offer is like entertainment to me. Kate rehash their eyeshadows every few season because how else are you going to keep people entertained if you don't release old products in new packages?
I think the beauty sphere is pretty much saturated by now, so new and innovative products will be far and little.
But I do have to give it to Kate for having awesome packaging.
The faceted stuff always gets to me! URGH!