It's cherry blossom season, on your eyelids!
What a gorgeous day it is! Finding out Etude House is releasing an eyeshadow palette that's pink!
It's so new it's not even on the global site yet
It just went live on the
global site today
.
They're having a
launching special from 5th April to 12th April
, instead of the original price of US $26.40, it's now going for
US $18.48
! It even comes with a jelly lip patch as a free gift if you order it before the promotion ends!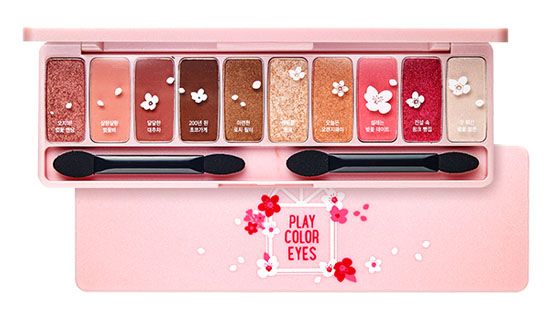 ETUDE HOUSE | PLAY COLOR EYES CHERRY BLOSSOM | USD 26.40
A new palette containing 10 lovely shades that's cherry blossom themed, each containing 0.8g of product (according to the korean site). The colour ranges from romantic pinks to wearable browns to easily create pinkish eye looks. The eyeshadows are soft and silky for easy application.
This actually looks like an expanded version of their 2016 Christmas collection,
My Little Nut Fantastic Color Eyes
eyeshadow palette in the shade Lucky Red Little Nut. Except the latter is geared towards a more reddish tone, hence the burgundy, while the former stays pink and light.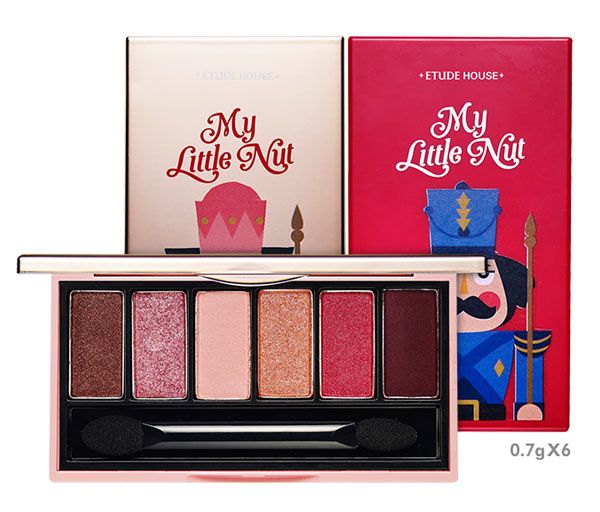 ETUDE HOUSE | FANTASTIC COLOR EYES (LUCKY RED LITTLE NUT) | 14000 WON
Right? They do have some semblance to each other!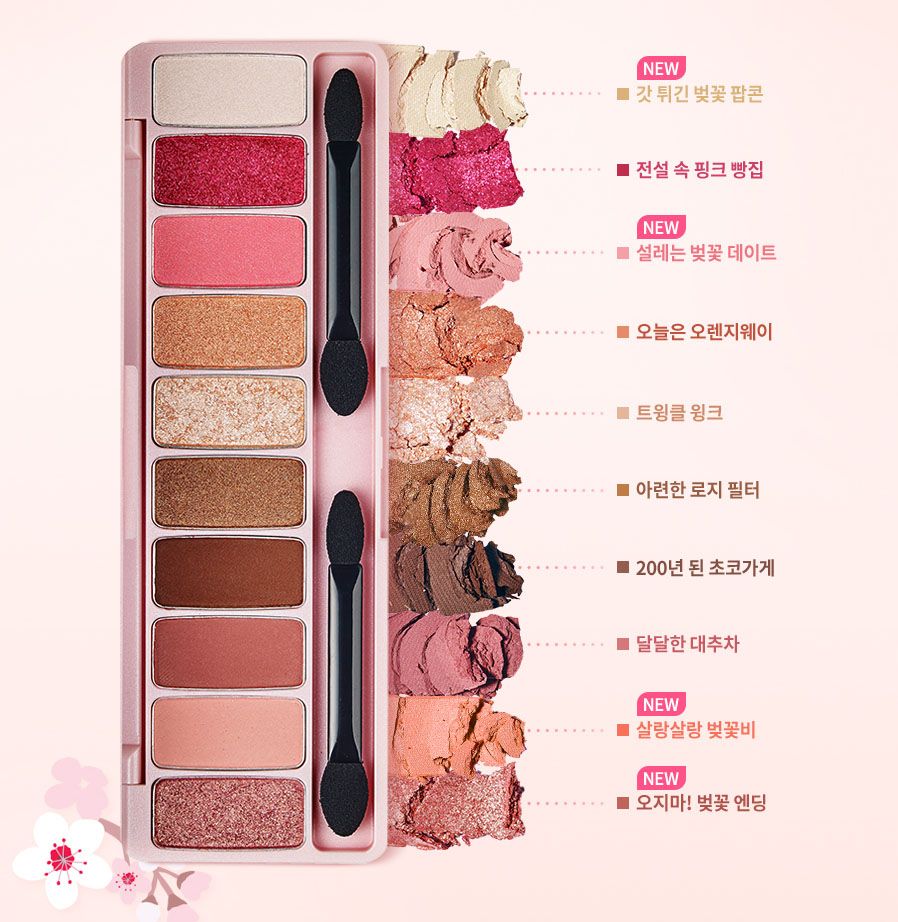 The names of the different shades are in Korean that's too complicated for me to translate, so I left it as is (you can visit the
global site
as they have translated them into english!). The colours chosen for this palette has a good mix of matte, shimmer, and pearly shades. The overall colour scheme is light and fresh, in line with the cherry blossom theme.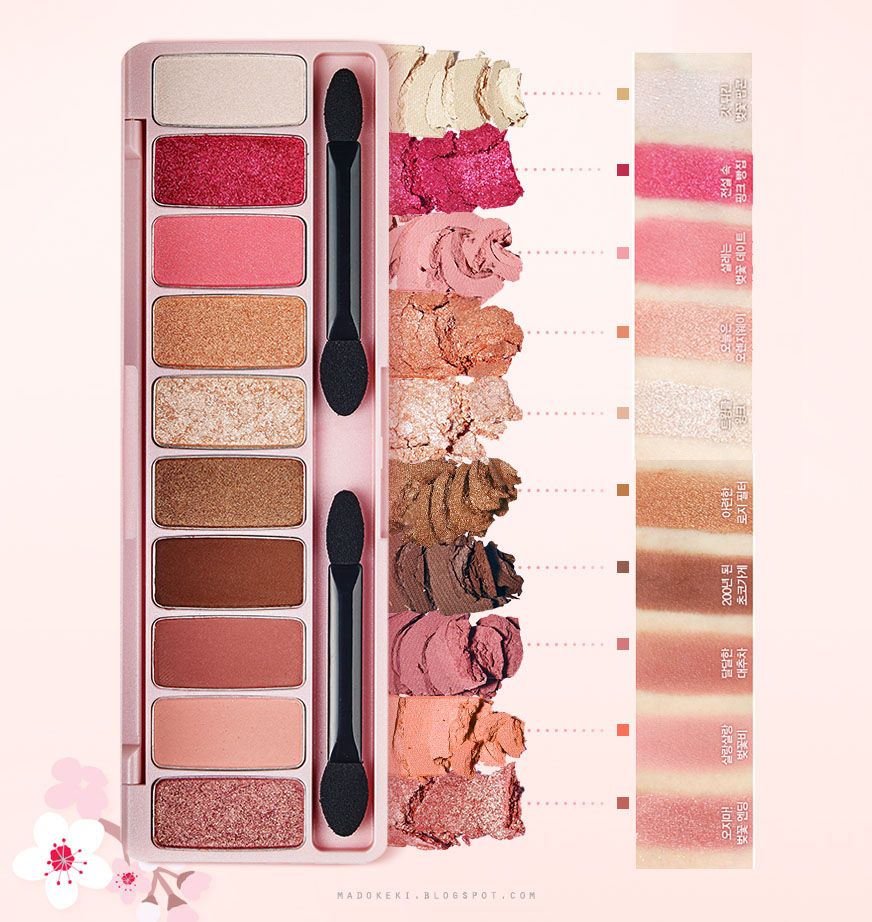 Click to expand!
I've did some photoshop magic to stitch together this franken-swatch photo. The swatches are taken from their official site. The swatches looks even and smooth!
As you can see there are a few matte shades (2nd-4th from bottom) that are wonderful for creating gentle depth, and shimmery shades for added dimension. Two metallic shades that appear almost frosty (5th and 6th from top).
This swatch merely gives you an idea of the colours. Below is a swatch on the eyelids for better idea of how they actually look when blended out.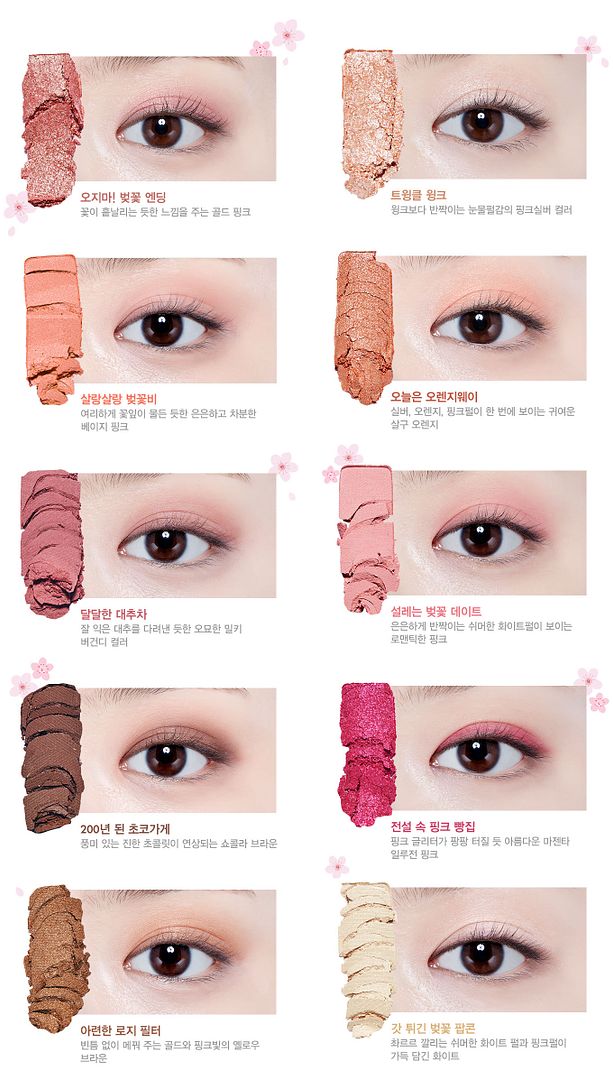 Click to expand!
They don't look as pigmented on the lids, probably because they applied it with a brush instead. Overall the shades looks like a gentle wash of colour that can be easily blended into the skin to create that soft look. Nothing too over the top for this cherry blossom inspired palette, afterall, cherry blossoms are pretty in their soft pinks, are they not?
Ending note:
This is a beautiful palette if you want soft and romantic eyes. I believe it's meant for creating diffused look, hence don't expect it to be super pigmented. Subtlety has it's perks. Of course, if you want the colours to be more vibrant, an eye primer might probably do the trick!
I'll admit my heart got swayed for a split second, suddenly desiring this new found beautiful object! Then I recall I already have a pink eyeshadow palette that I haven't been able to use for a long time....
My money get to live another day.