Soaked in my own perspiration as this entry is being written.
Summer is here, the heat is rising, and my sweat is dripping. What makeup lovers and everyone else need this summer is a lightweight sunscreen that offers you protection from normal daily UV exposure - one that doesn't feel thick or heavy because the last thing you want is sunscreen melting off your face, mixed in with your personal brand of perspiration. If you need industrial strength sunscreen for extreme sports, then these probably isn't the entry for you.
I tend to favour Asian sunscreens because they label theirs very clearly just how much UVA protection they have. UVA is the one that ages the skin and increase the risk of skin cancer. You see why I prefer to know how well protected I am against UVA now?
Below are a few sunscreens I chose to feature after surveying ranking sites. Comes in a variety of prices too!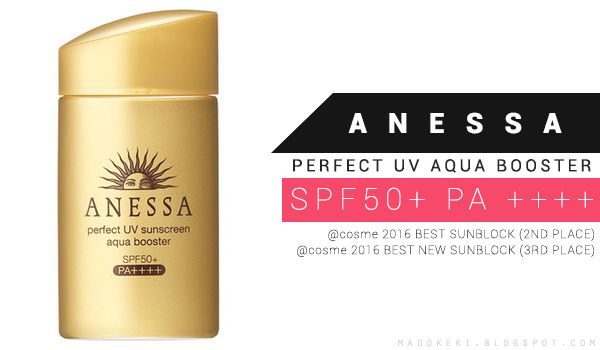 ANESSA | PERFECT UV AQUA BOOSTER | SPF50+ PA++++
Highly water and sweat resistant, this sun screen is tested to provide 80 minutes of in-water protection! With the addition of skin care essence, it's able to moisturize dry skin caused by UV ray exposure. Can be use on both the face and body.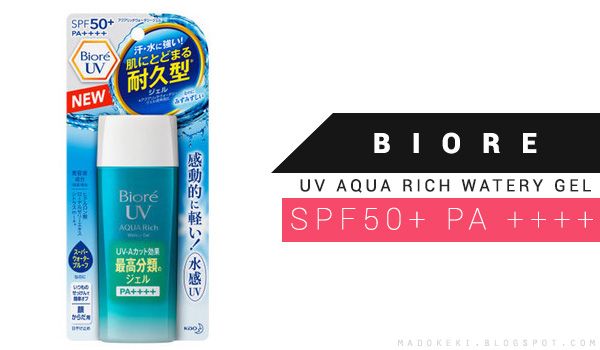 BIORE | UV AQUA RICH WATERY GEL | SPF50+ PA++++
The packaging might have changed, but the formula is still light weight, giving you long lasting protection from UVA and UVB without the heaviness of usual sunscreens. Can be easily washed off with body wash or makeup remover.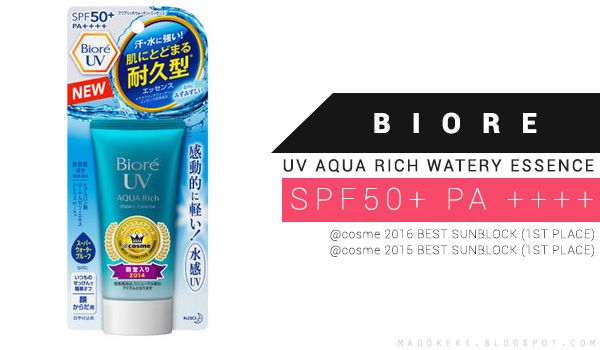 BIORE | UV AQUA RICH WATERY ESSENCE | SPF50+ PA++++
I feel like this watery essence was the best innovation when it first hit the market. A watery sunscreen was unheard of before this, and we're all doomed to a life of thick and oily mess.. This is extremely light weight as it is absorbed by your skin rather quickly, leaves no white residue behind, making it the perfect product to use before your make up. I've tried this years ago and my mom loved it too,
read more here
.
Oh! This is also a crowd favourite among Asian Beauty Redditors! I saw them hoarding these because of some shipping issues recently.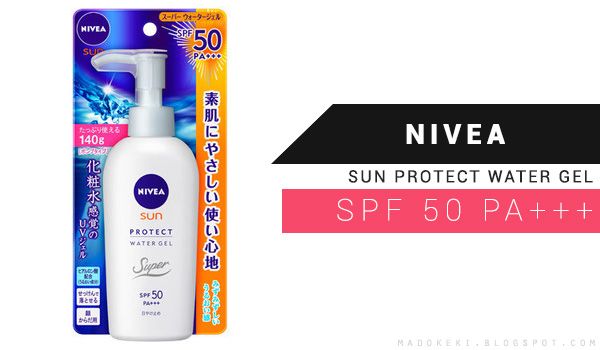 NIVEA | SUN PROTECT WATER GEL | SPF50 PA+++
Probably the most value for money out of all, you can slather all 140g of this moisturizing sunscreen all over your face and body. The consistency of the sunscreen is like a moisturizing toner, so that pump might come in handy. Designed for normal usage, it doesn't appear to be water resistant, so if you work in an office with air conditioning, this watery gel should be perfect.
LANCOME | UV EXPERT YOUTH SHIELD BB COMPLETE 1 | SPF50 PA++++
A sunscreen that is designed to cut out not just UVA and UVB rays, but also pollution! Shade 1 is white and brightens the skin to create a glowy and uniform skin tone. Shade 2 is tinted.
At this price tag I might as well splurge on the Chanel CC cream, as I have witnessed the latter work its magic to give my girlfriend a glowy complexion that looked so natural like her own skin.
I added the Lancome sunscreen in because it is currently ranked #3 on the @cosme weekly ranking, and #2 on Taiwan's urcosme weekly ranking. Must be quite lovely for it to be ranked so high, right?
I think this is formulated for the Asian market, as I couldn't find it on Sephora or Amazon. Also, the PA++++ rating IS adopted by the Japan Cosmetic Industry Association after all.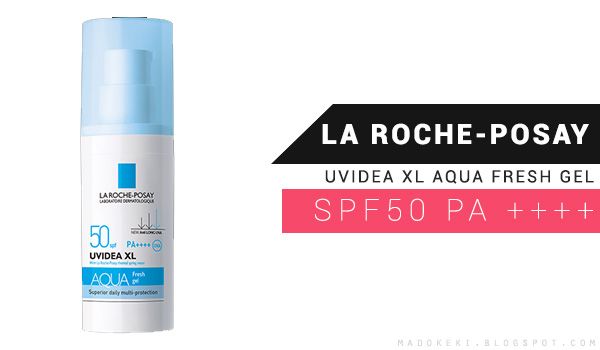 LA ROCHE-POSAY | UVIDEA XL AQUA FRESH GEL | SPF50 PA++++
Apart from shielding you from UV rays, the thermal spring water in the sunscreen protects your cells from free radicals. The light weight gel is non sticky and non greasy, making it great as a make up base.
Again, this appears to be another product made for the Asian market because I can't find it on American/European websites!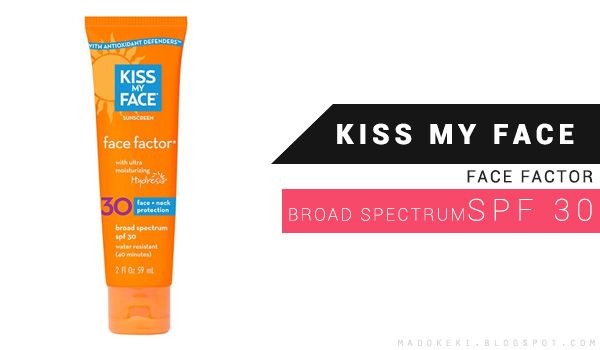 KISS MY FACE | FACE FACTOR | SPF30 BROAD SPECTRUM
One of the best sellers on iHerb, this sunscreen has 40 minutes resistance, and is paraben and oxybenzone free! Reviews of it have been mostly positive, and most users found it non greasy, doesn't leave behind a white cast, and is easily absorbed.
But how much UVA protection does it offer? I don't know :(
Personally I would prefer a higher SPF of 50 because I can't be bothered with re-application. But the
SPF50 version of this sunscreen
is found to be a lot thicker than the SPF30. I assume if you're reading this blog, the chance of you wearing makeup is high, so the SPF30 might vibe better with your need for a lightweight sunscreen that doesn't interfere with makeup.
Ending note:
Please be reminded that I made this post with the normal daily folk in mind, so these sunscreens aren't gonna be the most water resistant stuff out there. These were designed for some slight sweating, like the ones that get worked up by you walking down a sunny street to get your lunch, or when you have are walking from the bus stop to an indoor space. Ideally the water resistant ones might be able to last you through a sweaty outdoor concert in this weather, but that's really pushing the limit. And to wear these to the beach and expect NOT to get a burn? Maybe if you're really diligent about reapplying it.. Otherwise, brace yourself for a disappointment.

Another PSA: If you know you'll be in the sun for extended hours, then reapplication is a must. Especially if you're wearing skin exposing clothes. The best kind of sunscreen is physically covering up yourself with clothings, and sunscreens should be the second line of defense. Get this right and you'll be able to enjoy the sun with minimal damage and harm.