i've been a fan of the biore aqua rich sunscreen for a few years now. a few years ago when they came out with the first variation of the sunscreen, the high SPF caught my eyes.also, the idea of having a hydrating sunscreen appealed a lot to me as i have dry skin.
over the years they released more products to their existing product line, and i've been collecting and testing them out ever since.
IN A NUTSHELL
1. lightweight
2. oil free
3. sinks into skin quickly, doesn't react with foundation
4. high SPF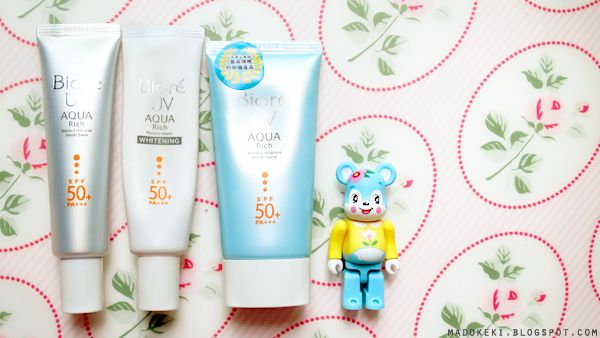 from left to right: watery mousse / watery cream whitening / watery essence
the entire aqua rich line is infused with hyaluronic acid, making them hydrating without the need of oils. all three contains an SPF of 50, and PA+++.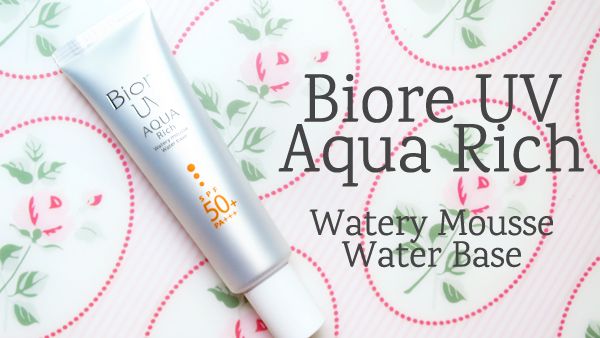 the watery mousse was the first SPF50 product that was released. as the name suggest, it has a mousse like texture, making it very light weight. the water base texture is infused with hyaluronic acid, which helps to lock down moisture without the need for oils.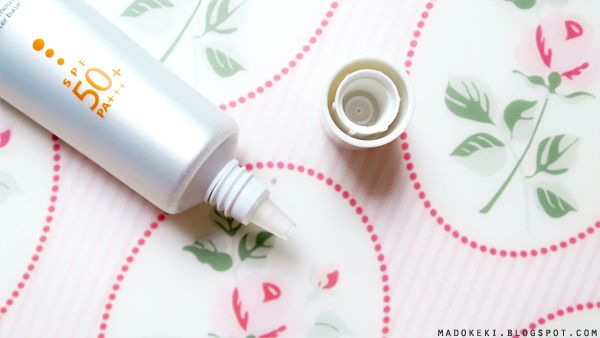 it comes with a small-ish opening.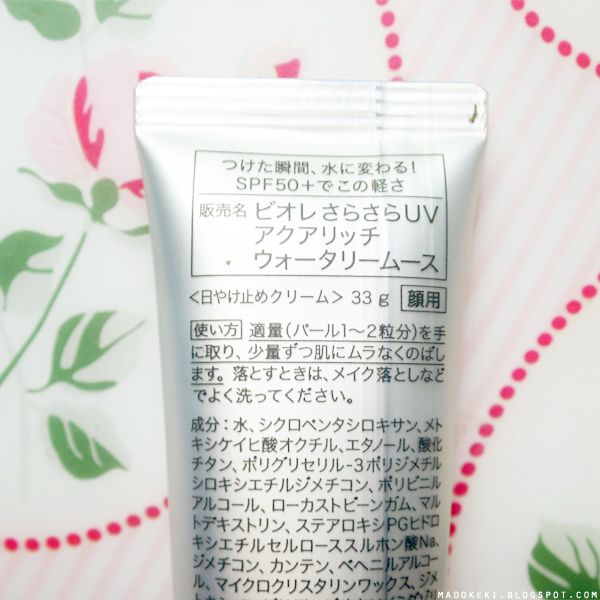 and it contains 33g of products.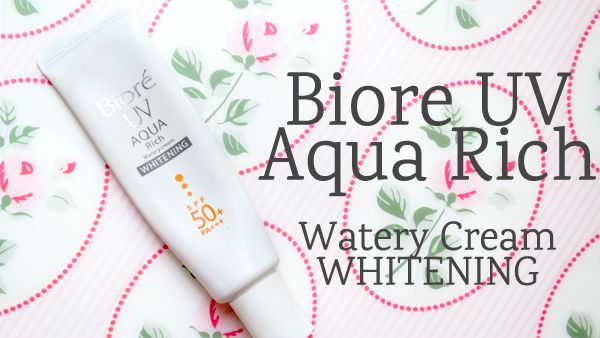 the water cream is infused with whitening ingredients, also, it does give off a brightening effect after using it! the product feels more nourishing than the watery mousse. its whitening ingredient is chamomile extract. i have no idea if it has any whitening power, to be honest. biore claims that it can fight dark spots.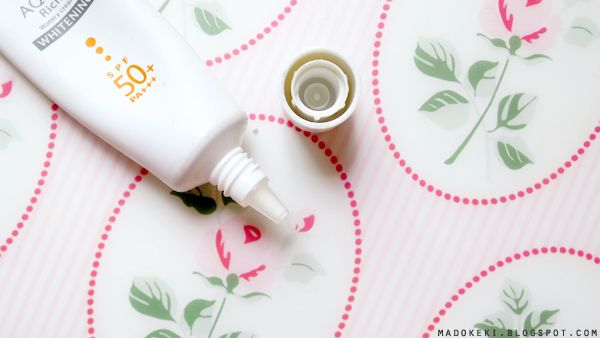 it has a similar dispenser as the watery mousse.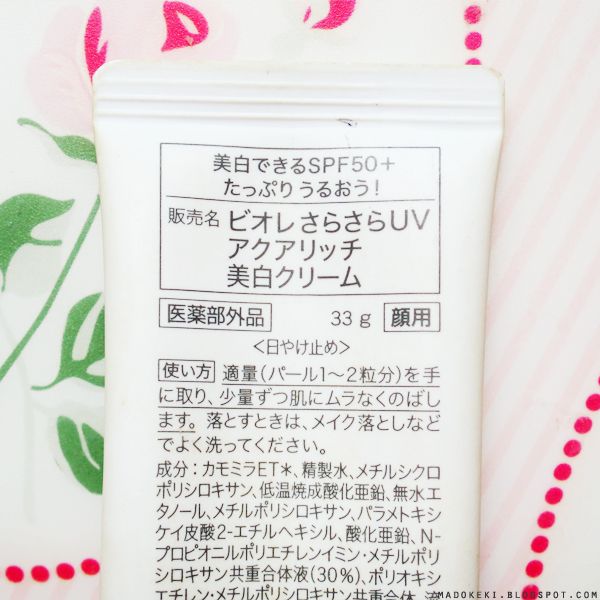 it also contains 33g of products.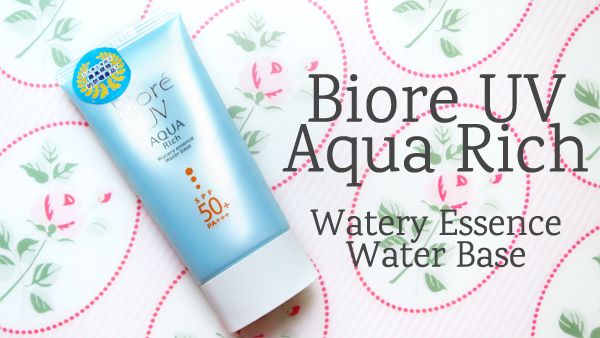 the watery essence is the third product to be released in the aqua rich line, it boast of a non sticky formula that absorbs right into the skin without any white cast. of course there're no white cast! this is purely a chemical sunscreen! if you have sensitive skin, make sure to test it out first. the idea of having no white cast is attractive, but not everyone can withstand chemical sunscreen.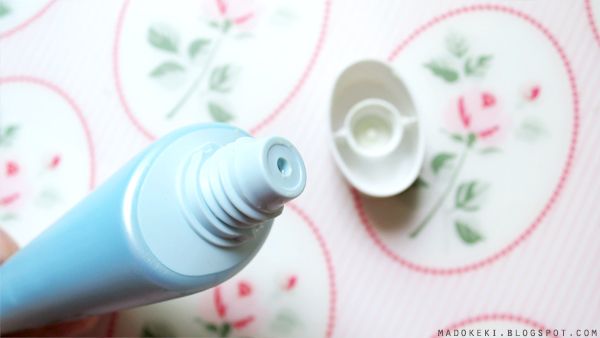 the opening is different from the previous 2 products, it has a larger and wider opening.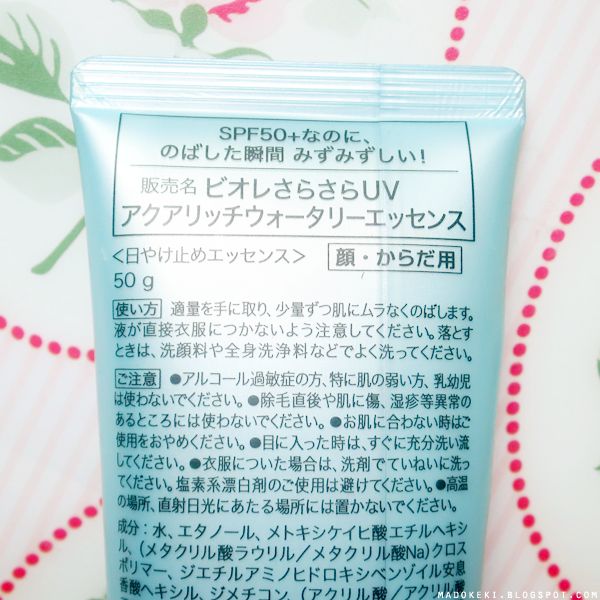 and you get more product too! 50g as opposed to just 33g! all of them cost the same (SGD18.90 if i remember correctly), so you're getting a little more product for your buck if you get this on.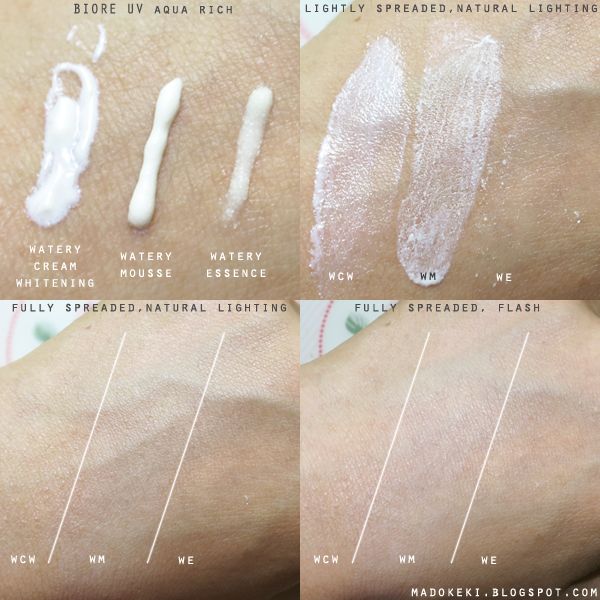 and finally onto the swatch, you can definitely tell a difference when i put them side by side.
watery cream has a cream like consistency (even though it looks real soft here, it's only like that because i messed up the squeezing process).
watery mousse does have an airy feel to it, you can see that after i pushed them out slightly in the upper right image.
water essence is nothing more than clusters of white stuff within a watery base. once i push it out, the white stuff disappears.
from the photo, the watery mousse seem to give off the most white case. in reality, both the watery cream and watery mousse gives off a slight white cast. it's not unwelcomed to me, because i do like that slight brightening effect.
the products have a very faint scent to them, smells like citrus to me.
IMHO
on to the main claim: are these hydrating/moisturizing?
perhaps i have particularly dry skin, i don't find them extra hydrating or moisturizing. this may be a good news for people with oily skin. in fact, i think the
nature republic sunscreen
is way more moisturizing for my skin! i really love that!
i notice they leave my hands with a weird taut feeling after spreading the product out on my face (with the help of my hands). it's something i didn't quite like, and i don't know if it's the product or just my hands drying out naturally throughout the day. (the
nature republic sunscreen
also gave my palms a similar feeling)
these products are "foundation friendly", meaning they don't react with my foundations to produce little rubbery stuff. you'll know what i mean if you tried using a moisturizing gel prior to using a foundation.
in my opinion, these work as very wonderful make up base thanks to their light weight texture. the high SPF also means i can do without reapplication for a longer period of time. the fact that they absorb right into my skin makes it makeup friendly as i do not have to wait too long for it to sink in. i loved them for a while, that's why i repurchased the watery mousse. but after trying the nature republic, i think i found my new favourite, since i prefer a more moisturizing formula.
if you like a light weight and oil free sunscreen, give these a try! you make like it! if you want something more moisturizing, check out the
nature republic california aloe sunscreen
!
did i miss out anything? leave me a comment and i'll answer your queries!