another 3 brushes! this time it's the eyeshadow brushes! technically speaking i have 4, but i'll save that last one for another post because it's not something you can buy on its own.
for a very long time, i work without eyeshadow brushes because japanese eyeshadows have a formula that is best picked up by finger, also, the sheerer colour makes them extremely easy to work with and blend out. even unblended eyeshadow can look really natural, so i never saw a need to use a brush.
of course, as i learnt more about makeup, i realize certain tools are required to achieve certain looks. i purchased my first eyeshadow brush not knowing much. i thought all brushes were made equal - how wrong was i!!!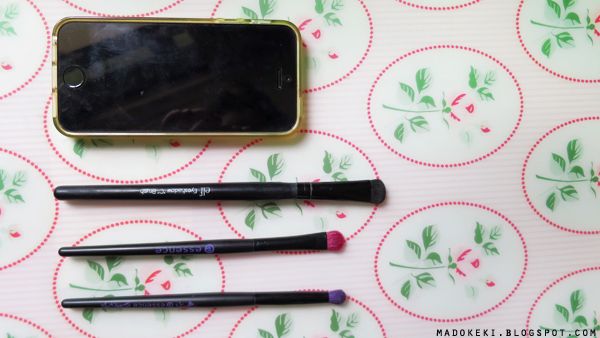 placed next to iphone 5s for a size comparison.
from top to down:
elf eyeshadow "C" brush | essence eyeshadow brush | essence smokey eyes brush
the online reviews for the elf eyeshadow C brush looked good, so i chose it. now i wonder if i'm using it wrongly or not, because i certainly did not experience the positive effect of this brush like the other users. there were only 2 eyeshadow brushes in the studio collection, i picked this over the angled contour brush. on hindsight, i think i should have picked the latter. this is a case of not knowing my needs and wants, which resulted in an unhappy purchase.
i purchased the two essence eyeshadow on a whim because they were really affordable. there're not much reviews online, but the price point is low enough for me to take the risk to test it out, and so i did. i quite like them, in fact, much more than the elf eyeshadow brush. i'll explain more in a moment.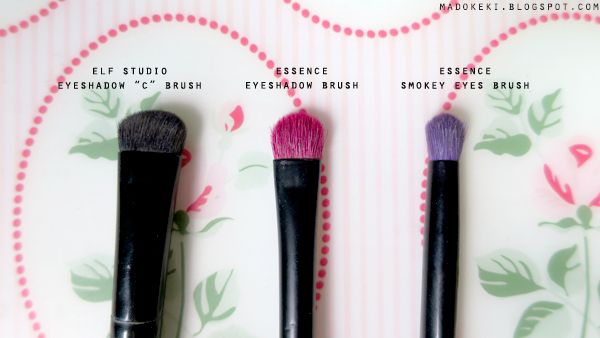 the elf eyeshadow "C" brush has the shortest bristles compared to the other two. it is also the widest. the essence eyeshadow brush has slightly longer bristles and a narrower width, which suited my smaller features pretty well. the smokey eyes brush is a bullet brush with a round top, the bristle are as long as the eyeshadow brush.
i learnt how important it is to judge a brush not just based on what others say, but also on how they appear. i'm not talking about the superficial packaging or appearance. how the brush look directly affects its application.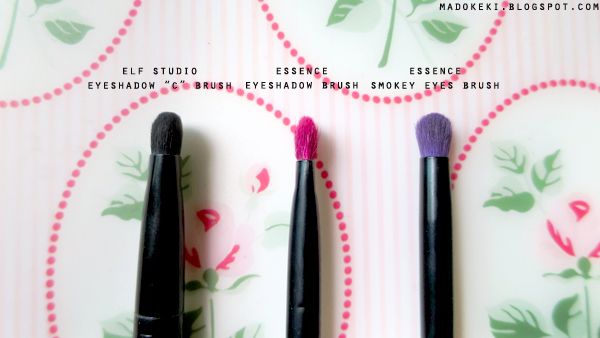 comparing the side view of the elf studio eyeshadow "C" brush and the essence eyeshadow brush, you can tell that the former is much more denser (just look at the amount of hair it has! almost twice the width of the essence eyeshadow brush!).
// a denser brush tend to grab onto pigments, making them perfect for sheering out colours.
the roundness of the tip of the brush matters too. the elf studio eyeshadow "C" brush is much more rounded, whereas the essence eyeshadow brush is more tapered. this makes the latter more efficient at packing pigments instead of eating them all up into the brush (which was what the elf brush did to me... and i wondered why my eyeshadows appeared so sheer).
// a more tapered brush is better for packing colours onto the skin, while a rounder brush tend to hold onto pigments.
of course, the texture of the bristle matters too. i noticed the essence eyeshadow brush bristles are not as perfectly straight and smooth as the elf eyeshadow "C" brush, what this means is it has more surfaces to grip powder from the eyeshadow pan. the patting motion will deposit the pigments onto well primed lids.
// in effect, it appears that a brush with rougher bristles is able to apply colour much more efficiently.
lastly, the length of the bristle matters too. how so? the shorter the bristles, the harder the brush becomes. the bristles will maintain their position when you're brushing it back and forth, giving you a well defined boundary. whereas if you were you use a brush with longer bristles, chances are you'll end up with a more diffused boundary which blends in seamlessly into your natural skin tone.
// a stiffer brush (normally with shorter bristles) will result in more precise colour application, while a fluffy brush (normally has longer bristles) will give you a more diffused and well blended look.
using the above criteria, we can get a feel of what each brush work like.
ELF STUDIO EYESHADOW "C" BRUSH:
eats up pigments like nobody's business, but it's awesome for blending out eyeshadow on top of eyeliner thanks to the stiffer bristles. i'd liken this to a chubby smudge brush. it's simply too huge for my eyes, not flexible to cover my eye hole, and doesn't do me much good. even though it sheers out the colour, the stiffer brush leaves behind a well defined boundary. may be useful if that's the look i'm going for, but more often than not, i prefer a slightly more blended look.
ESSENCE EYESHADOW BRUSH:
soft enough to blend out colours pretty nicely, but it's strength is actually the ability to build and pack on colours on my lids. the tapered end is precise enough for me to use it on my lower lash line as well, which is always a good news for lazy bum like me because i don't fancy the idea of switching between 20 brushes to get one look done. the synthetic brush isn't as soft as they claimed - it's slightly scratchy, but it doesn't pose any problem to me. also, the bristles aren't all pointing in one single direction (honestly, i don't know if they are synthetic or not. they looked a little like natural hair because of that different direction thingy), resulting in some fall outs during application.
ESSENCE SMOKEY EYES BRUSH:
even though the bristles have the same length as the eyeshadow brush, the increased density made it a little stiffer. this is perfect for blending out eyeliners with eyeshadow. the increased precision makes it more suited for my eyes as compared to the elf brush! also, this is wonderful for applying eyeshadow to my inner corners because it fit in just right! however, this isn't a blending brush, so don't expect this to blend out colours as flawless as an actual blending brush would.
i'm still trying to find better use for the elf eyeshadow "C" brush! i'm not the kind who'll discard of something just because it didn't work for me. instead, i try to work with it to see if i can discover new techniques or uses, sometimes they requires me to experiment and think out of the box. if i do chance upon something good, i'll share it again over here :D
after being exposed to so many different styles of makeup (god bless the internet!), i'm tempted to get a blending brush and experiment with more eye looks. if you have any affordable and good blending brushes, as well as shading brushes, do leave me a recommendation!