Makeup Brush Collection Part 1: Face Brush
it's taken me a while to come up with this post because initially, i had something big planned for such an entry.. but i realize something: since i'm constantly learning about new things, it's just not practical for me to come up with an entry AFTER i've done figuring out everything. so i'll just share what i currently know, and what i have.
you may be surprised to find out that i only have 3 face brushes. well, it's 4 including the small blush brush that came along with my media blushes. 3 is more than enough for me because they meet my every needs so far.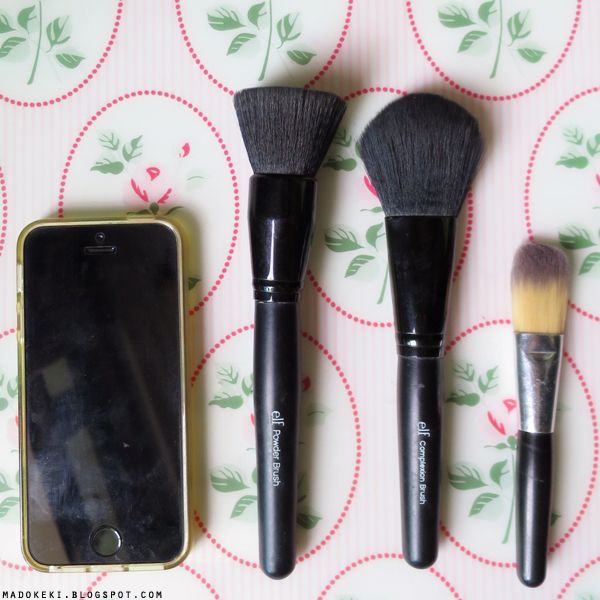 placed next to an iphone 5s for better size comparison.
from left to right:
elf powder brush | elf complexion brush | generic flat foundation brush
the first 2 face brushes belong to the elf studio line. i picked them for a variety of reasons.
1. they are made of synthetic taklon fibre, making them more resistant to washing while still maintaining a certain softness to them despite being synthetic. also, i have absolutely no idea on how to take care of makeup brushes then, so it's best for me to avoid animal hair brushes because i may just destroy them. these brushes are actually very very soft!
2. secondly, the price point is perfect for beginners. these were the first powder brushes i own, i bought them a few years ago when i just started to experiment with makeup. at USD$3 a pop, i won't waste too much money even if they don't work out for me.
3. they garnered a lot of good reviews on their website and the youtube community, so it's definitely worth checking out given the price point.
4. lastly, the aesthetic appeal to these screamed out to me - black everything!? THAT'S SO ME!
as for the generic foundation brush, i purchased it at a time when i know absolutely nothing about makeup. when i was 16, there wasn't anything like youtube around to teach me how to do makeup, let alone what i need to do my own makeup. i bought the first thing i saw that resembled a paint brush to apply my powder blush.
this must be the thought i had in my little mind back then: hey, a fluffy brush is the same as a dense brush since they are all brushes!
it took me several years before i realize this is actually a liquid foundation brush. thankfully, the powder blush i used last time wasn't too pigmented, otherwise i may be easily mistaken as having a severe rash on my face since this brush tend to deposit pigments in a very concentrated dose.
GENERIC FLAT FOUNDATION BRUSH:
it is flat as the name suggest, slightly tapered at the ends to reduce streakiness during application of liquid foundation. the hair is pretty dense, effectively soaking up quite a lot of my foundation when i do use it to blend things out. what i end up with is a very natural finish because well, most of the foundation isn't on my face! as the bristles are synthetic, i can wash this with any soap i have on hand - no need for a special brush cleaner! i've used this with my liquid foundations and it served me well.
personally, i do not have large pores, so this worked fine for me as i needed was something to spread the foundation evenly. thanks to its flatness, it poses some difficultly filling out a pore if you have larger pores.
ELF STUDIO COMPLEXION BRUSH:
i feel like elf is trying to be creative with their naming of brushes, honestly i feel like it has backfired. what on earth do they mean by "complexion brush"? it's not like the brush can buff my face to give me a polished look. this should just be called a "fluffy powder brush". i use it for overall powdering and blusher, although i'm secretly hoping to get a smaller blush brush to reach the smaller crevices on my face. this brush is a multitasker, which is part of the reason why i can survive on only 3 brushes.
the fluffy nature means it deposits powder in a diffused manner. it's really perfect for setting my makeup with, or to add a touch of colour onto my cheeks ever so slightly.
ELF STUDIO POWDER BRUSH:
again, don't be fooled by the name. this should be called a "flat top brush", and you can feel free to use it with powder or with liquid. the only downside to using it with liquid will be the difficult washing process later on. i foresee that happening, so i never used it with a liquid product! using this with any powder is a match made in heaven, especially if a polished and buffed face is what you're going for. the flat top ensures that all the powders are pushed into your pores, giving you the even complexion you wished for. i love love love using this to apply my powder foundation because it's quick and flawless - i just buff the powder in and i get a more even skin tone almost immediately! what's more, this is also another multi tasking product - i use it to buff my blush and highlighter on too. you may wanna check out my glowy skin tutorial where i showcased this brush.
i was actually bummed out when i first got this brush because i had no idea how to use it. thankfully after some experimenting, i quickly learnt that this is a really powerful brush that can change my life. this brush is awesome for foundation and other stuff. i won't recommend using this to set your makeup though, since you can't dust powder as lightly as a fluffy brush can.
END NOTE
thankfully for me, both the ELF brushes only shed a few hair in the beginning. after a few washes, i don't get anymore stray hair. the ferrule of the powder brush did become loose and i had to clamp it tight on my own though. nothing a pair of pliers won't solve!
with all that said, i'm still looking forward to acquiring a few more makeup brushes to experiment. i've mentioned a few brushes from sonia kashuk
here
, you can check them out to see if it interests you too! currently i'm most interested in a smaller domed brush so that i can do some precise powdering of my under eye area (as the elf complexion brush is just too huge).
are there any affordable and good makeup brushes to recommend me? let me know!