Here comes the base make up products!
on top of the @cosme annual ranking (which i've wrote about in a separate entry), @cosme also released a biannual best new makeup awards. it is given to new products that have been released in the past 6+ months. i think they should just name it "best new comer award" to avoid any confusion with their annual ranking (which surveys all products regardless of release dates). in other words, only good products that are newly released can make it into this list.
in this entry, i've compiled the list of base makeup products. you can read about the
best new skin care ranking
in a separate entry. as you will see, there isn't much new innovation when it comes to base makeup. i don't even see a category for concealers!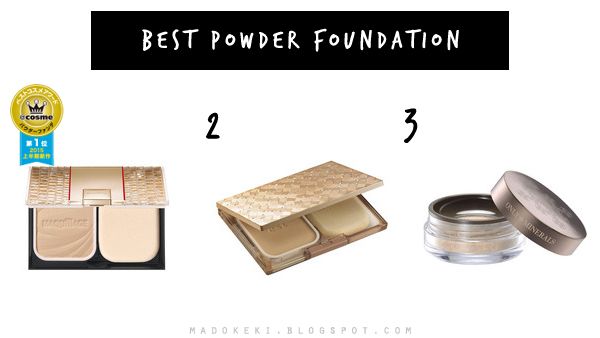 BEST POWDER FOUNDATION
first place
MAQuillAGE | dramatic powder UV
lightweight and fluffy like mousse, the powder creates good skin that look so good, people may think it's your own skin.
second place
EST | powder foundation silky smooth
third place
ONLY MINERALS | premium foundation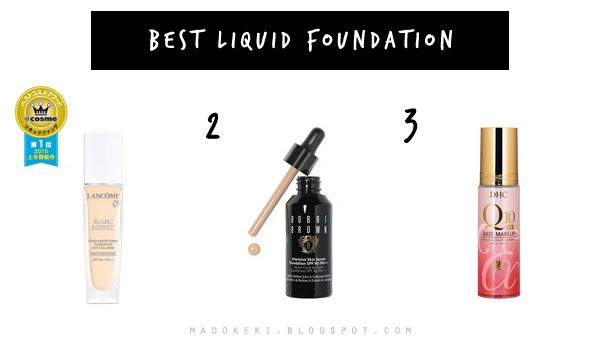 BEST LIQUID FOUNDATION
first place
LANCOME | blanc expert liquid
the perfect foundation to help your makeup last the entire day!

second place
BOBBI BROWN | intensive skin serum foundation SPF40 (PA++++)
third place
DHC | Q10 moisture care liquid foundation EX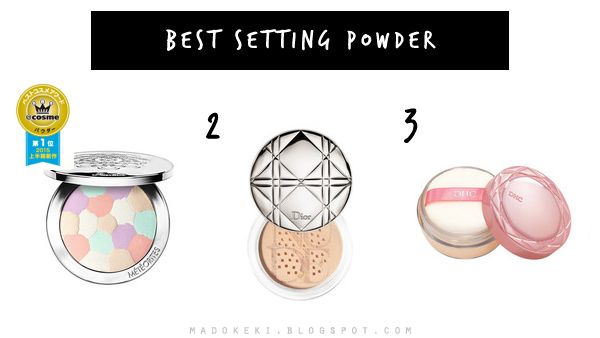 BEST SETTING POWDER
first place
GUERLAIN | meteorites compact
the powder that enhances your skin is finally here.
second place
DIOR | diorskin nude air loose powder
third place
DHC | Q10 moisture care face powder EX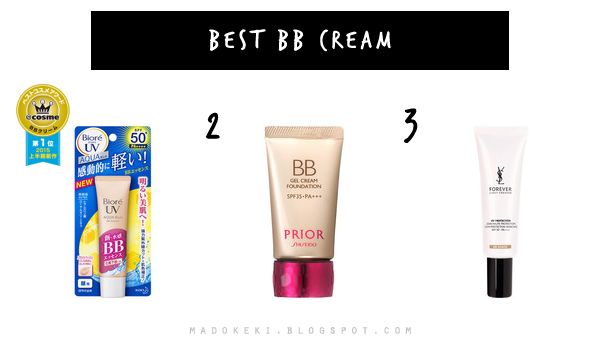 BEST BB CREAM
first place
BIORE | sara sara aqua rich BB essence
effectively blocks out UV rays while camouflaging your skin for a natural look.
second place
PRIOR | BB gel cream
third place
YSL BEAUTE | forever light creator SPF50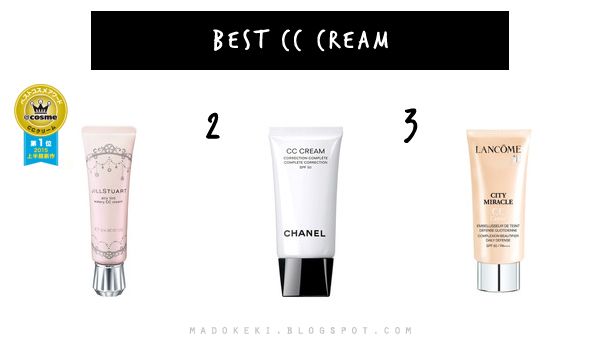 BEST CC CREAM
first place
JILL STUART | airy tint watery CC cream
can be used on its own to create a long lasting pure skin effect. covers all types of blemishes effortlessly.
second place
CHANEL | CC cream SPF50
third place
LANCOME | city miracle CC cream
omitted in this entry are the
makeup primers
, which you can see for yourself by click on the link!
most of the products in the ranking are from the higher end brands, i think it's a smart choice to invest in better base products since we use them over a wider surface area!