At last, the new colour cosmetics ranking.
on top of the @cosme annual ranking (which i've wrote about in a separate entry), @cosme also released a biannual best new makeup awards. it is given to new products that have been released in the past 6+ months. i think they should just name it "best new comer award" to avoid any confusion with their annual ranking (which surveys all products regardless of release dates). in other words, only good products that are newly released can make it into this list.
finally, after writing about
best new skin care
and
best new base makeup
, here comes the best new colour cosmetics.
the overall winner for the best new makeup is the
maquillage dramatic rouge
.
GRAND PRIZE
MAQUillAGE | dramatic rouge
a sheer lipstick that creates lady like lips, it is formulated with moisturizing oils that not only keep your lips kissable and pouty, but it also hugs your lips tightly without the sticky feeling.
BEST EYESHADOW
first place
JILL STUART | ribbon couture eyes
the smooth texture creates puppy eyes that captivates a lady.
second place
LUNASOL | tender clear eyes
third place
AUBE COUTURE | bright up eyes
BEST EYELINER
first place
FLOW FUSHI | mote liner liquid takumi
helps you get that perfect fine eyeliner easily.
second place
HEROINE MAKE | smooth liquid liner super keep
third place
K PALETTE | real lasting eye liner 24h waterproof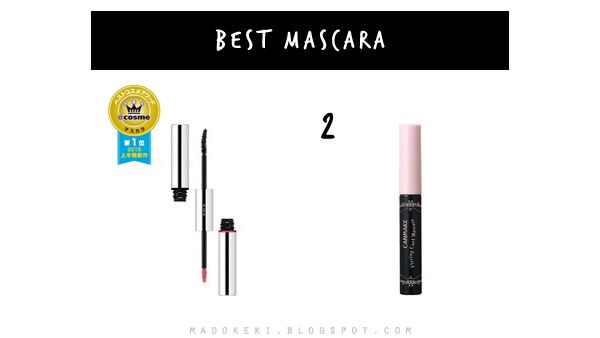 BEST MASCARA
first place
RMK | W colour mascara
an exquisite two-tone mascara for a true mascara lover. add sophistication to your eyes.

second place
CANMAKE | flaring curl mascara
BEST LIPSTICK
first place
MAQuiiAGE | dramatic rouge

long lasting hydration and shine.
second place
COSME DECORTE | AQMW rouge glow
third place
COFFRET DOR | premium stay rouge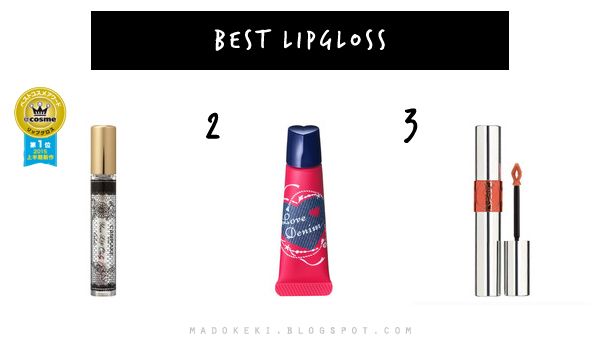 BEST LIPGLOSS

first place
CANMAKE | your lips only gloss
the lightly tinted gloss has an ever changing colour that adds some fun into the makeup process.
second place
INTEGRATE | girl's kiss jelly
third place
YSL BEAUTE | volupte tint in oil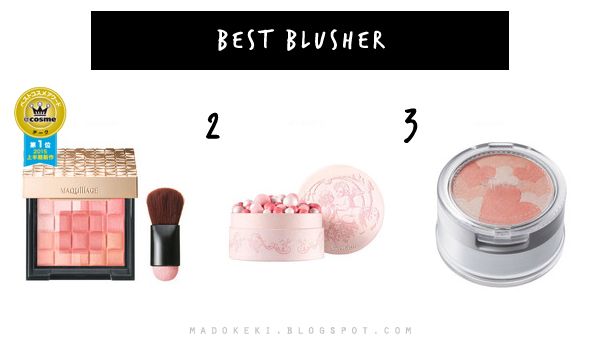 BEST BLUSHER

first place (also the grand prize winner)
MAQuillAGE | dramatic mood veil
the glowy powder enhances your skin while adding more dimension to your face. perfect for achieving a natural looking flush of colour on your cheeks.
second place
GUERLAIN | meteorite perles de blush
(limited edition)

third place
ETTUSAIS | heart cheek colour
just want to have note down my own two cents: there's a good mixture of high end brands and drugstore brands here. even though these products are newly released, i think beauty companies are running out of ideas and innovations because it's basically the same thing being washed and repackaged over and over. i probably expected too much, since this is supposed to be a ranking of good makeup products that are newly released, which doesn't necessarily mean it has to be completely new idea.