Skin care and other stuff..
After last week's entry on the
Grand Prize, Hall of Fame, and Best New Buy
, we now enter the individual categories, starting off with Basic Skin Care, and Special Skin care.
The brief comment about the 1st place product is translated from the official @cosme website, but I might have added some salt and pepper to tie up loose ends because my non existent Japanese knowledge is shit.
BASIC SKIN CARE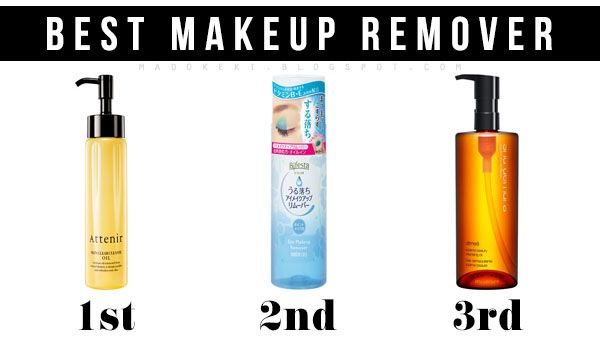 BEST MAKEUP REMOVER
1ST | ATTENIR | SKIN CLEAR CLEANSE OIL AROMA TYPE
The solution to change dull skin to clear skin.

2ND | BIFESTA | EYE MAKEUP REMOVER

3RD | SHU UEMURA | ULTIME8 SUBLIME BEAUTY CLEANSING OIL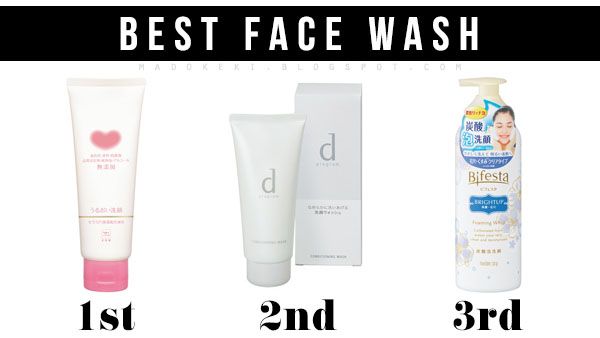 BEST FACE WASH

1ST | COW BRAND MUTENKA FACE CARE SERIES | COW BRAND MUTENKA MOISTURIZING FACE WASH
Lathers up into a thick cushion-like foam that cleans your face and leave it moisturized at the same time. (Note: Mutenka means the product is formulated without unnecessary ingredients that might irritate skin. But it's kinda like how food like to say they are gluten-free/fat-free/sugar-free for marketing purpose.)
2ND | D PROGRAM | CONDITIONING WASH

3RD | BIFESTA | FOAMING WHIP (BRIGHT UP)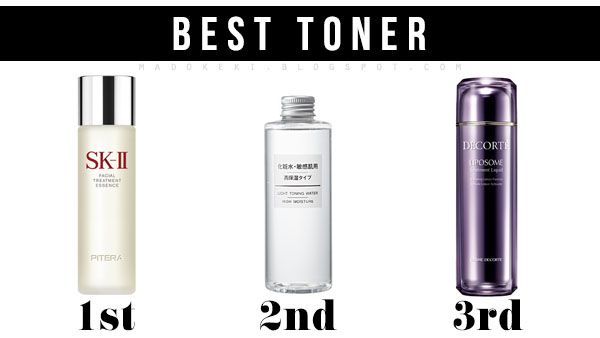 BEST TONER

1ST | SK II | FACIAL TREATMENT ESSENCE
A toner functioning like an essence, it hydrates and supports the skin to improve its integrity.
2ND | MUJI | LIGHT TONING WATER (HIGH MOISTURE TYPE)

3RD | COSME DECORTE | LIPOSOME TREATMENT LIQUID
BEST SERUM/ESSENCE

1ST | ALBION | ECLAFUTUR
Attracts and locks in moisture, keeping your skin plump and refined.

2ND | NATURIE | SKIN CONDITIONING GEL (JOB'S TEARS MOISTURIZING GEL)

3RD | IPSA | THE TIME R DAY ESSENCE STICK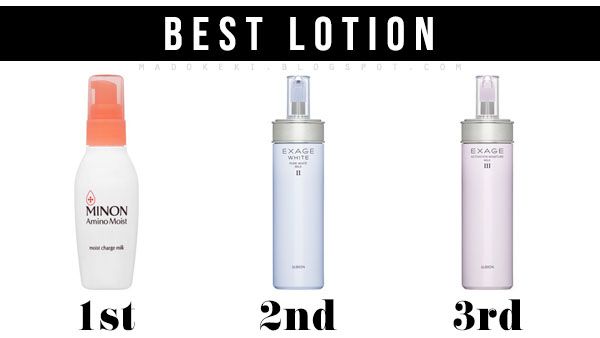 BEST LOTION

1ST | MINON | AMINO MOIST MOISTURE MILK
Deeply moisturizes skin with its smooth and gentle formula.

2ND | EXAGE | EXAGE WHITE PURE WHITE MILK II

3RD | EXAGE | ACTIVATION MOISTURE MILK III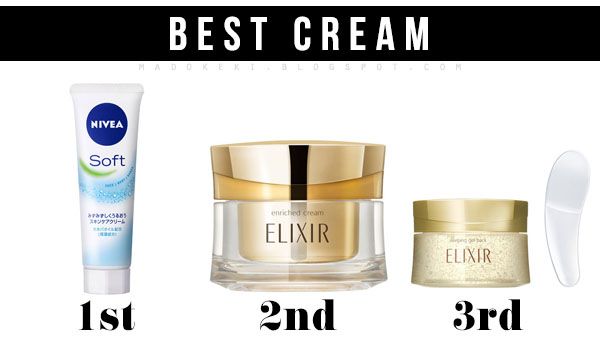 BEST CREAM

1ST | NIVEA | NIVEA SOFT SKIN CARE CREAM
Long lasting moisture and smoothness. Can be used on the entire body (and face)!

2ND | ELIXIR | ELIXIR SUPERIEUR ENRICHED CREAM CB

3RD | ELIXIR | ELIXIR SUPERIEUR SLEEPING GEL PACK W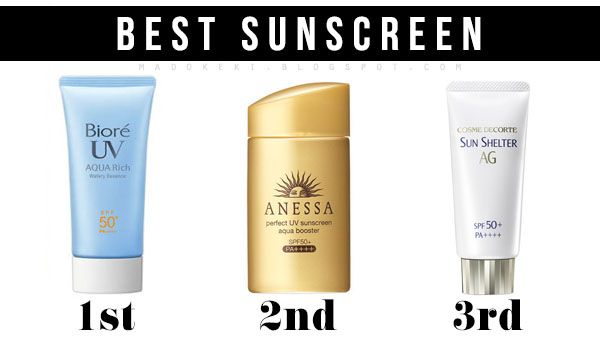 BEST SUNSCREEN

1ST | BIORE | AQUA RICH WATERY ESSENCE SPF 50+ PA ++++
One of the highest SPF protection, it's surprisingly refreshing and light weight!

2ND | ANESSA | PERFECT UV AQUA BOOSTER SPF 50+ PA ++++

3RD | COSME DECORTE | SUN SHELTER AG SPF 50+ PA ++++

SPECIAL SKIN CARE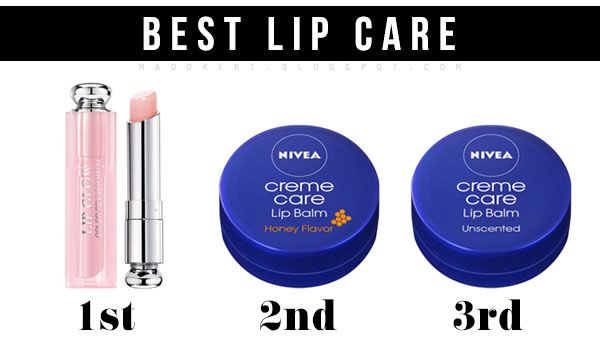 BEST LIP CARE

1ST | DIOR | DIOR ADDICT LIP GLOW
Brings out your original lip colour by enhancing it with a little more vibrancy, while nourishing your lips.

2ND | NIVEA | NIVEA CREME CARE LIP BALM (HONEY FLAVOUR)

3RD | NIVEA | NIVEA CREME CARE LIP BALM (UNSCENTED)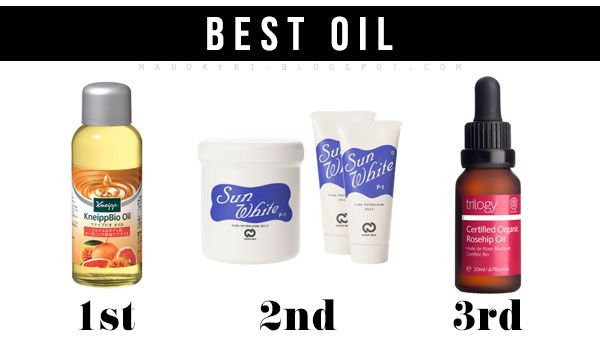 BEST OIL

1ST | KNEIPP
An oil that can be use for the face and body, it smoothens your skin in one single step.

2ND | SUN WHITE | SUN WHITE P-1

3RD | TRILOGY | ROSEHIP OIL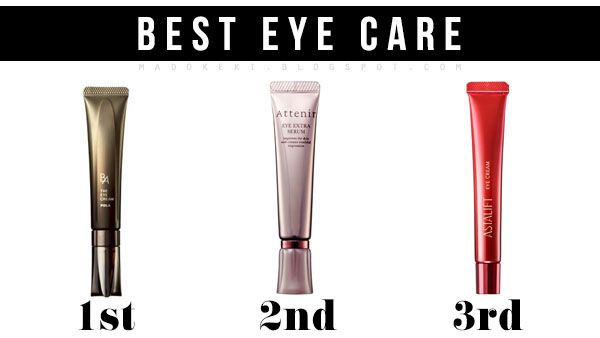 BEST EYE CARE

1ST | BA | THE EYE CREAM
Brightens your eyes with its special anti aging formula.
2ND | ATTENIR | EYE EXTRA SERUM

3RD | ASTALIFT | EYE CREAM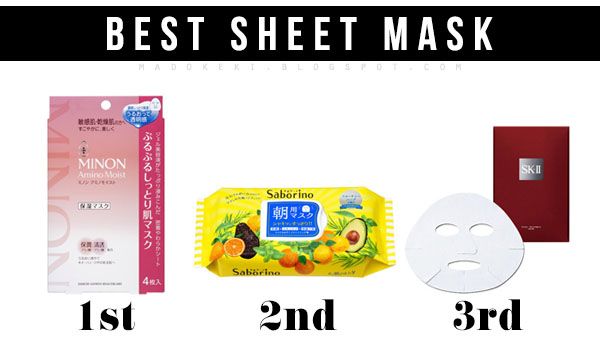 BEST SHEET MASK

1ST | MINON | AMINO MOIST MOIST SKIN MASK
Beautifying serum penetrates deep into the skin.

2ND | SABOLINO | MEZAMA SHEET

3RD | SK II | FACIAL TREATMENT MASK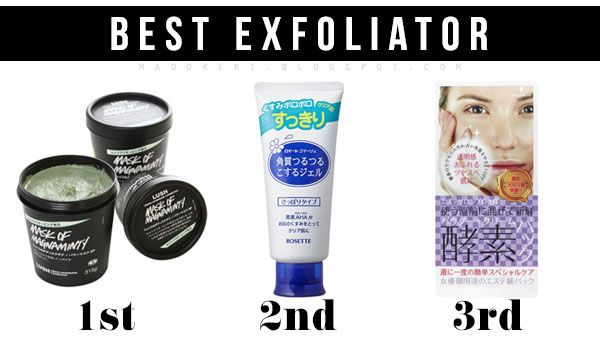 BEST EXFOLIATOR
1ST | LUSH | MASK OF MAGNANIMITY
A natural scrub and clay combo that leave your skin squeaky clean.
2ND | ROSETTE | ROSETTE GOMMAGE PEELING GEL
3RD | HOLLYWOOD | ORCHID PICKUP MASK A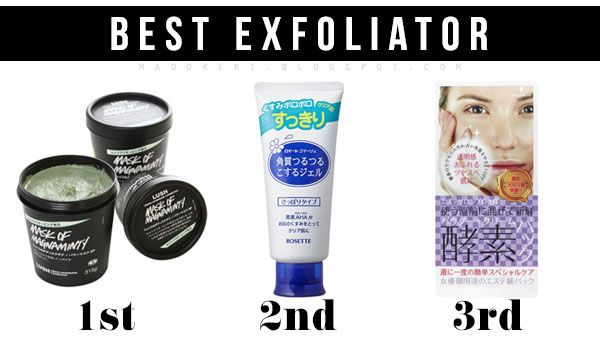 BEST EYELASH SERUM
1ST | SHISEIDO PROFESSIONAL | ADENOVITAL EYELASH SERUM
Repairs damaged lashes, revitalizing its length and volume.
2ND | COSME DECORTE | AQ MW LASH REVOLUTION
3RD | DHC | EXTRA BEAUTY EYE LASH TONIC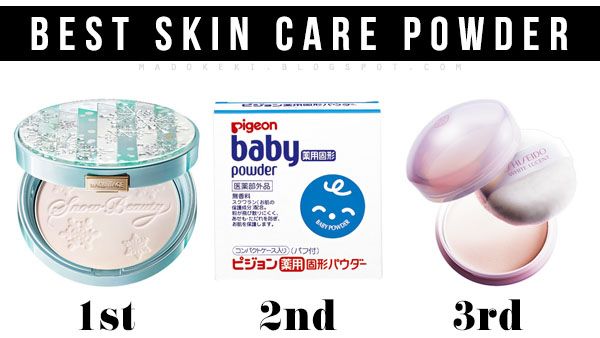 BEST SKIN CARE POWDER
1ST | MAQUILLAGE | SNOW BEAUTY III
This dual functioning powder whitens your skin at night, but can be used during day time as well.
2ND | PIGEON | MEDICATED BABY POWDER
3RD | SHISEIDO | WHITE LUCENT BRIGHTENING SKIN CARE POWDER N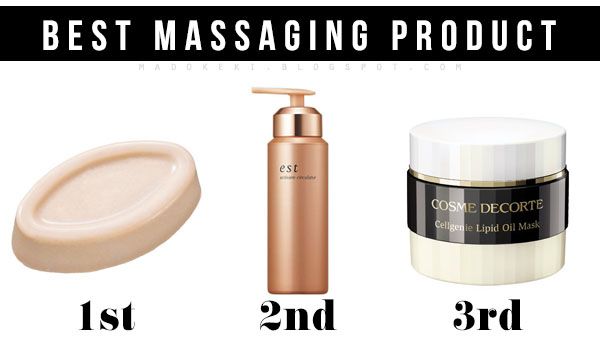 BEST MASSAGING PRODUCTS
1ST | LUSH | FULL OF GRACE
When heated to body temperature, the luxuriously moisturizing bar melts a little and glides over your skin to hydrates it.
2ND | EST | ACTIVATE CIRCULATOR
3RD | COSME DECORTE | CELLGENIE LIPID OIL MASK