Here we go again~
It's the time of the year again! @cosme has recently released the winners of the Best Cosmetics Award of 2016.
It just seems as though the categories breed new ones after every year. In part 1, I'm sharing the Grand Prize category, Hall of Fame category, and the Best New Buy category.
Case in point, for a product to be eligible in the Best New Buy category, it must be released between May 2016 and end October 2016.
GRAND PRIZE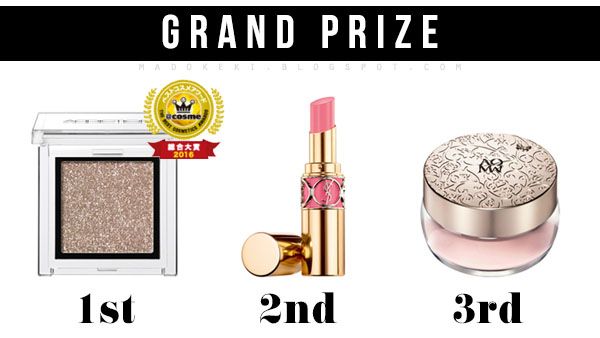 1ST: ADDICTION | THE EYESHADOW
With more than 90 shades to choose from, you can exercise your creativity. With its strong pigment and long wearing formula, you'll fall in love with it.
2ND: YSL | ROUGE VOLUPE SHINE
3RD: COSME DECORTE | AQ MW FACE POWDER
HALL OF FAME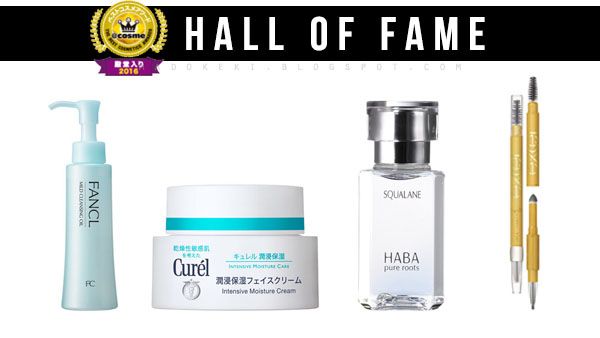 FANCL | MILD CLEANSING OIL
No more rubbing required! It removes your make up while leaving your skin moisturized.
Past winner (1st place) of the 2014 and 2015 Best Cleanser category.
CUREL | INTENSIVE MOISTURE CREAM
Deeply moisturizing but not sticky!
Past winner (1st place) of the 2015 and 2015 Best Cream category.
HABA | SQUALANE
With a impressive following for the past 3 decades, this oil is a perfect match for your skin as it absorbs very quickly.
Past winner (1st place) of the 2012 Oil/Balm category, and 2015 Best Oil category.
EXCEL | POWDER AND PENCIL EYEBROW EX
Anyone can get their brows on fleek (fuller, beautiful, and perfect) brows with this 3 in 1 pencil.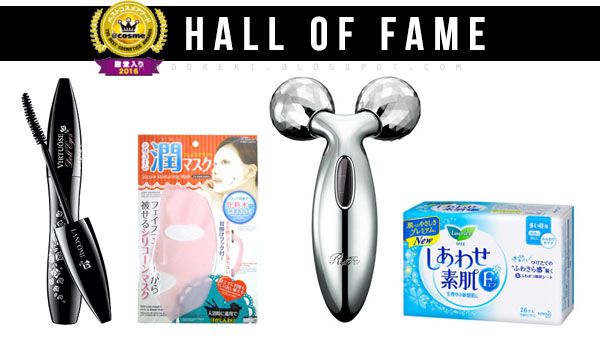 LANCOME | VIRTUOSE DOLL EYE
Delicate and natural looking lashes that maintains its length and curl.
Past winner (1st place) of the 2012 an 2013 Best Mascara category.
DAISO | SILICON MOISTURIZING FACE MASK
Something you won't regret buying, not only does it work, but also because it only cost a dollar after all!
MTG | REFA CARAT
Relax and tone your body (and face) with this deep massage.
Past winner (1st place) of the Best Beauty Appliance category.
LAURIER | SHIAWASE SUHADA F
Better absorbance and gentle on your skin, it can take away the discomfort during your shark week!
Past winner (1st place) of the 2014 Best Sanitary Napkin category, and 2015 Best Sanitary Product category.
BEST NEW BUY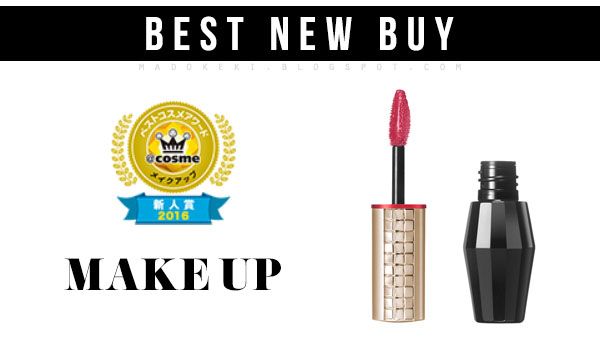 MAKE UP
MAQUILLAGE | ESSENCE GEL ROUGE
How to get a pillowy pout? With this lip gel that is infused with moisturizing ingredients and essence of course!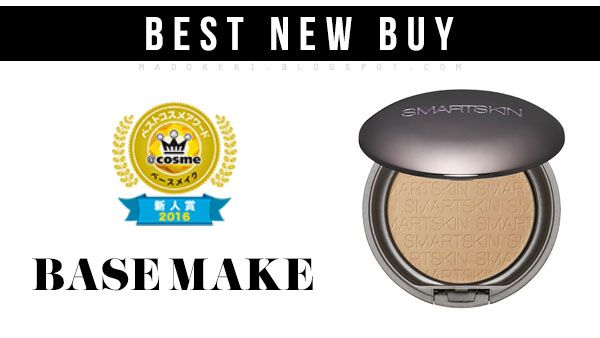 BASE MAKEUP/FOUNDATION
ALBION | SMART SKIN VERY RARE
With a souffle texture, this foundation gives you a natural and airy finish.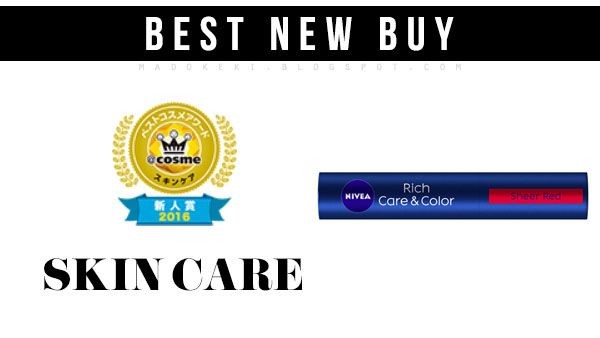 SKIN CARE
NIVEA | RICH CARE AND COLOR LIP
Moisturizes your lips with a translucent pop of colour and a sheer gloss.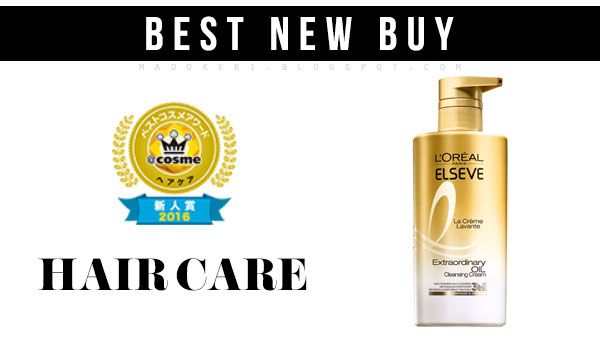 HAIR CARE
LOREAL PARIS | EXTRADORDINARY OIL LA CREME LAVANTE CLEANSING CREAM (MOISTURIZING)
A one step cleansing and conditioning product that leaves your hair and scalp clean and conditioned.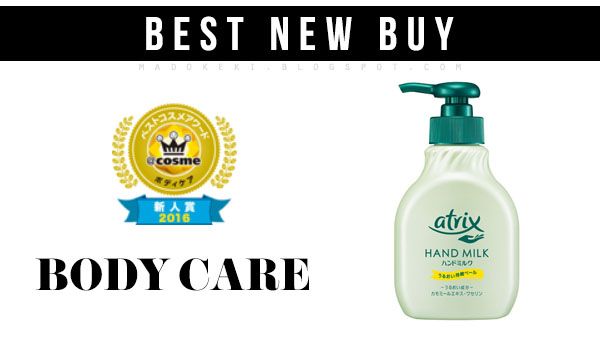 BODY CARE
ATRIX | HAND MILK
Apply to your wet hands and wash it off, it'll leave your hands supple and soft.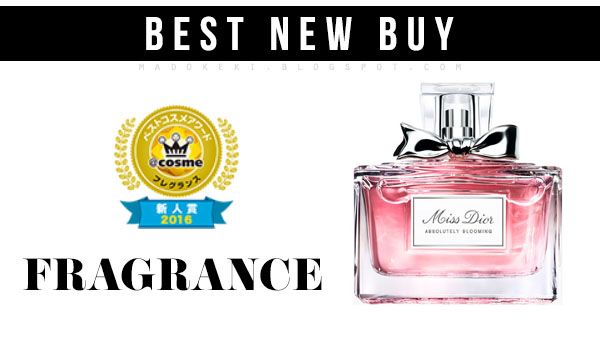 FRAGRANCE
DIOR | MISS DIOR ABSOLUTELY BLOOMING
A blend of bright and fresh floral scents.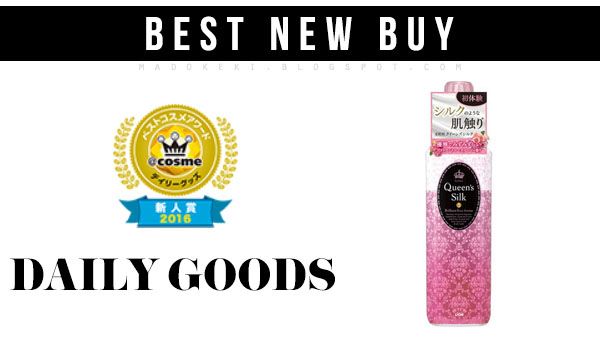 SOFLAN | QUEEN'S SILK BRILLIANT ROSE AROMA SOFTENER
This turns your clothes and fabrics into a rose scented silky veil.
If you're impatient and wants to look at the entire list of rankings, you can visit their
global site for the ranking here!