The last part - base makeup.
Today is the last day of 2016, and also the last part to the @cosme 2016 ranking series.
Part 4 consist of the best base makeup products, some are long time favourites, some are newer products. As always, the ranking are meant to serve as a guide - a starting point if you may - to aid you in your own exploration of the myriad of beauty products.
Without further ado.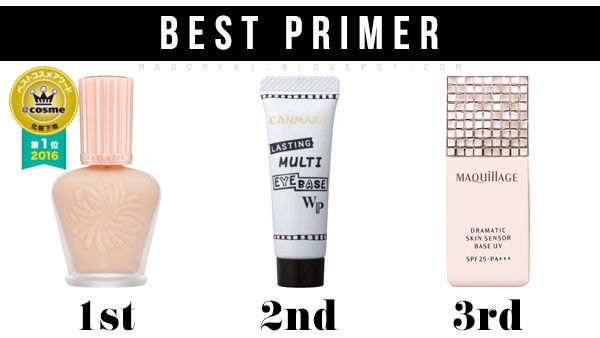 BEST PRIMER
1ST | PAUL AND JOE BEAUTY | MOISTURIZIN FOUNDATION PRIMER S
Keeps your skin bright and moisturized, perfect for achieving the dewy skin look.
2ND | CANMAKE | LASTING MULTI BASE WP
3RD | MAQUILLAGE | DRAMATIC SKIN SENSOR BASE UV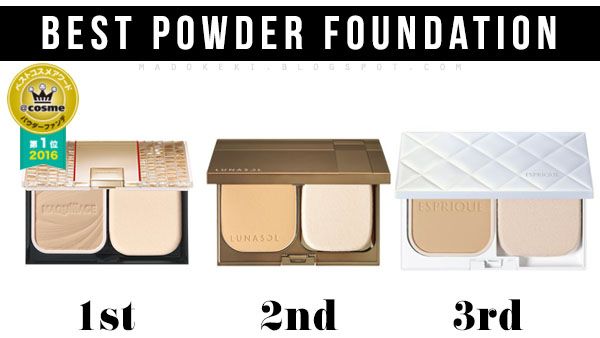 BEST POWDER FOUNDATION
1ST | MAQUILLAGE | DRAMATIC POWDERY UV
A light weight foundation that leaves your skin looking like bare skin, only without any flaws.
2ND | LUNASOL | SKIN MODELING POWDER FOUNDATION
3RD | ESPRIQUE | BEAUTIFUL STAY PACT UV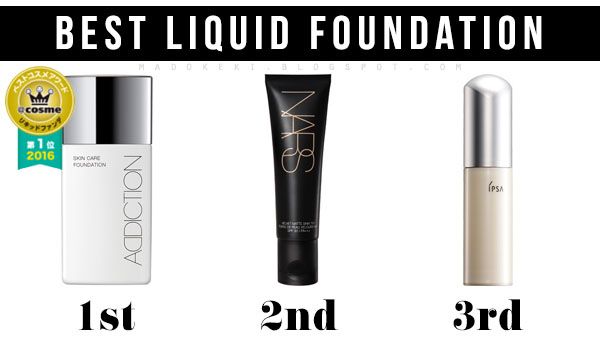 BEST LIQUID FOUNDATION
1ST | ADDICTION | SKIN CARE FOUNDATION
Easy to use even without a primer or powder. Creates a high shine finish.
2ND | NARS | VELVET MATTE SKIN TINT SPF30 PA+++
3RD | IPSA | LIQUID FOUNDATION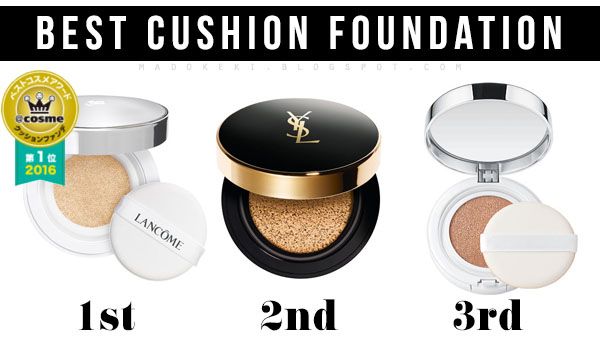 BEST CUSHION FOUNDATION
1ST | LANCOME | BLANC EXPERT CUSHION COMPACT 50
Covers any signs of blemishes completely with a ultra-thin finish, still retaining the look of bare skin.
2ND | YSL BEAUTY | LE CUSHION ENCRE DE PEAU
3RD | CLINIQUE | SUPER STAY BLOCK BB CUSHION COMPACT 50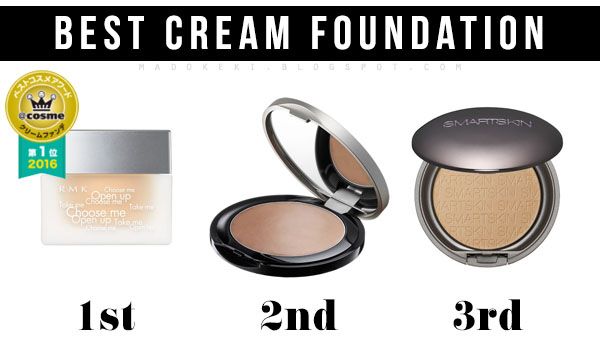 BEST CREAM FOUNDATION
1ST | RMK | CREAMY FOUNDATION N
A perfect blend of dewy, translucency, and coverage to create the perfect canvas.
2ND | ETVOS | MINERAL HIGHLIGHT CREAM
3RD | ALBION | SMART SKIN VERY RARE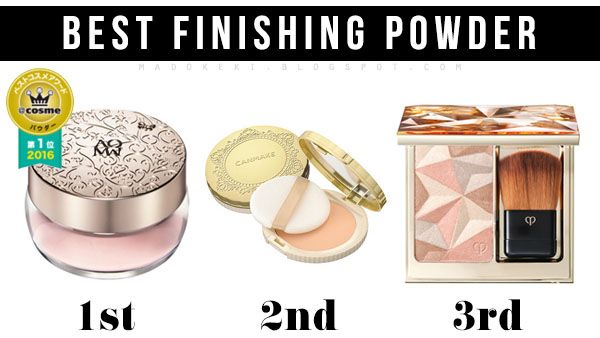 BEST FINISHING POWDER
1ST | COSME DECORTE | AQ MW FACE POWDER
The soft and ultra fine powder adds the perfect finishing touch to your makeup.
2ND | CANMAKE | MARSHMALLOW FINISH POWDER
3RD | CLE DE PEAU BEAUTE | LUMINIZING FACE ENHANCER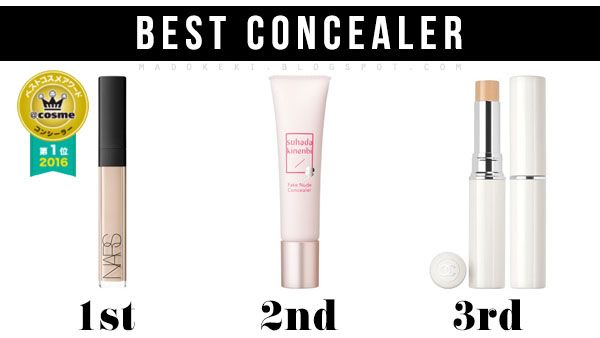 BEST CONCEALER
1ST | NARS | RADIANT CREAMY CONCEALER
Moisturizing formula that can stay crease free and tidy.
2ND | SUHADA KINENBI | FAKE NUDE CONCEALER
3RD | CHANEL | LE BLANC LIGHT CREATOR WHITENING CONCEALER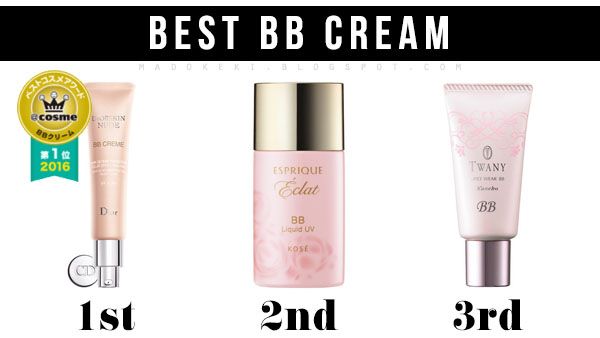 BEST BB CREAM
1ST | DIOR | DIORSKIN NUDE BB
Freshens up your skin with a delicate luster that only adds to what you already have.
2ND | ESPRIQUE | ECLAT LIQUID BB UV
3RD | TWANY | LIPID WEAR BB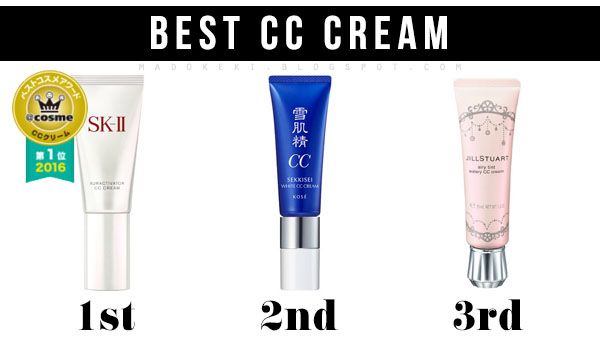 BEST CC CREAM
1ST | SK II | AURA ACTIVATOR CC CREAM
Adjusts skin texture and brightens and evens out the skin tone that approaches smooth flawless looking skin.
2ND | SEKKISEI | WHITE CC CREAM
3RD | JILL STUART | AIRY TINT WATERY CC CREAM
To see more of the rankings (there are more!!!), visit their
global website here
.
Ending note:
Thank you for visiting my little blog, reading what I have to share.
It's not been an easy year for me, but I believe it's equally difficult for everyone else. I hope everyone remembers to stay strong because life isn't a bed of roses! There are happy moments, and unhappy ones. Yet we need the unhappy moments just as much as the happy ones, because it's the darkness that brings out the brightness of light.

I'm just hoping that in 2017, I can be healthy enough to get back to sharing personal reviews of products, instead of merely sharing information that's already out there. I can't wait to have healthy skin again so I can be my own guinea pig, sharing honest opinions and thoughts, information and knowledge. Because that's the kind of value I want to offer you.
It's silly to wish for an easy time, because it just won't happen. Moreover, an easy time benefits no one. Instead, I wish for everyone to be able to face challenges with the right mindset - that difficult times are merely gym sessions for your mind to make it stronger. With a stronger mind, no challenge will faze you. With the right mindset, you can take anything in your stride. And that makes you impervious to any storms ahead.
xoxo
Karman.