NEW Jill Stuart 2015 Fall Collection: My Dress
jill stuart's new collection is called MY DRESS and has chosen the lipstick to take the centre stage of the 2015 fall collection, coming up with 10 new shades.
JILL STUART ROUGE MY DRESS | 3000 YEN
strong pigmented colours in just one swipe. applying with a lip brush will give you a lighter touch of colour. shade 02 and 10 are limited colours.
JILL STUART RIBBON COUTURE EYES (09, 10) | 5000 YEN
the two limited edition palettes for fall, 09 is a bordeaux palette while 10 is a beige palette.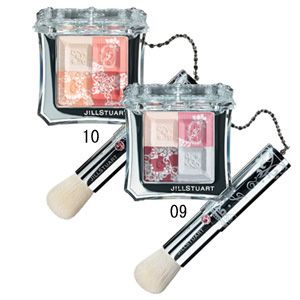 JILL STUART MIX BLUSH COMPACT N (09, 10) | 4500 YEN
also a limited edition colour, 09 has a wine rose tone w hile 10 is a mixture of beige corals.
JILL STUART STAY TRUE GEL LINER (05) | 2300 YEN
the matte burgundy brown eyeliner is also a limited edition colour. the gel liner is pigmented and long lasting.
JILL STUART NAIL LACQUER R (43, 44, 45) | 1500 YEN
43 is a pearly ivory shade, the only limited edition colour out of the three. 44 is the classic fall bordeaux shade (creamy), and 45 is a bright magenta (creamy).
EDITOR'S THOUGHTS: the entire collection is limited edition, except for the two nail lacquer shades. what a bummer! it's nice to see more brands venture into the burgundy craze every fall, even though it's a little uncreative, but that's how the industry work i guess. if they also released a burgundy lipstick, that'd have made this collection perfect.