Welcome to my stash, I've heard a lot of great things about you.
some months ago in april, i was restocking my oils on
iherb
as usual when i suddenly noticed there is an additional 20% discount off my order. I'M IN LUCK! so i quickly placed an order for the real techniques brushes which i've been eyeing for a while.
real techniques was recently made available in singapore, but the price is almost twice the price of that online.. with the 20% discount, i only paid
USD$14.39
for the
your eyes enhanced starter kit
, a whopping
56% off
the retail price in watsons. (it's retailing for SGD$40, while i paid SGD18.7 after conversion!) *fist pump*
i picked up the
setting brush
because i wanted a small brush that can fit under my eyes perfectly. the
elf complexion brush
is fine but a tad too big for times when i want to set the concealer under my eyes. as for the
your eyes enhanced starter set
, it seems the most comprehensive and value for money since a stand alone
shading brush
cost USD$5.99 each.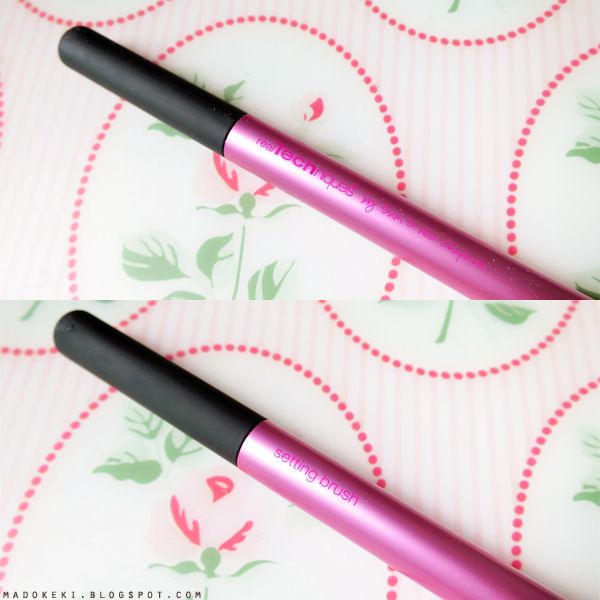 the name of the brushes are printed on the metallic handle of the brush. the black part is a slightly rubbery material. the brush is pretty light weight in general.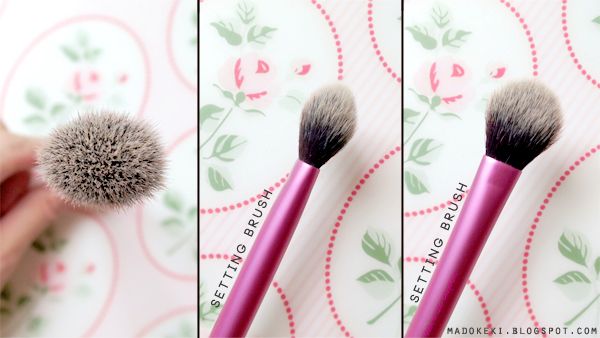 top, side, and front view of the real techniques setting brush.
the brush has an oval shape when seen from the top. you can picture that in your mind with the help of the photo right? this shape utilizes more surface area of the brush, unlike a kabuki brush where only the top part is utilized.
the brush is fluffy but not very soft, partly due to the shorter bristle length.
the gripping power of the brush is surprising, you'd think that the smooth bristles can't pick up too much products, but i've been proven to be wrong because the amount of powders that gets picked up is pretty decent.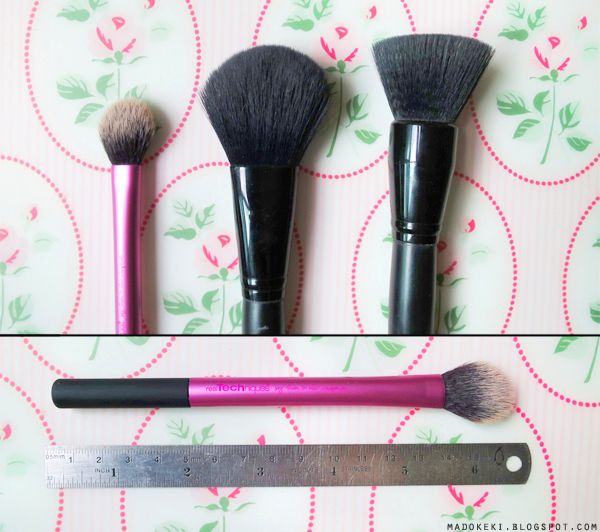 size comparison of the real techniques setting brush with elf studio complexion brush and powder brush.
the length of the brushes are about the same, the only difference in the size and visible bristle length. also, the ferrule of the real techniques setting brush is also much longer as compared to the elf brushes. no more loose ferrule (which happened to my elf powder brush) situations!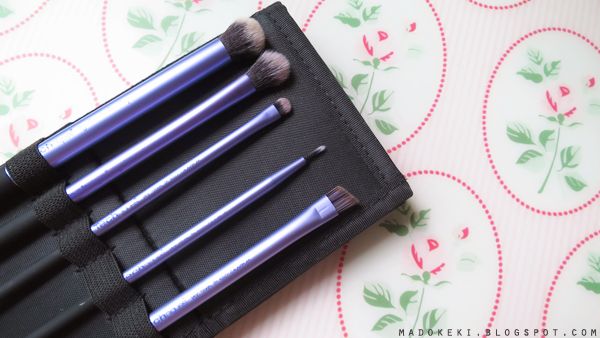 real techniques your eyes enhanced starter set.
a set of 5 brushes, it comes in a black foldable case for you to bring it on the go. each brush is held tightly by a black elastic, which proves to be quite an ass when i tried to put the brushes back into it.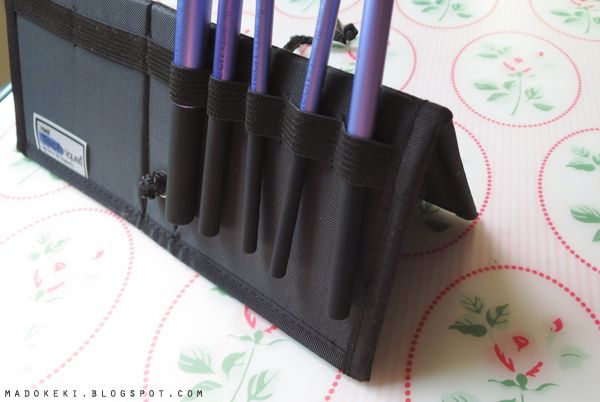 brush cover can be transformed into a brush stand.
if you fold along the crease in the previous photo, you'll get a stand that can be held in place by a string and stopper (in the background of the photo, being blocked by the 4th brush).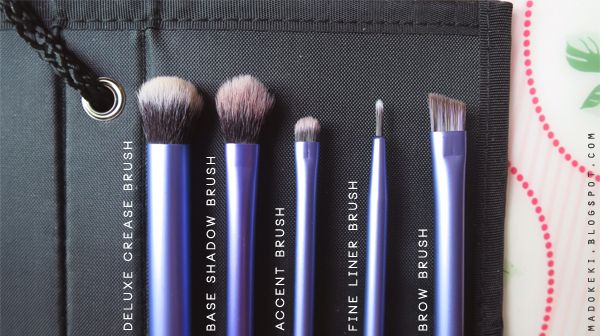 real techniques deluxe crease brush, base shadow brush, accent brush, fine liner brush, and brow brush.
this set can pretty much satisfies all your eye looks, since it takes care of eyeshadow, eye lining, and your eyebrows too!
i have tried using all but the fine liner brush as it looks too thick to be considered "fine" to me.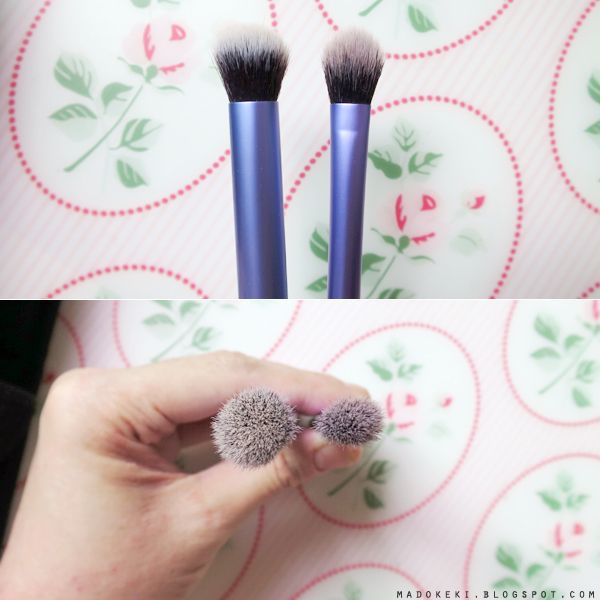 comparison of the deluxe crease brush and base shadow brush.
as you can see, both of them differ in size and shape. the
deluxe crease brush
is a round brush with a dome top, while the
base shadow brush
is oval in shape and has a more tapered end.
since the brush density of the
deluxe crease brush
is higher, it's a little stiffer than the base shadow brush, making it wonderful as blending out harsh edges or to buff small sections of the skin. i tried using it under my eyes and it fits perfectly, allowing me to buff powder on my under eye area.
the
base shadow brush
is a lot softer and works super well in sweeping colour over my lids. i also use it for blending out harsh edges. it's kind of multi functional and i really really like this brush.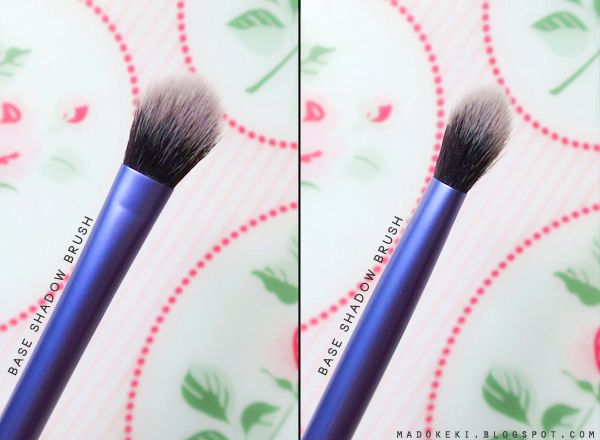 side and front view of the base shadow brush
the tapered design of the
base shadow brush
allows me to pick up shadow easily with the sides of the brush, which may contribute to the beautiful diffusion of colours when i apply it to my eye lids, as opposed to a concentrated spot of colours. i've been looking for an eyeshadow brush that does this forever, ever since i lost my first eyeshadow brush a decade ago. none of the
current eyeshadow brushes
i own is able to deliver a gentle and even wash of colour across my lids because they're all too stiff.
i've used the
accent brush
in applying brown eye shadow on my lower lids, as well was to highlight the inner corner of my eyes. the small size allows it to fit onto those parts precisely. it also picks up powder very efficiently. another of my favourite brush from this set.
as for the
brow brush
, it's dense, thick, but a little too soft for my liking. the lines it creates is too feathered. while it may be perfect for filling in the brows, i still prefer using my stiffer angled brow brush (which i converted from an old eyeliner brush) to sketch on a more definitely brow tail. i've found another use for this brush though: contouring my nose. the soft lines it creates allows me to add shadow to my nose before blending it out with another brush. if the brush is too stiff, the lines will be too dark and compact, making it harder to blend out later on. i don't want to have harsh lines on my nose!
and those are just a first impression so far because i only got to use it once or twice! do expect a full review in time to come. hopefully i would have used the fine liner brush by then to note down my thoughts about it.
if you're new to iherb, you're in luck because you can get $10 off your first purchase (must be over $40). that's 25% off your first purchase! anything below $40 and you'll get $5 off! just use the code SUG844 to shave $10 off your order! or you can click on this link to shop these products right now!