First Impression And Swatch of the Sigma Lip Base (Indulgent)
this is the first time i used a lip liner and i really liked it.
my mom isn't into makeup like me, but she do use lip liners, so i've always associated lip liners with the older generation since young. moreover, lip liners aren't marketed as heavily as lipsticks are, i just never thought of buying myself one.
sigma
has sent me some of their beauty products (you can
read more on a separate entry
) and here's my first impression review on their
lip base
in the shade
indulgent
.
COLOUR:
nude pink that can look a little peachy under warmer lighting.
FINISH:
matte, but has a slight sheen to it that resembles natural lips.

a nude pink that is a my-lips-but-better shade for me.
SCENT:
unscented.
TEXTURE:
almost velvet like because it glides onto my lips (without lip balm) really smoothly and evenly.
PIGMENTATION:
able to completely cover up my original lip colour easily, it also lifted my mom's slightly darker lips a little. you can see from the swatch above that the lip liner covered a brown spot on my lips.
STAYING POWER:
it can be wiped off easily with a piece of tissue, but it doesn't transfer to cups as easily as lipsticks. i got 2-3 hours of wear before i wiped it off (because i had to eat). reapplication is very easy since it can be cleaned off so easily.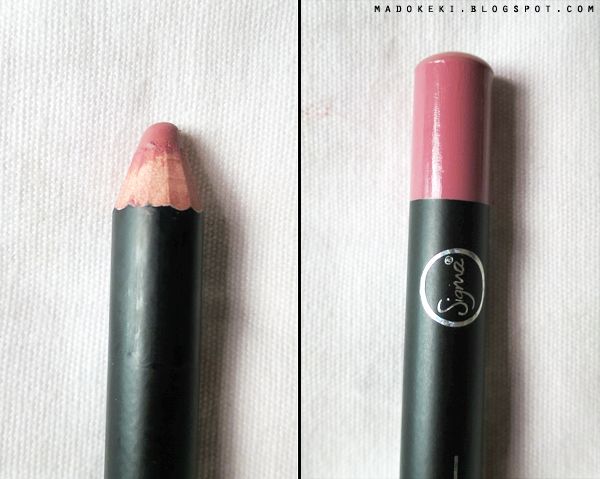 at the end of the lip liner is a colour that matches the colour of the product.
OVERALL
: a very light weight product that hugged my lips like second skin, giving me a really natural look. i really didn't feel a thing on my lips. even though my lip lines are pretty visible when wearing just the lip base alone, my lips isn't actually dry or uncomfortable. the product didn't sink into lip lines like certain lipstick does. as i'm an avid fan of smacking my lips subconsciously, i notice this product doesn't have that sticky feeling like the revlon ultimate suede lipstick.
VERDICT:
i'm loving this lip liner!
since i've never used lip liners before, i have nothing to compare this to, but the performance of the lip base surprised me very pleasantly :) it's perfect for days when i wish to look a little more under stated yet made up. this might just send me into a lip liner hunt in the future for more amazing stuff.
you can check out the other
lip base
shades they offer.