My thoughts after using it for more than 2 months.
i've already done a
first impression
for this product, in this entry i'll just add a little more details shots and swatches.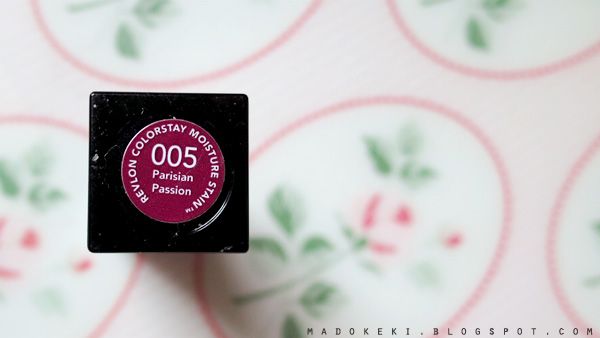 the shade i got is 005 parisian passion.
i've been eyeing this shade ever since it was released in the U.S. because it's hard to come across such a gorgeous deep purple shade in the usual drugstore brands. after praying hard that revlon singapore will bring in this shade, my prayer is answered!!!
the paddle applicator has a tapered top, giving you more control and precision when maneuvering around the delicate corners/cupid's bow.

NUDE LIPS | ONE THIN COAT | 2 LAYERS OF PRODUCT
COLOUR:
i've colour corrected the photos so as to show a more true to life colour. i've mentioned in my
first impression
that this is a purplish wine-burgundy shade, that description still holds true. it's reminds me of black berry juice perhaps - a dark purplish shade.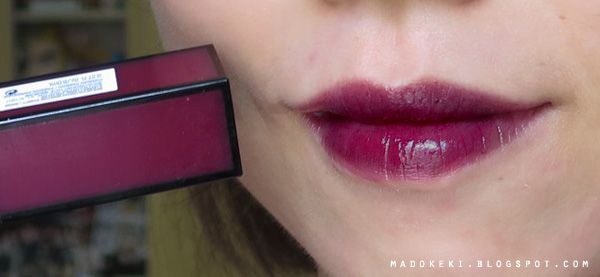 PACKAGING:
the colour on the packaging is a good depiction of the product's colour. if you can't test this out in your local drugstore, it's useful to place the tube over your lips to imagine how this colour will look with your skin tone.
WEAR AND TEXTURE:
the product is slightly viscous and can go on a little too thick and cushiony initially, hence it's best to apply many thin layers instead of one thick layer or product. after several hours however, it will thin out and by the time i blot my lips with a piece of tissue, there is little emollient that transfers to the tissue. most of it either absorbed into my lips or evaporated away.
my lips continue to feel hydrated and moisturized for up to 3-4 hours, however do not be surprised when you realize your lips feel a little rough and hard at the end of the day unless you keep reapplying it. the long hours of no touch up definitely speeds up my lips' renewal process.
once the stain gets onto our lips, the colour of the product will change. i noticed that if i were to wipe off the products off my lips initially, the product looks just like it did from the tube (as in dark purplish). hours later, when i blot my lips the lip stick stain i get is a clear blackish shade. i have no idea what transpired, but it's probably the loss of water soluble stain that got stuck onto my lips.
despite the glossy/balmy texture, i'm happy to report the product DOES NOT feather.
STAIN:
the wonderful thing about this product is its staining power. i'm left with a berry-bitten lips after wiping it off after several hours. i'm not exactly sure how long it'll take to stain your lips, but the longer you leave it in, the deeper the stain. common sense right?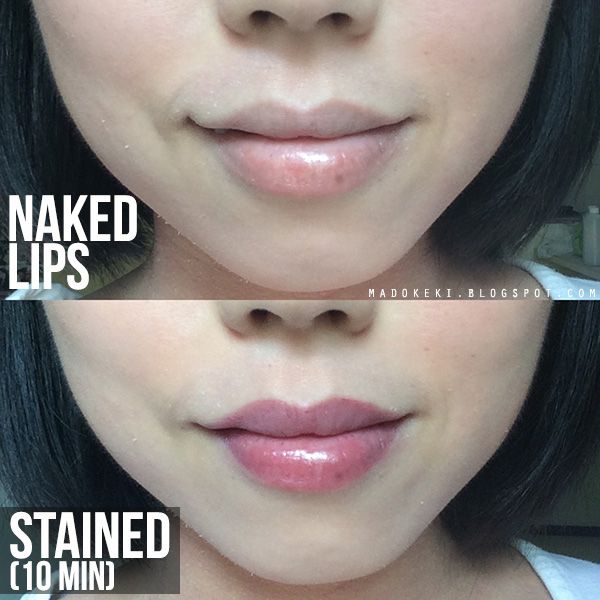 VERDICT:
i absolutely adore its texture and how it feels on my lips. it's hydrating, the colour payoff is amazing, and that stain is so lovely.
however, this might be the kind of product which will require the user to learn how to work with it. it's not idiot proof and one must be patient when applying - many thin layers instead of one thick layer. also, make full use of the paddle applicator by pressing it hard against your lips for the best application possible. just speaking from personal experience.
i mean, this is a very kissable product because you can use it as a lip stain. no transfers to your lover's cheeks or lips!