Underwhelmed is an understatement.
Kate is finally releasing new products for fall! About time!
I know they usually release a new palette every season even though the colour variation is similar to previous products. I thought this would be similar to all the other releases but I'm wrong!
Apart from the eyeshadow, the other products really didn't wow me. Canmake and Visee both made something similar, so I feel that there isn't much Kate has to offer in terms of innovation here. Just a rehash on products that's already out there in the market.
COLOUR SENSOR LIP TINT | 1400 YEN
A lip tint that changes colour according to your chemistry! The difference is just slight, I find it very gimmicky so I'd do without the swatches. If you're interested, you can
click here to see them on their official site
. It is available in 7 colour variations.
The only one that will really show a huge difference would be the shade BK-1, turning from a greyish tint to a pinkish tint. But Canmake already released something exactly the same before, so pardon the lack of enthusiasm here. Everything that's colour changing is just too gimmicky for my liking.

The only redeeming quality is perhaps the applicator, it's designed to be used perpendicular to your lips so you can coat the top and bottom lip at the same time! Hopefully this make it easier to achieve gradient lips.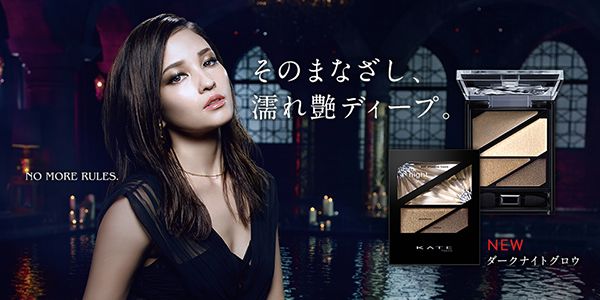 DARK NIGHT GLOW | 1600 YEN
A new eyeshadow quad, containing one cream base and 3 powder eyeshadow, the colours are muted and look very wearable. I was going to say it's a rehash of older series, but truth be told, the colours are actually new. Even though it's the same colour combination (it's meant for daily wear, so you really can't get too creative with the colour combination or it'd end up looking too impractical), it's the first time I see such muted colours.
The eyeshadow base helps the later eyeshadow adhere better, and allows their colour to be more vibrant. You'll get a frosty/metallic shade and two darker shades to define your eyes to make it pop. I must say I'm in love with that metallic sheen that imparts so much dimension to the eyes! Literally make your eyes look like headlights!
Available in 5 colour variations.
CC LIP AND CHEEK CREAM | 850 YEN
Riding on the success of their CC lip balms, they now come in a bigger packaging so you can use it as a cheek cream too! The formula aims to give you natural looking colours. It's also hydrating and protects your lips from UV rays.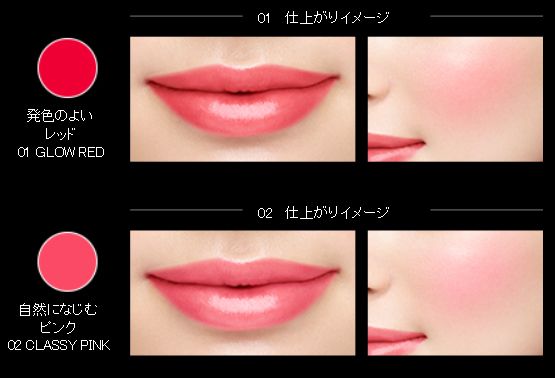 Available in 2 shades.
You know what? I'd tell you to save your money and get the 480 YEN CC lip cream instead. They're basically the same thing, just packaged differently.
As a Kate fan, I'm not overly excited by this release. But then again, how much newness an you bring into the market given the ton of competition around? I can only hope their quality stand out from the rest :)
Image credit: Kate and @cosme.