Continue to maximise your dollar while looking pretty at the same time!
After sharing several
dupes for base makeup products in PART 1 of the series
, let's move on to some point makeup products.
There are so many more amazing products out there, I'm trying to consolidate more of those and they'll probably appear in later entries!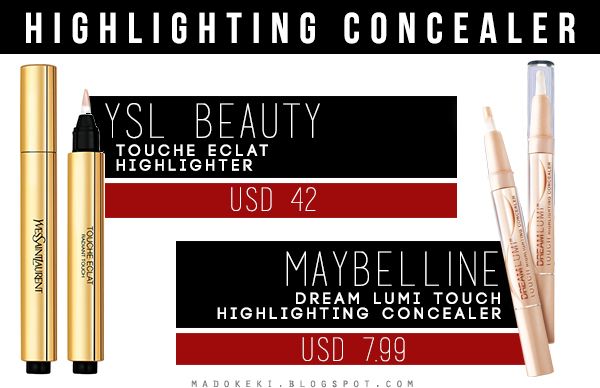 The YSL Touche Eclate highlighting pen is THE highlighting pen, but you can get the similar luminous light reflecting effect with the Maybelline Dream Lumi touch highlighting concealer for a fraction of the price. Sure, the packaging isn't as luxurious, but hey, it's not like you're using the highlighting pen in front of an audience anyway. Who cares about the packaging? (OK I admit I secretly do care about the packaging, but it doesn't justify the price.)
The product is lightweight, yet offers enough pigment to conceal dark circles by adding light to that area of your skin. Crease-less (after setting with powder) and brightened under eye area? SIGN ME UP! (As reviewed by Paula's Choice)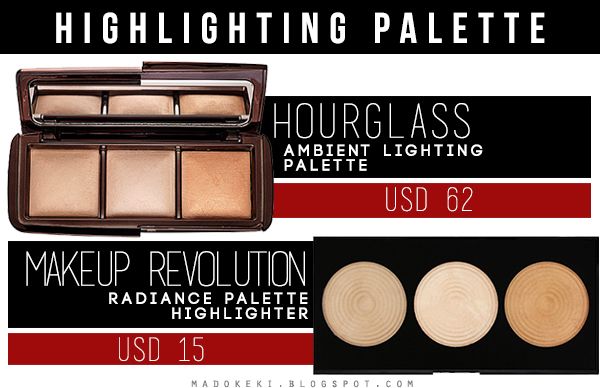 To achieve that subtle glow, the Hourglass Ambient lighting powder does exactly that, albeit at a high price. You can get away with a similar effect with the Makeup Revolution Radiance palette. For the price of $15, its performance is worth every penny.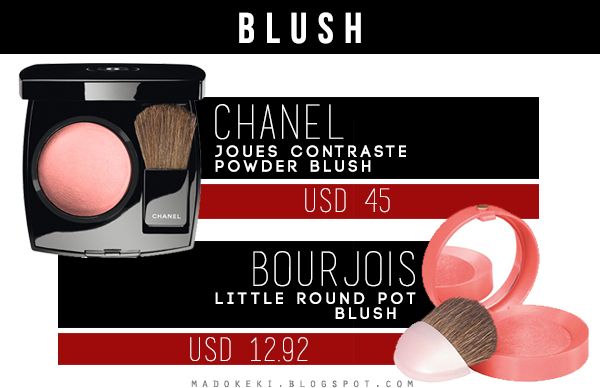 The Chanel Joues Contraste powder blush is a classic, if you can't bear to fork out $45 for that, you can opt for Chanel's "sister brand" Bourjois (Bourjois used to be owned by Chanel, but not anymore though!). Both the blush are similar in terms of colour payoff and finish. Bourjois' little round pot blush has a huge colour selection, and the finish is BEAUTIFUL. And it doesn't break your bank!
Just.. Ditch that scratchy brush that comes with the blush.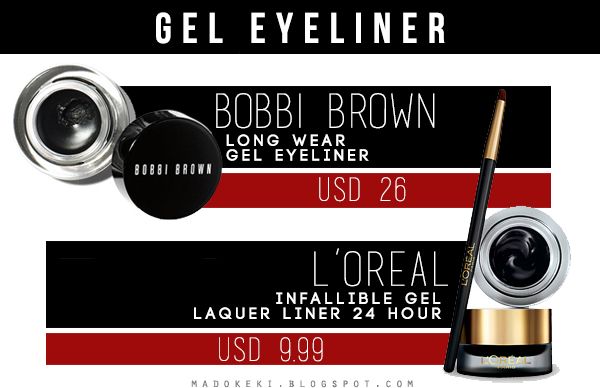 The mother of all gel eyeliner! Bobbi Brown's Long Wear gel eyeliner is probably the product that introduced me to the brand. It's creamy, smooth, and long lasting. You can achieve the same effect with the L'Oreal Infallible gel laquer liner, which is said to be the most reliable drugstore gel eyeliner!
Yeap, it's more reliable than Maybelline's Lasting Drama gel eyeliner (based on reviews). For best effect, set it with an eyeshadow powder to prevent smudges.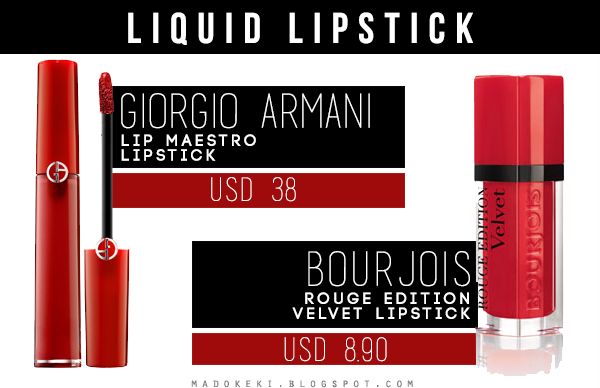 Matte lip products have been all the craze for several seasons now. The Giorgio Armani Lip Maestro lip stain is luxurious and beautiful, but that price tag though! You can get 4 Bourjois Rouge Edition Velvet liptick for the price of one Giorgio Armani Lip Maestro! Both product have a similar finish - a wet and hydrated look that slowly dries down to a smooth matte finish.