Time to talk about the best new skin care.
After sharing the
best new base makeup
and
best new colour makeup
, it's time to talk about the slew of new skin care products. I know there are a tonne of brands that are not exported (out of Japan), hence I've never seen or heard of them before. Today is the first time I've heard of such several brands below, and they definitely make it harder for me to translate the brand name and product name because it's all in Japanese.
While I questioned the utility in sharing products that aren't remotely available, it's still useful IF you happen to be travelling to Japan because you'll be fazed with TOO MUCH brands and products in the local drug store. Having a guide is a good head start :)
Here are the products that won the hearts of @cosme editors. I also loosely translated the short description of the winner of each category.
BEST CLEANSING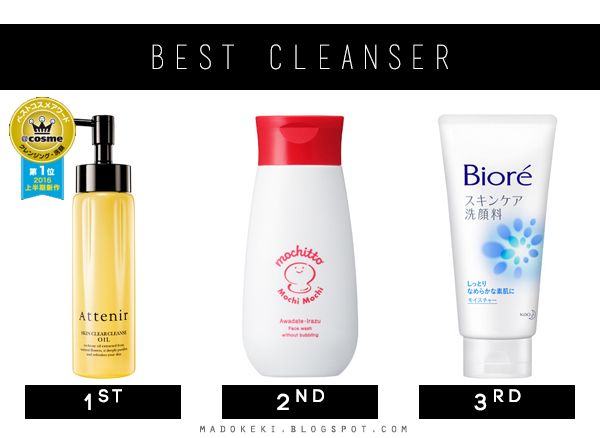 1. ATTENIR | SKIN CLEAR CLEANSE OIL AROMA TYPE
"Forget about double cleansing with this cleansing oil! Washes off any makeup."
2. MOCHITTO | FACE WASH WITHOUT BUBBLING
3. BIORE | SKIN CARE CLEANSER MOISTURE
BEST TONER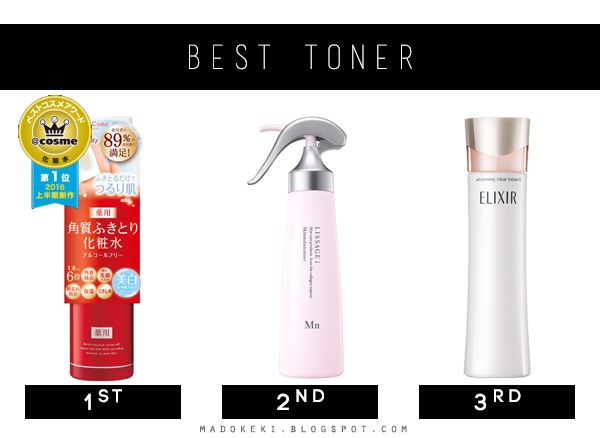 1. NARIS UP COSMETICS | NATURE CONC MEDICATED CLEAR LOTION
"Refines and brings out the transparency of the skin. A good item to boost the entire skin care routine."
2. LISSAGE I | SKIN MAINTENIZER M2 (MOISTURE TYPE)
3. ELIXIR | WHITE CLEAR LOTION C II
BEST SERUM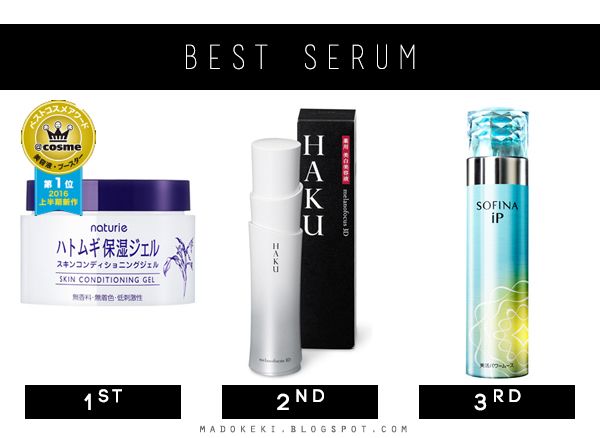 1. NATURIE | SKIN CONDITIONING GEL (HADAMUGI MOISTURIZING GEL)
"Its low price means you can use it all over your body without breaking a sweat. Plus point: it's moisturizing and cooling!"
2. HAKU | MELANO FOCUS 3D
3. SOFINA IP | POWER MOUSSE (ESSENCE)
BEST LOTION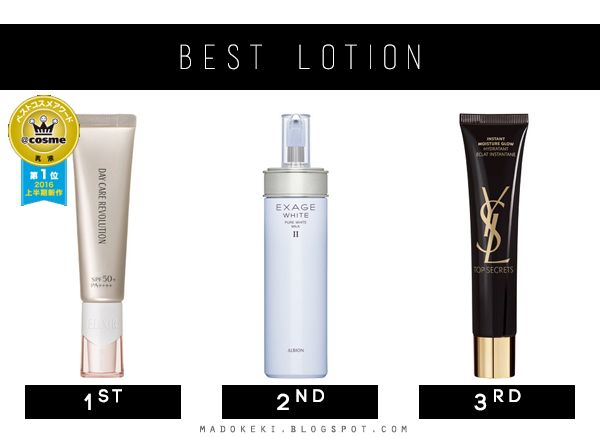 1. ELIXIR | WHITE DAY CARE REVOLUTIO C+
"Protects you from UV rays while whitening your skin at the same time."
2. EXAGE | EXAGE WHITE PURE WHITE MILK II
3. YVES SAINT LAURENT BEAUTE | TOP SECRET MOISTURE ECLAT
BEST CREAM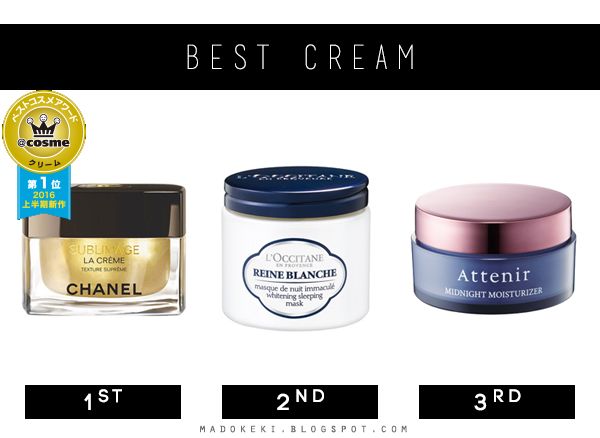 1. CHANEL | SUBLIMAGE LA CREME N
"Deeply moisturizing, this cream can confuse others about the real age of your skin."
2. L'OCCITANE | REINE BLANCHE WHITENING SLEEPING MASK
3. ATTENIR | MIDNIGHT MOISTURIZER
BEST SUNSCREEN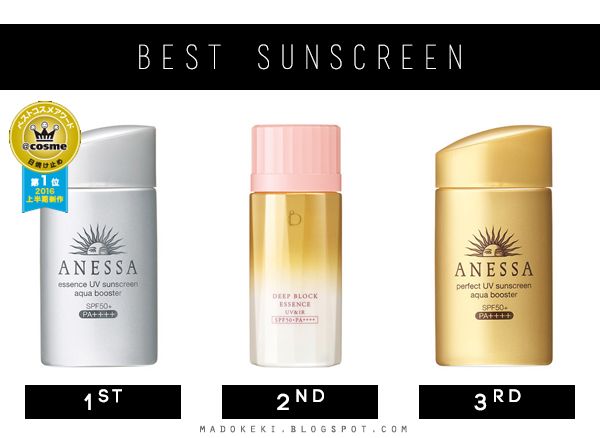 1. ANESSA | ESSENCE UV AQUA BOOSTER
"Highly moisturizing, sweat proof, and blocks ultra violet rays!"
2. BENEFIQUE | DEEP BLOCK ESSENCE UV&IR
3. ANESSA | PERFECT UV AQUA BOOSTER
BEST OIL/BALM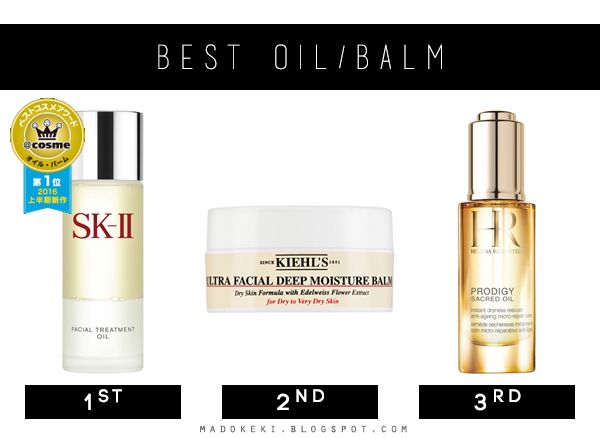 1. SK-II | FACIAL TREATMENT OIL
"It can convert the heart of even those who are afraid of oils. The shiny and silky skin effect is stunning."
2. KIEHL'S | ULTRA FACIAL DEEP MOISTURE BALM
3. HELENA RUBINSTEIN | PRODIGY SACRED OIL
BEST LIP CARE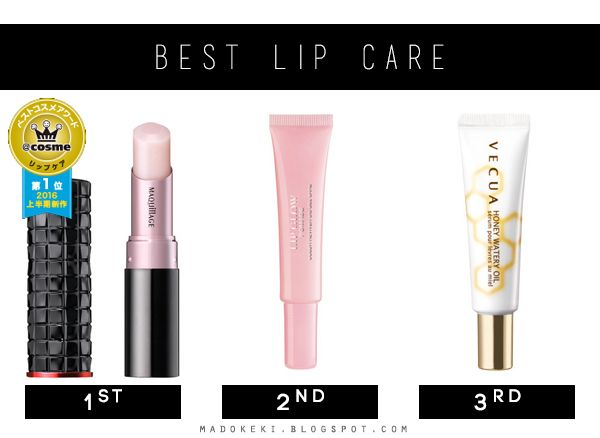 1. MAQUILLAGE | DRAMATIC LIP TREATMENT
"Filled with beautifying oils, even the roughest lips will be transformed beyond recognition."
2. DIOR | DIOR ADDICT LIP GLOW POMADE
3. VECUA | HONEY WATER OIL
BEST EYE CARE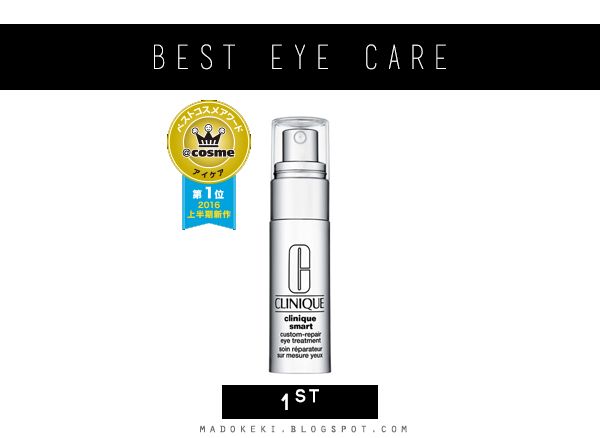 1. CLINIQUE | SMART CUSTOM REPAIR EYE TREATMENT
"Prevents sensitive eye area from damage due to dehydration quickly, with a bonus of extra firmness and brightness."
BEST SHEET MASK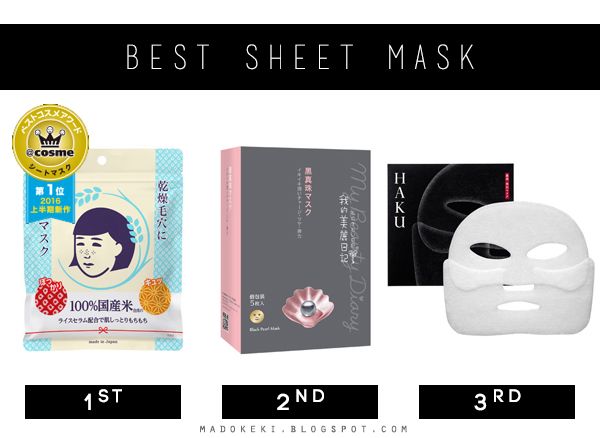 1. KEANANADESHIKO | RICE MASK
"Affordable price means it can be used without any guilt to achieve a smooth and moisturized skin."
2. MY BEAUTY DIARY | BLACK PEARL MASK
3. HAKU | MELANO SHIELD MASK
BEST EXFOLIANT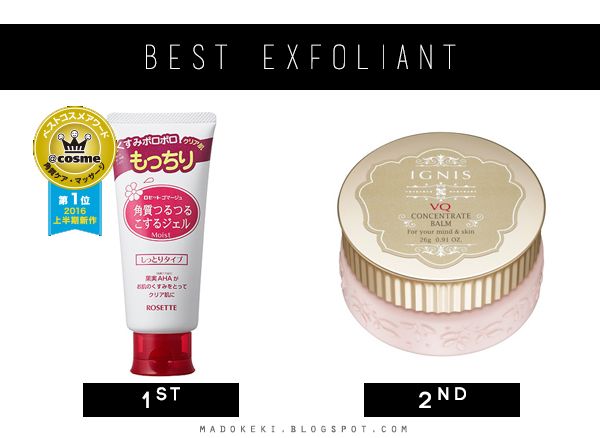 1. ROSETTE | MOIST EXFOLIATING GEL
"Say goodbye to rough skin! This leave your skin clear and moist."
2. IGNIS | VQ CONCENTRATE BALM
ENDING THOUGHTS
As I've said, there are quite a number of brands that are only available in Japan itself. I thought I have a pretty good idea of brands in Japan, how wrong was I!!! I'm being educated everyday :D
Also, what's with the luxury brands and skin care products? Can you imagine all that ka-ching sound effects in the back of your mind every time you dig into that expensive cream? KA-CHING KA-CHING!
Image credit: @cosme