Here comes the ranking for new makeup products!
Following last week's entry on
2016 @cosme best new makeup (foundations)
, here are the colour makeup categories!
A few of the products aren't exactly new, since I saw them in the
2015 @cosme best makeup awards
before. Some of them are new colour variations of the same series.
Let's go straight into it. I've translated the short description from the official
@cosme
website :)
EYESHADOW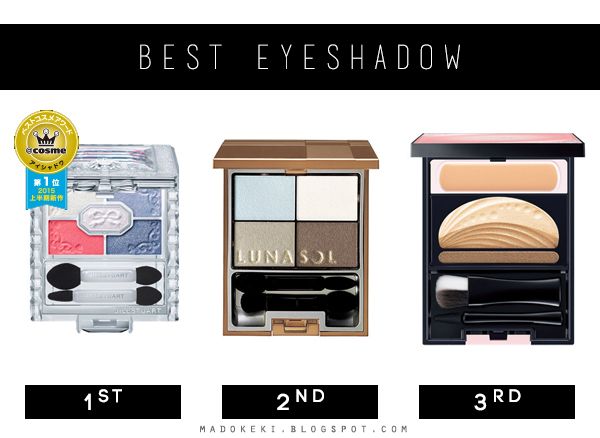 1. JILL STUART | RIBBON COUTURE EYES
"The smooth texture creates innocent looking eyes, making a lady instantly cute and dainty."
2. LUNASOL | TENDER CLEAR EYES
3. AUBE COUTURE | BRIGHT UP EYES
EYELINER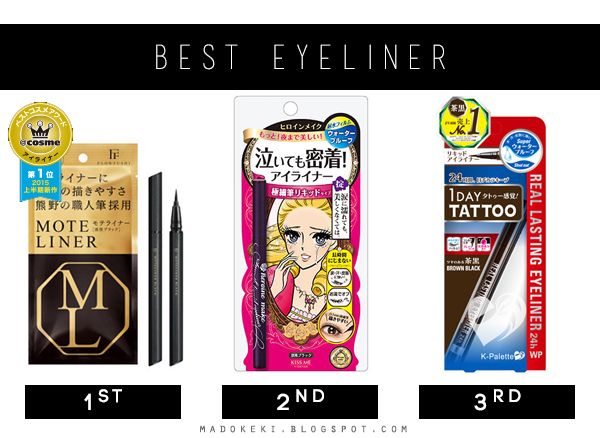 1. FLOW FUSHI | MOTE LINER LIQUID TAKUMI
"Get consistently fine lines easily, time after time."
2. HEROINE MAKE | SMOOTH LIQUID EYELINER SUPER KEEP
3. K PALETTE | REAL LASTING EYELINER 24H WP
MASCARA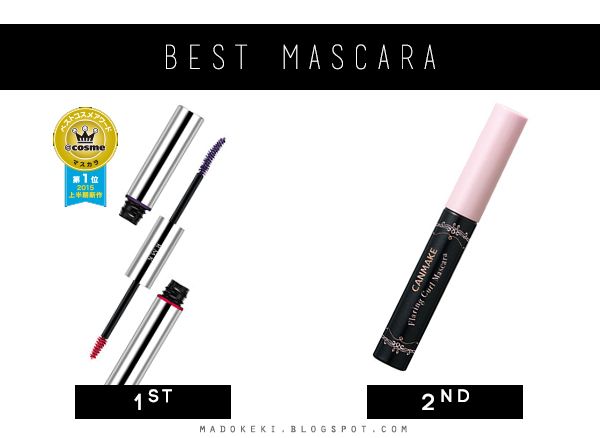 1. RMK | W COLOR MASCARA
"Magnificent two toned mascara is in trend right now! Creates sophisticated eyes."
2. CANMAKE | FLARING CURL MASCARA
LIPSTICK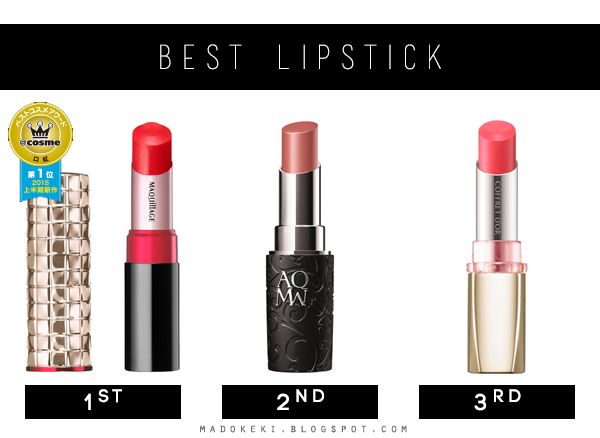 1. MAQUILLAGE | DRAMATIC ROUGE
"Highly moisturizing despite the long wear, providing amazing colour and shine."
2. COSME DECORTE | AQ MW ROUGE GLOW
3. COFFRET DOR | PREMIUM STAY ROUGE
LIP GLOSS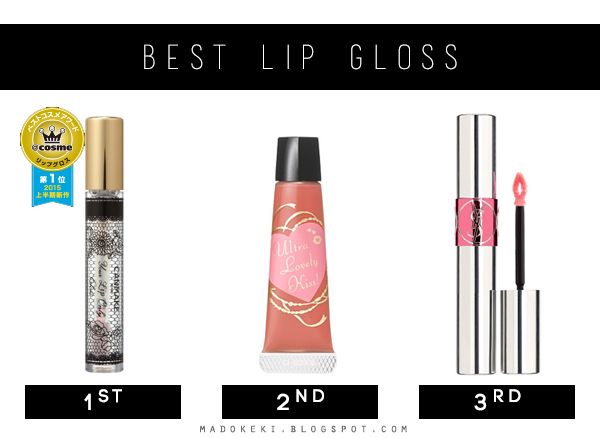 1. CANMAKE | YOUR LIPS ONY GLOSS
"A fun and lightweight sheer tinted gloss that changes to a different colour every time!"
2. INTEGRATE | GIRLS KISS JELLY
3. YSL BEAUTE | VOLUPTE TINT IN OIL
BLUSHER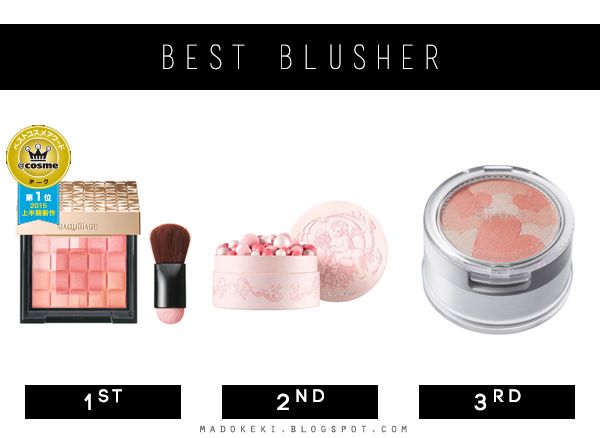 1. MAQUILLAGE | DRAMATIC MOOD VEIL
"Gives your face a natural flush of colour while creating dimensions and depth."
2. GUERLAIN | METEORITES PERLES DE BLUSH
3. ETTUSAIS | HEART CHEEK COLOR
NAIL POLISH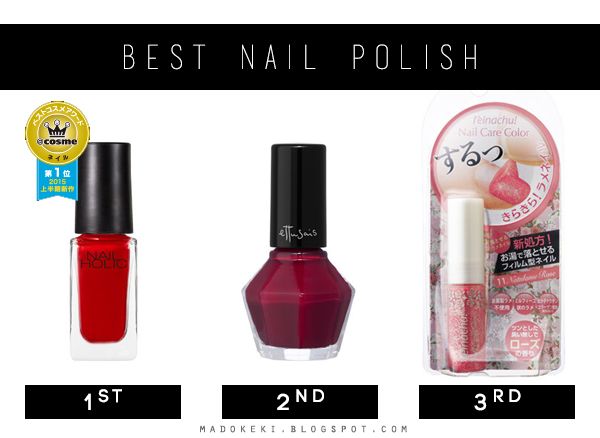 1. NAILHOLIC | NAIL HOLIC
"The affordable nail polish that is size appropriately and availabe in wearable shades has led to its popularity."
2. ETTUSAIS | NAIL COLOR COLLECTION
3. REINACHU | NAIL CARE COLOUR NATULAME ROSE
Ending thoughts:
The only thing that really caught my attention is the reinachu nail polish. It's the first time I heard of this brand (just goes to show how many different brands are actually available in Japan), what interested me is the graphic on the packaging. It seems like a peel-able nail polish!? And it's scented!? For a glitter nail polish lover, a peel off formula sounds heavenly.
Image credits: @cosme