Lips, cheeks, nails, and some extra bonus stuff for you.
now that we've seen the 2015 @cosme
hall of fame
,
best skin care
,
best base and eye makeup
,
it's about time we look at the other makeup products that we can put on our face.
LIPSTICK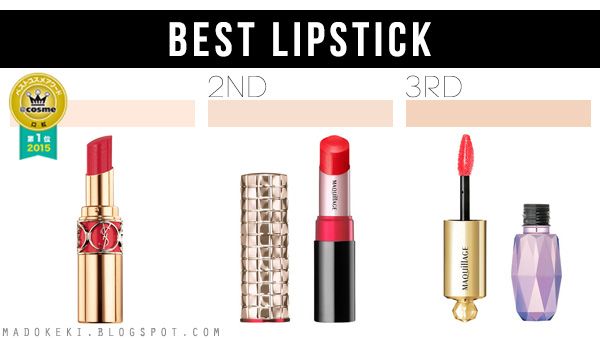 1. YVES SAINT LAURENT | ROUGE VOLUPTE SHINE
"colour of a gloss and moisture of a lipstick"
2. MAQUILLAGE | DRAMATIC MELTING ROUGE
3. MAQUILLAGE | ESSENCE GLAMOROUS ROUGE NEO
LIPGLOSS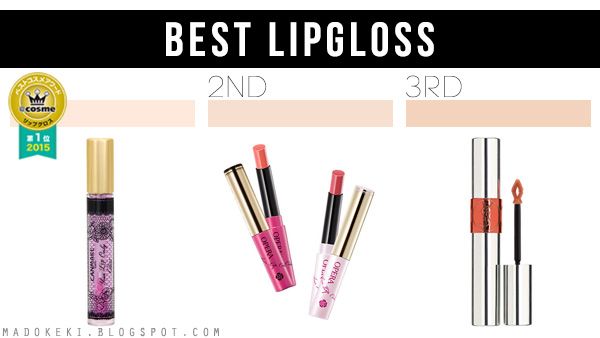 1. CANMAKE | YOUR LIPS ONLY GLOSS
"a surprise every time as the colour develops according to the moisture level of your lips"
2. OPERA | SHEER LIP COLOR
3. YVES SAINT LAURENT | VOLUPTE TINT-IN-OIL
CHEEKS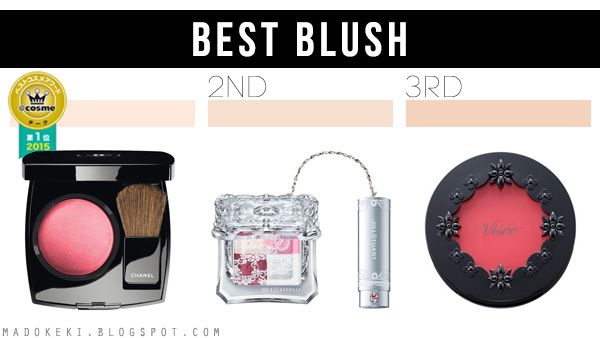 1. CHANEL | JOUES CONTRASTE
2. JILL STUART | MIX BLUSH COMPACT
3. VISEE | LIP AND CHEEK CREAM
NAILS
1. ADDICTION | NAIL POLISH
"beautiful colour and gloss"
2. NAIL HOLIC | NAIL HOLIC
3. INTEGRATE GRACY | NAIL COLOR
BODY CARE
FRAGRANCE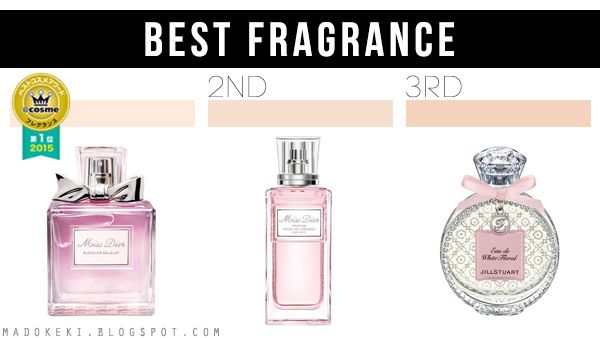 1. DIOR | MISS DIOR BLOOMING BOUQUET (EAU DE TOILETTE)
"gives you a gentle veil of feminine floral fruity scent"
2. DIOR | MISS DIOR HAIR MIST
3. JILL STUART | JILL STUART RELAX EAU DE WHITE FLORAL
HAND CREAM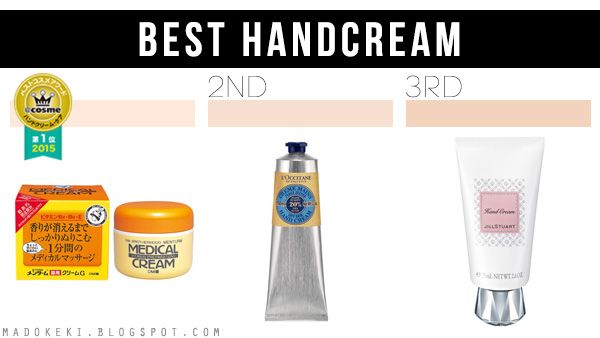 1. MENTURM | MEDICAL VITAMIN PREPARATION CREAM
"doesn't hurt my wallet even if i use it all over my body"
2. L'OCCITANE | SHEA BUTTER HAND CREAM
3. JILL STUART | JILL STUART RELAX HAND CREAM
there're a few more rankings which i've left out (because i'm not interested in those) such as the
beauty tools ranking
,
hair care
, and
body cream
.
you can follow the link and check out the ranking on your own!
(you will have to go under "best in category" to see all the different sub categories)
have you ever had the feeling of "OMG the thing i'm using is on the ranking!" when you check these rankings out?
personally i've experienced that many times,
it's an oddly satisfying feeling because it means that my likings are recognized by others too.
in this entry, i happen to have the canmake your lips only lip gloss and l'occitane shea butter hand cream. i think both item live up to its hype!!!
that's all for 2015's @cosme best cosmetics awards, if you're looking to purchase some of these products, you can do so conveniently at the
@cosmeshopping
website where they grouped all the award winning products together in one place.