Base makeup, Eye makeup.
we're finally out of the
hall of fame
and
skin care
section!
now onto something that might appeal to more of us - make up!
all information and images from
@cosme official website
.
BASE MAKEUP
MAKEUP PRIMER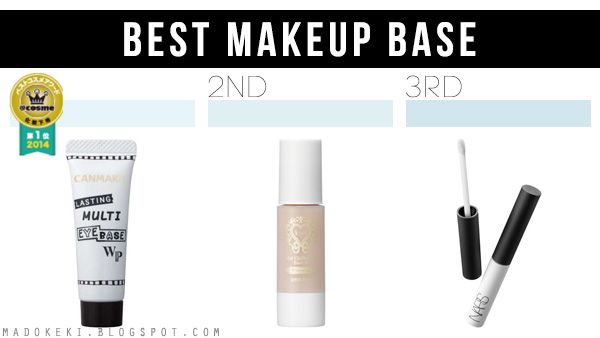 1. CANMAKE | LASTING MULTI-EYE BASE WP
"an excellent primer that prevents melting or bleeding of eye makeup"
2. KISS | MATTE CHIFFON UV WHITENING BASE N
3. NARS | MAGIC PROOF EYE SHADOW BASE
POWDER FOUNDATION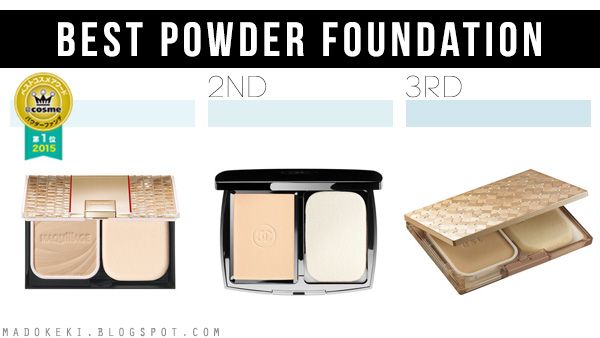 1. MAQUILLAGE | DRAMATIC POWDERY UV
"covers blemishes well with its mousse-like-powder"
2. CHANEL | PERFECTION LUMIERE EXTREME
3. EST | POWDER FOUNDATION SILKY SMOOTH
LIQUID FOUNDATION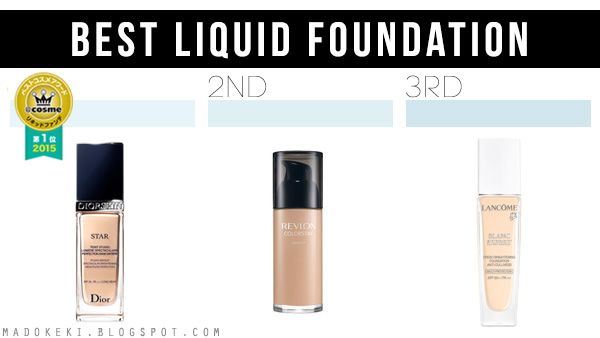 1. DIOR | DIORSKIN STAR FLUID FOUNDATION
"defines your facial features with its bright glow"
2. REVLON | COLORSTAY LIQUID FOUNDATION
3. LANCOME | BLANC EXPERT LIQUID
CREAM FOUNDATION
1. RMK | CREAMY FOUNDATION N
"hydrates dry skin to create a smooth and even canvas"
2. RMK | GEL CREAMY FOUNDATION
3. LUNASOL | SKIN MODELING WATER CREAM FOUNDATION
CONCEALER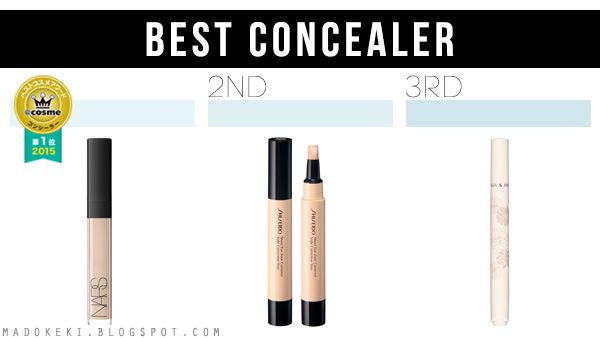 1. NARS | RADIANT CREAMY CONCEALER
2. SHISEIDO | SHEER EYE ZONE CORRECTOR
3. PAUL AND JOE | ILLUMINATING TOUCH PEN
POWDER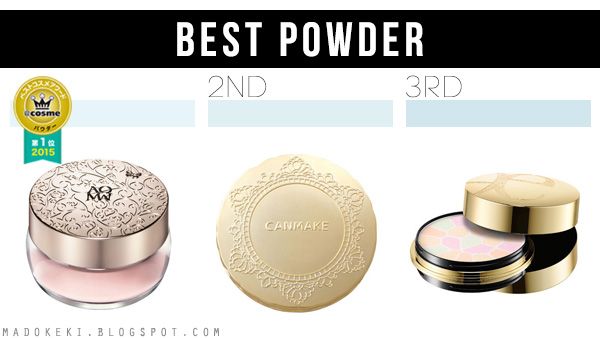 1. COSME DECORTE | AQ MW FACE POWDER
2. CANMAKE | MARSHMALLOW FINISH POWDER
3. ELEGANCE | LA POUDRE HAUTE NUANCE LUXUEUSE
BB CREAM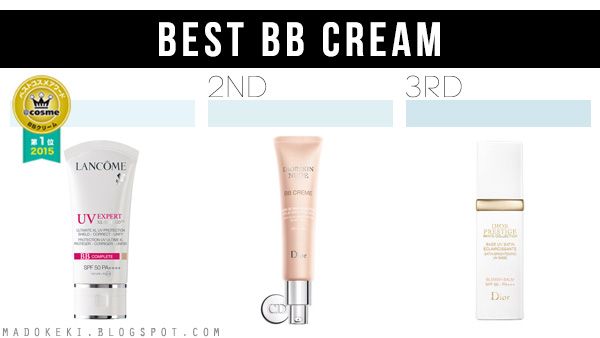 1. LANCOME | UV EXPERT SHIELD XL BB COMPLETE
2. DIOR | DIOR SKIN NUDE BB
3. DIOR | PRESTIGE WHITE COLLECTION SATIN BRIGHTENING UV BASE SPF 50
CC CREAM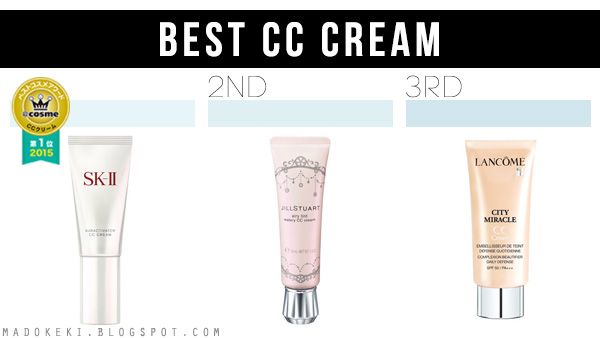 1. SK-II | AURACTIVATOR CC CREAM
"uses light to hide your imperfections while enhancing the glow on your skin"
2. JILL STUART | AIRY TINT WATERY CC CREAM
3. LANCOME | CITY MIRACLE CC CREAM
EYE MAKEUP
EYE SHADOW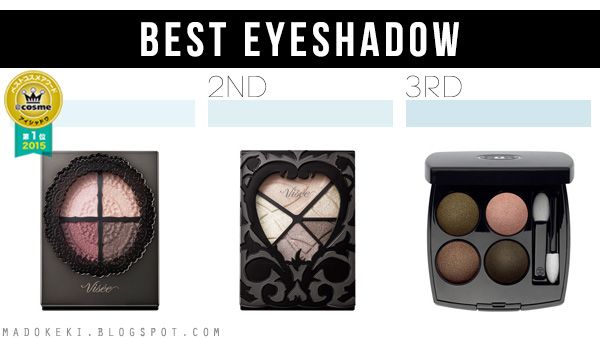 1. VISEE | RICHE GLOSSY RICH EYES
"glossy colours create a natural and defined eye look"
2. VISEE | RICHE NUDY RICH EYES
3. CHANEL | LES 4 OMBRES QUADRA EYE SHADOW
MASCARA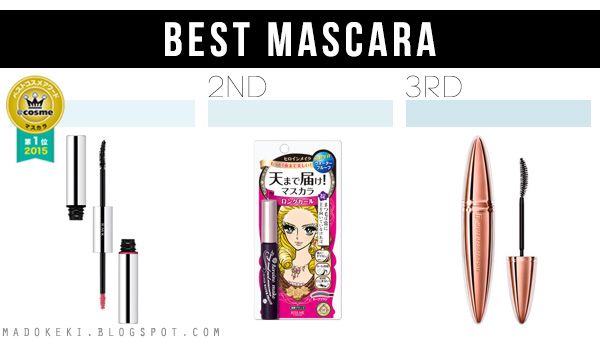 1. RMK | W COLOR MASCARA
"enjoy the chic nuance of chic upper lashes and bright lower lashes"
2. KISS ME HEROINE MAKE | LONG AND CURL MASCARA SUPER WP
3. FLOW FUSHI | MOTE MASCARA ONE LIFT UP
MASCARA BASE AND TOP COAT
1. KATE | LASH MAXIMIZER
"transforms sparse lashes to long and full lashes"
2. ETTUSAIS | LASH VERSION UP
3. DIOR | DIORSHOW MAXIMIZER LASH PLUMPING SERUM
EYELINER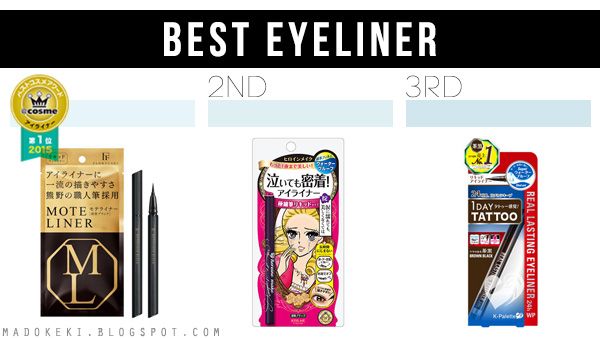 1. FLOW FUSHI | MOTE LINER LIQUID TAKUMI
"the brush is spectacular, the eyeliner remains beautiful without smudging"
2. KISS ME HEROINE MAKE | SMOOTH LIQUID EYELINER SUPER KEEP
3. K-PALETTE | REAL LASTING EYELINER
EYEBROW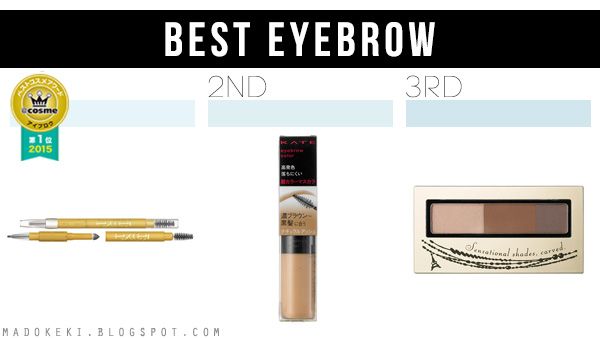 1. EXCEL | POWDER AND PENCIL EYEBROW EX
"natural gradation in just one product to help you create thicker brows"
2. KATE | EYEBROW COLOR
3. INTEGRATE | EYEBROW AND NOSE SHADOW
WHOAAAAAA that's a mouthful!
too many products in this entry, but it seems right to group them together!
now i really want to try the
FLOW FUSHI mote liner
, and i will really get my hands on the
VISEE riche nudy rich eyes
palette (after i'm sick of my recent purchase).
if you're looking to purchase some of these products, you can do so conveniently at the
@cosmeshopping
website where they grouped all the award winning products together in one place.
the last part, part 4 (lips, cheeks, nails) will be up next week!