Sudden explosion of liquid eyeliner population at madokeki HQ.
obviously, this post is dated because now my eyeliner collection has grown from 3 to 4 (addition of dollywink).
this post will do a simple comparison between the qualities that matters to me the most (i assume they matter that much to you too).
THE CONTENDERS //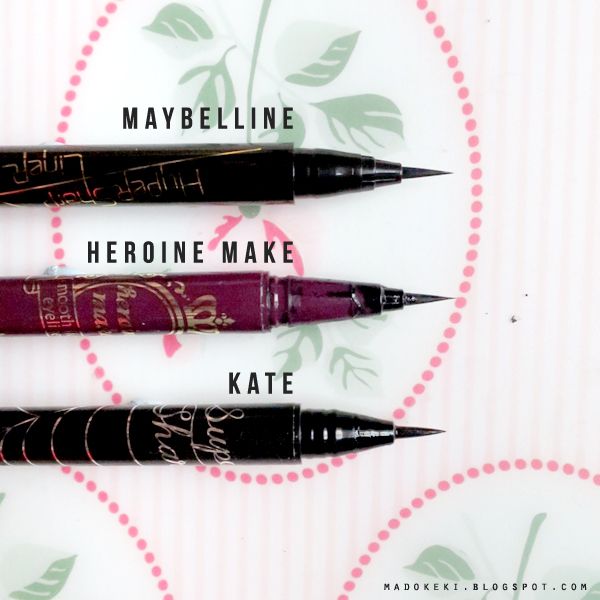 MAYBELLINE hypersharp liner (black)
,
HEROINE MAKE smooth liquid eyeliner (black)
,
KATE super sharp liner S spider liner II (BK-1)
.
click on individual link for their respective reviews!
SWATCH//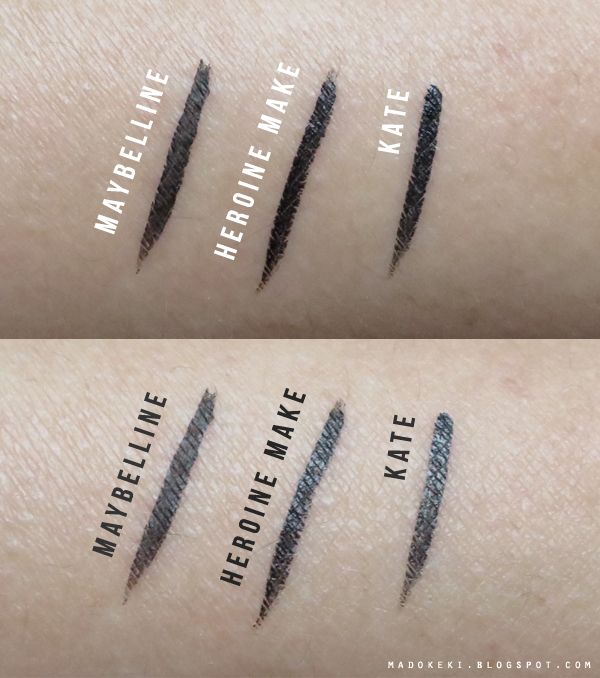 swatched on my arm, all are one swipe only.
COLOUR:
all three of them are jet black. MAYBELLINE seems a little diluted because it was brand new when i swatched it.
FINISH
: MAYBELLINE is the only matte black liner, while HEROINE MAKE and KATE both has a slight sheen to it.
RUB TEST//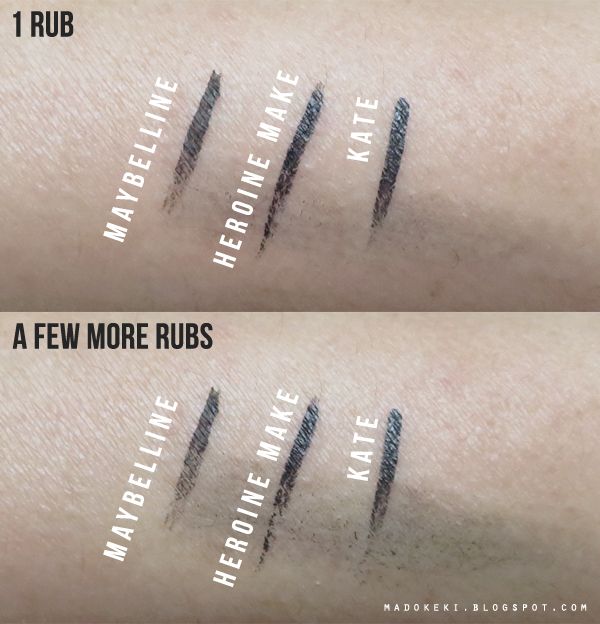 i think this is self explanatory. you can see the results for yourself.
RUB RESISTANCE:
HEROINE MAKE > KATE > MAYBELLINE
WATERPROOF:
all claims to be waterproof, but MAYBELLINE is the one with a waterproof formula, while HEROINE MAKE and KATE are film type eyeliners.
OIL PROOF:
they all claim to be oil proof, but i think HEROINE MAKE is the only one that really does the job well. MAYBELLINE and KATE might melt when there's oil AND heat.
MAKEUP REMOVAL:
both HEROINE MAKE and KATE are film type eyeliners, they can be removed with warm water. HEROINE MAKE can come off easily with an eye makeup remover too, but KATE leaves behind a black stain for some reason. MAYBELLINE must be removed by an eye makeup remover and it cannot be removed by warm water at all.
RELIABILITY:
HEROINE MAKE is the only eyeliner i can trust since it never melted or smudged on me. KATE and MAYBELLINE both melted on my eyes before (especially if i didn't powder my eyes).

IN A NUTSHELL
based on the formula alone, i really like
heroine make's smooth liquid eyeliner
because it
can be removed by either water or eye makeup remover
. why does this matter? because it means i can use it at all times, whether it's water proof makeup (that requires eye makeup remover) or it's a simple makeup (that can be washed away by just water or micellar water).
however, that doesn't mean there's no value in
maybelline's hypersharp liner,
because i will definitely use it when wearing waterproof mascara since they will be removed altogether by the eye makeup remover! convenient much! plus i really
like it for being matte
!
as for
kate's super sharp liner
, it's just not as reliable as heroine make smooth liquid eyeliner. it doesn't add any value to my life at all.
also, if you haven't seen my
2015 favourites
, i explained why i love heroine make smooth liquid eyeliner. :) i don't want to sound like a broken record so.. watch it to find out!
did i miss out any qualities that you're interested in? leave me a comment if i did!