Rekindled my love for liquid eyeliner pen and took a leap of faith
ever since my skin got bad, i tried to avoid gel eyeliners because they would require an eye and lip makeup remover. even though my skin can tolerate some makeup, i'm not sure if they can tolerate the makeup remover! so i've been utilizing my liquid eyeliner pen a lot more. my
heroine make smooth liquid eyeliner
is running dry soon, and my
kate spider liner
melted and smudged throughout the day, i figured it's time to try something new to see if it'd work as great as the
heroine make smooth liquid eyeliner
.
this is totally an impulse buy. i heard how good it is from a girlfriend of mine, she said the pen is really fine, and long lasting on her eyes. while passing by my budget toiletry shops in chinatown, i picked it up considering the lower price. (you see the price tag on the title image! $21.90 is the usual retail price at watsons, and $16.40 is the price at swanston)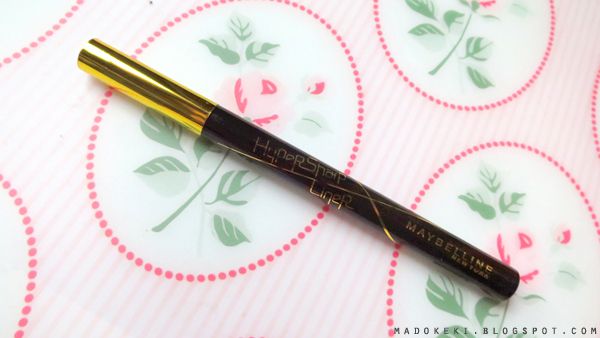 looking fancy with a shiny yellow cap and gold lettering on the pen
i picked up the colour "intense black". there is two other shades if i remember correctly - brown and soft black.
CLAIMS
below are its claims on the front of the package:
0.01 tip for super sharp lines
water proof
easy removal
stain free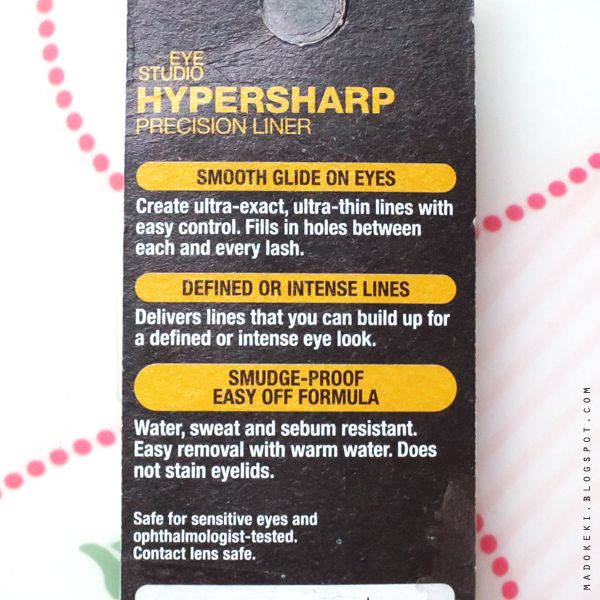 more claims printed on the package on the back
in summary, it's an eyeliner that will deliver super fine lines that're jet black. formulated to have amazing staying power, it's also easily removed without staining your eyelids.
i just found out it's has a film type formula too, meaning it stays put on the lids really well but easily removed with warm water.
surely, something must be missing here because as far as i know, there's always gonna be a compromise between staying power and ease of removal. one of the claims must be false. which is it?
INGREDIENTS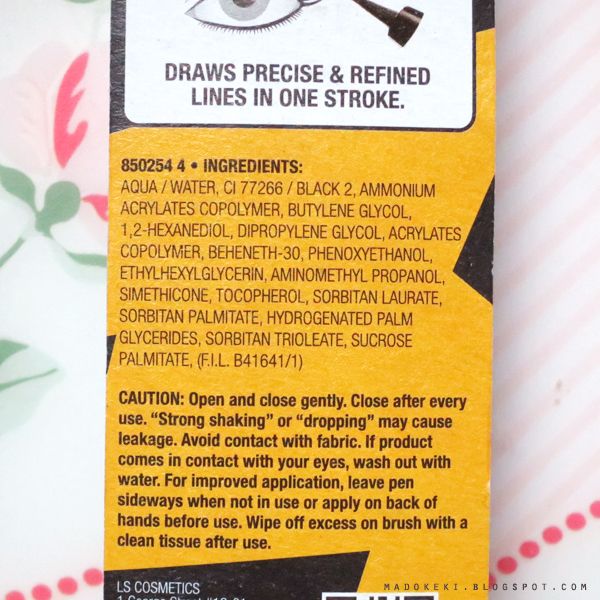 maybelline hypersharp liner ingredient list
PEN TIP
since i have other eyeliners of similar type, i can show you a comparison of their tips.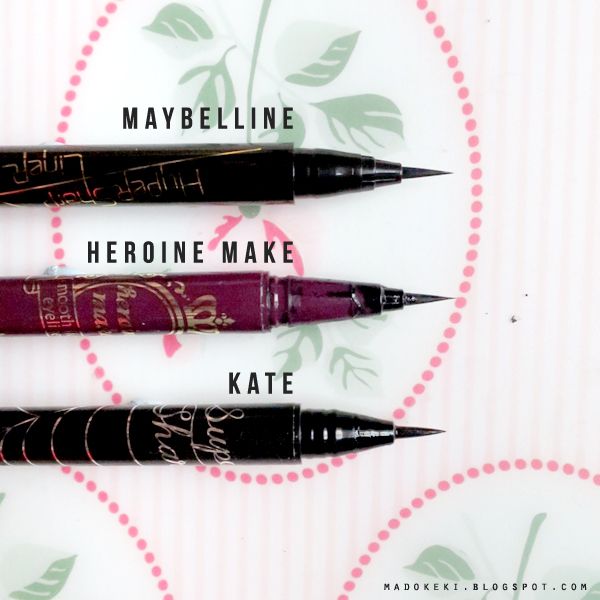 a closer look at the pen tip of the eyeliner pens i own
honestly, the difference is too small and insignificant.
heroine make
looks the finest at the tip, maybelline might be finer than
kate
.
the tip is a brush tip, making it very easy to control and contour against your eyes.
COLOUR AND FINISH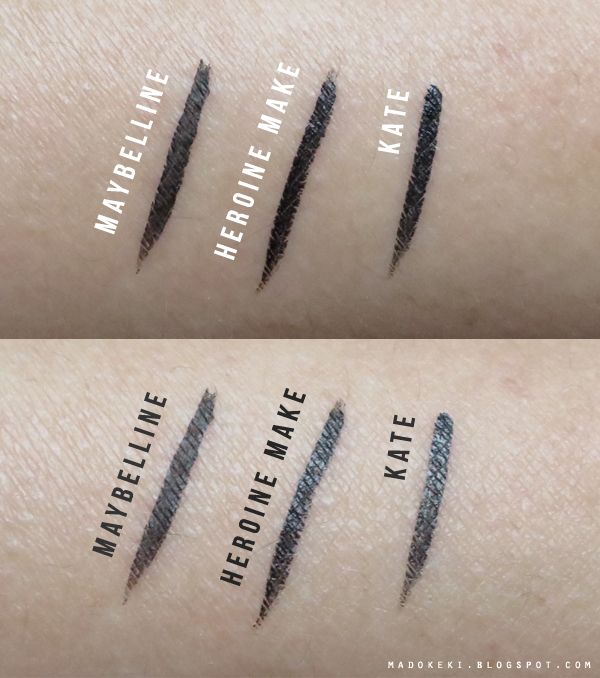 swatches of the eyeliner pens i currently own
the maybelline hypersharp liner in intense black wasn't as intense as i hoped for it to be! both the
heroine make
and
kate
appears to be blacker than maybelline. however, it's fully matte, so that's something new for me. i've been looking for a matte eyeliner! you will notice
heroine make
has most sheen.
MY EXPERIENCE:
i got about
2-3 hours of wear time from the eyeliner before it started melting and transferring to my lower lids
. BAD NEWS!!! i was so disappointed when it happened. what happened to it being water resistant and sebum resistant!? i used it to line the inner corner of my eyes, which might be a mistake on my part (but
heroine make
never did that to me).
even after i avoided using it on my inner corners where it's easily in touch with my tears, i noticed the outer half of my eyeliner transferring to my lower lids as well. :( YOU'RE NOT SUPPOSED TO DO THIS!!! now this is acting exactly the same as the
kate spider liner
. :( what am i going to do with 2 bad eyeliners?
now that the worst thing that can happen is mentioned, i'll talk about the other claims.
the
pen tip is indeed very sharp
and will be very useful for people who need to draw fine eyeliners. the tip is a brush tip, my favourite kind of tips because they can bend and conform to your eyes so that you get that perfect line.
the
ink does not feather
into any fine lines even on my arm.
and i like the
matte finish
because i feel like it enlarges the eyes better than a shiny eyeliner.
lastly,
this eyeliner is easily removed with vaseline
. i find that it requires a little bit more tugging when i used a makeup remover (bifesta cleansing lotion). i have yet to try removing it with warm water, so i'll give that a try next time. as far as i know, this has a completely different formula as the heroine make, even though both claims to be a film type formula. heroine make will come off in a sheet if i did rub it with vaseline, while this actually melts off in it.
VERDICT
i'm still on a quest to find a matte version of the heroine make smooth liquid liner. if you're not going to use this for your inner corner of your eyes, and you only use this on your outer lid (not even remotely near your lash line), you might like this eyeliner.
for me, it's not water proof enough.