Time to try something else other than wine/plum/burgundy shades.
sometime around this month last year, i released two fall makeup looks -
smokey burgundy for asian eyes
, and an
ulzzang style burgundy eye look
. i needed a break from burgundy shades so i explored my options and was inspired by the orange/golden fallen leaves of fall.
even though there isn't such fall weather in singapore, but the picturesque scene of orange fallen leaves has been etched in my mind for some reason.
watch the video below!
PRODUCTS USED//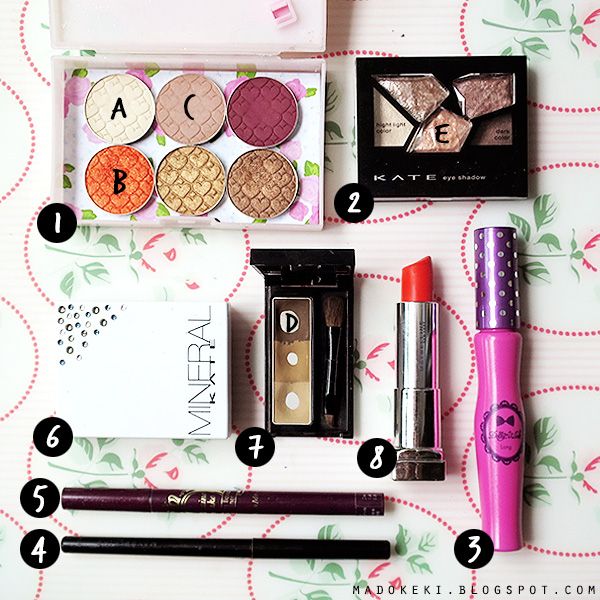 1.
ETUDE HOUSE look at my eyes
A - look at my eyes cafe BE102
B - look at my eyes OR205
C - look at my eyes cafe BR401
2.
KATE colorcious diamond (BR-1)
3.
DOLLYWINK long mascara
4.
MAYBELLINE masterliner (brown)
5.
HEROINE MAKE smooth liquid eyeliner (BLACK)
6.
KATE mineral powder foundation (OC-B)
7.
KATE designing eyebrow N (EX-4)
8.
MAYBELLINE colorsensational bold matte (MAT3 CHEEKY CORAL)
BRUSHES USED//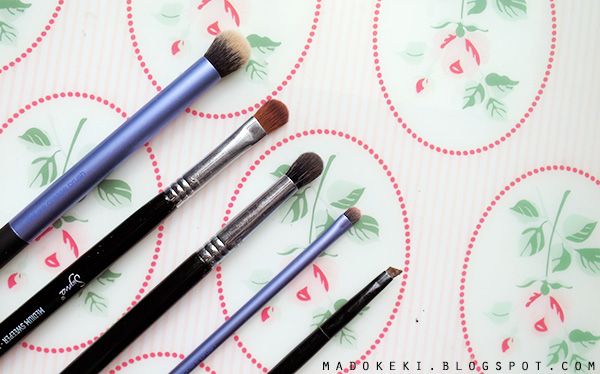 1.
REAL TECHNIQUES deluxe crease brush
2. SIGMA medium sweeper E54
3. SIGMA buff and blend E39
4.
REAL TECHNIQUES accent brush
5. KATE eyeliner brush turned angled brush
you can read my
review of the real techniques brushes here
.
the KATE eyeliner brush has been cut into an angled brush by yours truly. works great because it's so dense and stiff!
THE LOOK//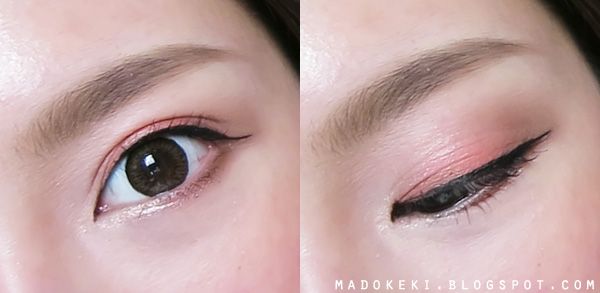 close up of the eyes.
it took me quite a while to figure out how to work with vibrant colours, the key is to blend out ANY HARSH EDGES with a skin tone beige colour, and it has gotta be matte and ONLY MATTE. i experimented with shimmery/metallic brown shades and it just didn't work. i looked like i have a very dirty eye. :(
lucky for me, i do have two matte shades with me - one from etude house look at my eyes cafe (BR401), as well as the matte dark brown shade from my brow powder palette. what's awesome about the brow powder is its diffused colour. perfect for slowly building up the shadow on the outer corner of my eyes. sadly, matte shades don't usually come with japanese eyeshadow palettes, but are very common in western palettes!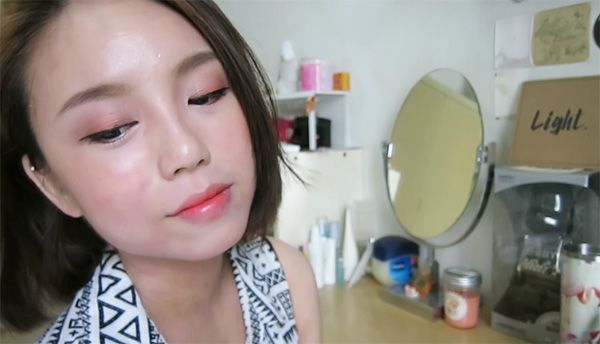 frontal look of the look.
i actually didn't remember to take any proper photos so here's a screen shot from my video. the look may look too fresh and colourful for your usual fall looks (as they are dominated by dark and wine shades), that's why this is something different! i love how fresh this look is, but still warm and fuzzy!

closer look at my circle lens.
not sure if you noticed but i actually have circle lenses on. makes the look feel cuter, don't you think? they are the GEO FRESH BROWN (FC724) and looks really natural in day light. i seldom wear circle lenses lately because i haven't been elongating my eyeliner like i did in this look. plus i'm not used to it after not wearing something like that for such a long time. i usually wear my
TRI COLOR BROWNS
and they do not enlarge my iris by thaaaaat much.
how do you like this new twist on fall makeup looks? actually there isn't a rule that dictate "you must wear burgundy/wine shades for fall". it's just a trend that the beauty and fashion industry leads. it's fun to play up your makeup once in a while, don't you think? but it appears that it's time to change from the annual burgundy trend by doing something different, because burgundy every fall is boring.
i wear burgundy whenever i like! and so should you!