Let's get down to the good and bad
FAUXFAYC is a singaporean beauty brand and they sent me the fauxstix matte liquid to try out, and here are my thoughts on the product after using for more than 2 weeks.
before i begin on the swatches, i'd like to take some time to reminisce my first impression of the product.
my first impression was so bad
- inconsistent number of clicks required to get an adequate amount of products (read: getting too much product), extremely uneven application if i don't do it right, that eerie sense of stickiness that was so familiar to me (think of the
revlon ultimate suede
). other than the lovely shade, i really couldn't find another reason to give this lipstick a second try.
first impression sucked, hard. but i gave it a second try nonetheless, since i do have to come up with a full review of it. once bitten twice shy certainly doesn't hold in my case.
well, i'm glad i did because once you get to know how to work this product, it'll be one of the best experiences you've ever encountered with a matte lipstick.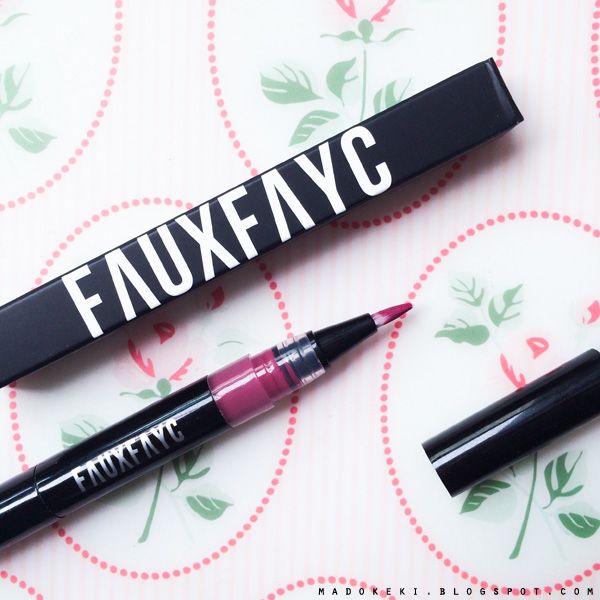 PACKAGING:
the first time i took the pen out of the paper packaging and held it in my hands, boy, it felt luxurious. the pen is weighted and feels somewhat dense in my hands.
"fancy! this feels luxurious"
, i thought.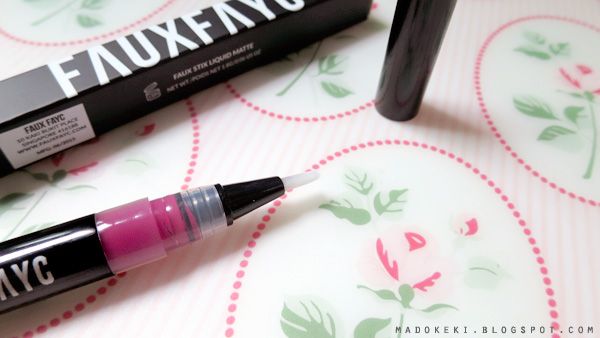 the liquid lipstick come housed in a clicky pen brush applicator. i don't have much successes with such packaging, especially if the product is on the viscous side. it's more like a paste than a liquid in my opinion.
to get the pen started, it took me about 30 clicks (the sound it makes when you twist the end of the pen). and that's not enough, so i lost my patience and did another round of 10 clicks. too much product came out after that. my bad i guess! need to be more patient next time!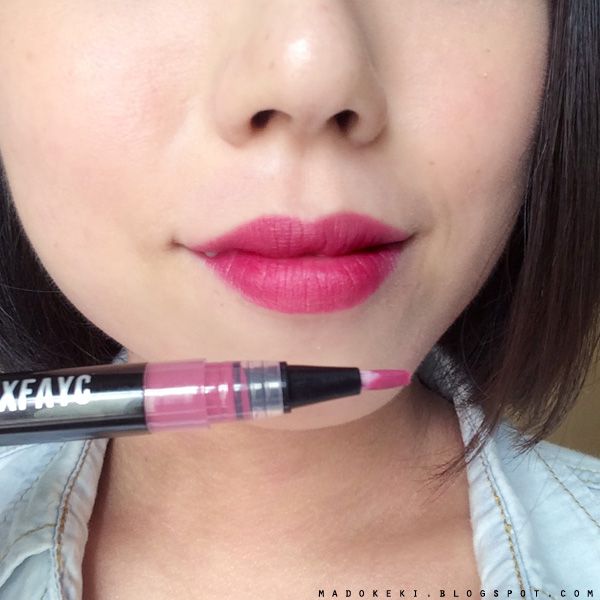 it looks a little deeper in the pen than on my lips, and a lot redder in photos!
INGREDIENTS:

doesn't contain nearly as much stuff as the other lip products i have.
COLOUR: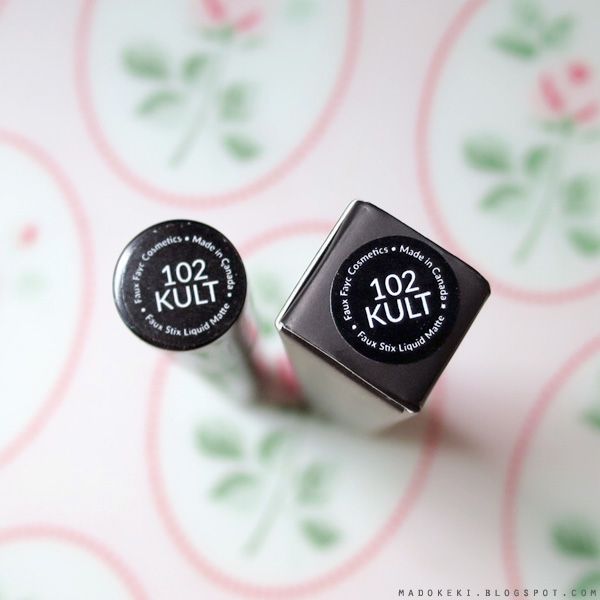 102 KULT is a deep berry red shade. its official swatch looks deeper and more purplish. however on my lips, they take a brighter and redder hint. on photos, they appear even redder (might be the brightness).
TEXTURE AND FINISH:
the product itself is like a velvet paste when first squeezed out of the pen. it glides on smoothly and it sets into a matte finish after a minute or so.
SCENT:
slightly scented, smells like vanilla to me.

my bare lips (shiny because i exfoliated) versus 2 layers of product.
PIGMENTATION:
the product is extremely pigmented, it is completely opaque and covered my original lip colour within just one coat. getting a few more layers of product will definitely build on the colour to make it deeper and closer to what's in the pen.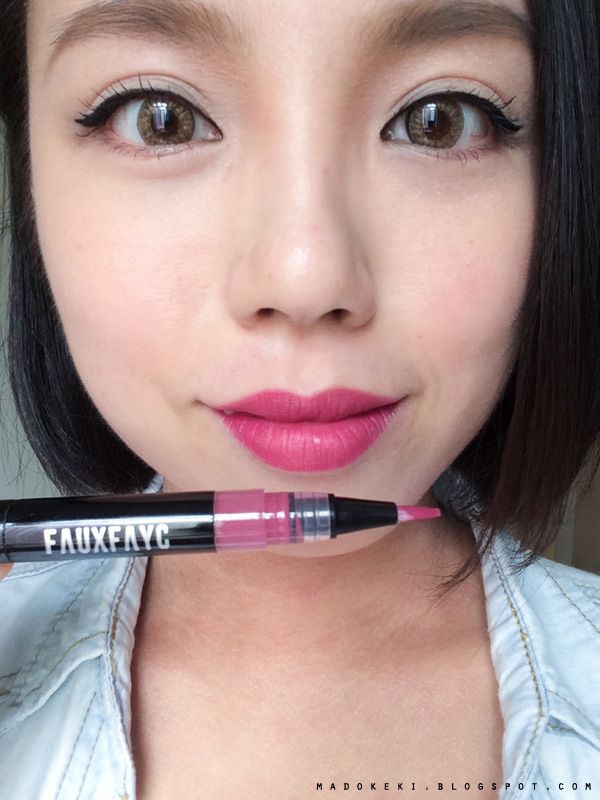 simple eye look to complement the lip colour.
LONGEVITY AND WEAR:
the product claims to be a long wear product and it's true. i've worn this out and unless i eat/drink, it doesn't require much touching up at all. even if i do eat, 95% of the colour still remains. however, along the inner part of my lips, some chapping does occur so i do find myself getting rid of everything and reapplying it. i guess i should have done a better job exfoliating my lips prior to my first application. wear time can be up to 8 hours, with not much transfer of colour throughout the entire time. it also does not feather, which is a really good quality.
during my 8 hours of wear, not once did i feel that initial stickiness i experienced during my first impression. i can smack my lips together alright, and my lips doesn't feel dry or tight the entire time. however, after 8 hours of no lip balm, my lips are dry after i removed the lip colour. but you don't be able to feel it while you're still wearing it.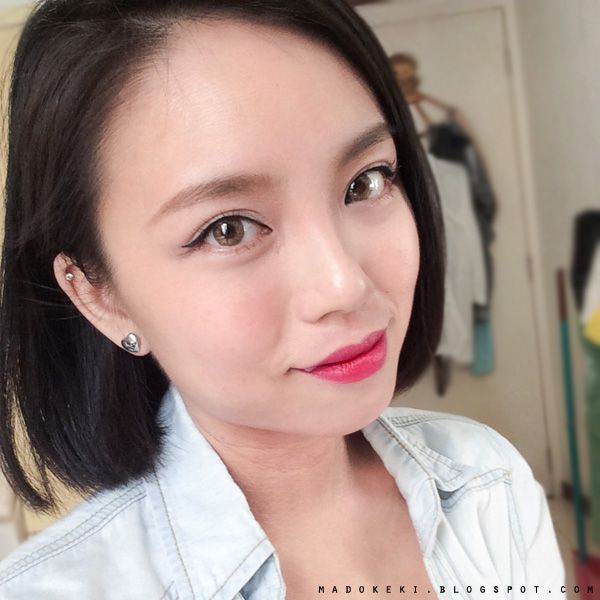 i've blown up the exposure of this photo, hence the lip colour look much lighter and brighter. absolutely love the pairing of a simple eye look with this lips.
in reality it looks something like this! but still i can't capture the true colour of the product very well. it's still more reddish than the official swatch in real life.
VERDICT:
this is definitely a product that requires some tender loving patience as you'll need to learn how to use it.
my thoughts about it went from really bad to really good
. sometimes it really pays of to try to make something work, even though the chinese saying preaches against trying too hard. i'm a rebel! what to do?
here are a few of my tips to get the fauxstix working in you favour.
1. less is more:
start with just a little product and thin layers, then slowly build it up to your desired intensity. i tried a dollop of product at once and it was an uneven mess. i also believe the stickiness arose because i used too much products at one go.
2. be prepared for an explosion of products:
i realize it takes some pressure build up to push the product out into the brush part of the pen, it usually takes about 5-15 clicks. i'm not sure if doing 5 clicks slowly is the same as doing it quickly, i'll report again after i tried it. in the even that too much products are deposited, get rid of them on a tissue paper because you really need to layer them up slowly. read point 1.
3. exfoliate your lips really well:
this goes for all matte lipsticks. the matte finish WILL accentuate your lip lines and dry skin if you have them. do yourself a favour.
4. make sure your lips are naked:
i realize the product doesn't adhere that well to my lips if i have a trace of vaseline/lip balm on my lips. make sure your lips are really naked before dressing it up in this lipstick.
5. give yourself enough time to apply this lipstick:
this is definitely not one of those lipstick where you can put it on without a mirror. it took me a lot longer than when i use my usual lipsticks, but let's just say given how long lasting it is, a little more effort at the beginning is well worth the hassle.
all in all, this is a decent product, but probably not an everyday lipstick unless you are used to not applying lip balm throughout the day. i'm a lip balm addict and the texture of my lips after i remove the lipstick just doesn't float my boat very much. it's okay once in a while though ;) MODERATION!!