Transform any normal look into an evil one with 2 extra items.
HELLO! i wore this look to attend my best friend's wedding lunch. perfect for day time because it's so light and lady like, neither will i upstage the bride by sporting something that draws too much attention to me.
watch the video below!
PRODUCTS USED//
1.
ETUDE HOUSE look at my eyes cafe (PK004)
2.
MAYBELLINE eyestudio lasting drama gel eyeliner (01 BLACK)
3.
KATE jewelry mode eyes (GN-1)
4. HEROINE MAKE long and curl mascara super waterproof
5.
MAYBELLINE masterliner (brown)
6. MAYBELLINE hypersharp liner (BLACK)
7.
MEDIA cheek color A (PK-1)
8.
KATE dual blend eyes (BK-2)
9.
KATE designing eyebrow N (EX-4)
10.
KATE mineral powder foundation (OC-B)
BRUSHES USED//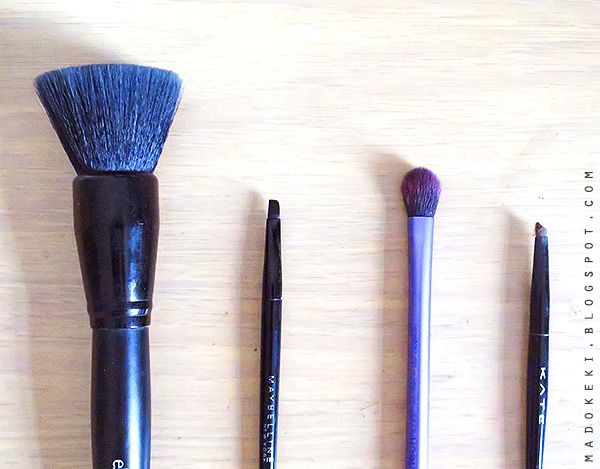 1. ELF powder brush
2. MAYBELLINE eyeliner brush
3. REAL TECHNIQUES base shadow brush
4. KATE eyeliner brush turned angled brush
you can read my
review of the real techniques brushes here
.
the KATE eyeliner brush has been cut into an angled brush by yours truly. works great because it's so dense and stiff!
THE LOOK//
close up of the eyes.
the eye look is kept light but very reflective to add to the ethereal feel. that's part of being an angel, right? *glowy and shiny* the lashes also added a touch of cuteness and sweetness to the look. i think demi lashes work great for almost any occasion!
frontal look of the angel makeup.
without any additional stuff done to my face, this look can be worn on its own on any normal day really. it's inspired by japanese gyaru look, but not the full blown look with false bottom lashes and forcefully enlarged eyes.
interesting fact, i actually attempted the full on gyaru look as an experiment and i think that look on its own is good enough for halloween. that's how scary it looked to me.
frontal look of the angel makeup with evil smile.
i think there's something beautiful about the huge contrast between angelic and evil. if i were an english literature student, i'd have went on to tell you how the dichotomy between angel and devil adds depth and texture to this look, but i'm not, so i'll just tell you that there's a certain draw to the combination on my face.
is it the droopy eyes that added to that helpless look despite having that evil smile? i'm supposed to look scary but now i just look like a defaced sad little puppy in need of a good pet on my head. i tried my best to look angry but i just can't emulate the look with eyes like that. perhaps my next rendition of this look will be a full blown evil look with down right scary eyes?
close up of the evil lips.
that addition of smudged lip colour outside of the lips hit me suddenly when filming. the joker looked really bad ass with his smudged makeup, i gave it a try and damn, i look pretty bad ass too!
the best thing about this makeup is, once you wear a surgical mask, you covered up any signs of the halloween-ness. making this look street safe - until you reach your party and it's mask off!!!