This might improve your quality of life.
the SIGMA spa express brush cleaning glove is a younger sister to the full size glove, 2X spa brush cleaning glove. it's smaller and more portable, yet still retains 7 patented textures for cleaning face and eye brushes.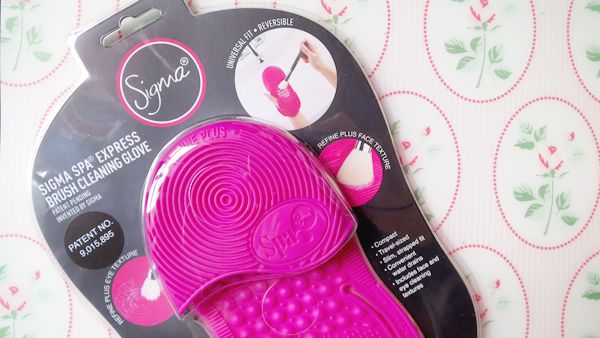 MATERIAL:
soft and flexible silicon that allows you to flip it over to access more textures on the inside of the glove with ease.
THE 7 TEXTURES:
FRONT FACE: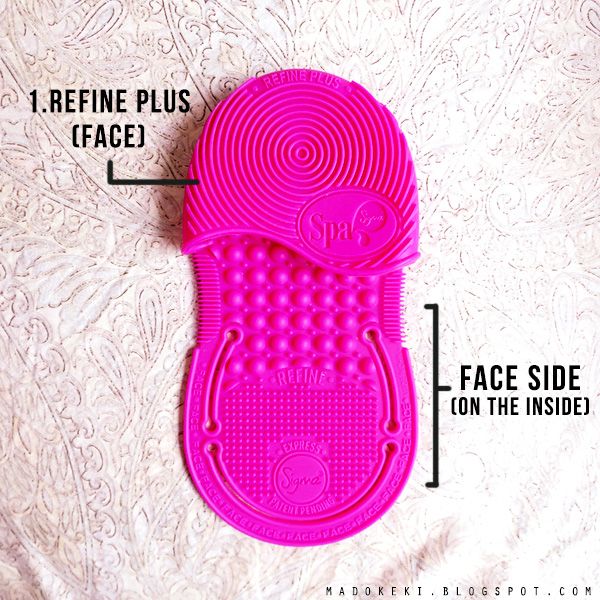 1. REFINE PLUS TEXTURE (FACE)
on the front face, you'll see the REFINE PLUS TEXTURE for face, and the other rinsing/washing/refining for the face on the inside of the glove. however, you'll be slotting your hand into the glove so you won't get to use the other textures while wearing the glove on this side.
BACK FACE: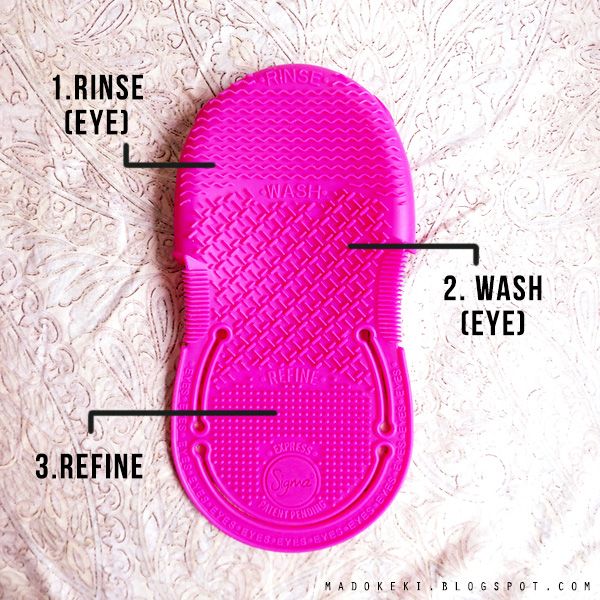 2. RINSE (EYE) | 3.WASH (EYE) | 4. REFINE (EYE AND FACE)
on the back face, you'll see the RINSE, WASH and REFINE texture for eyes. the refine texture is the same as the one on the front face, so i assume it's applicable for both eye and face brushes.
the textures for eye brushes are relatively smaller and its thickness of the ridges are also smaller. but the refine texture is exactly the same on both sides.
INSIDE OUT, FRONT FACE: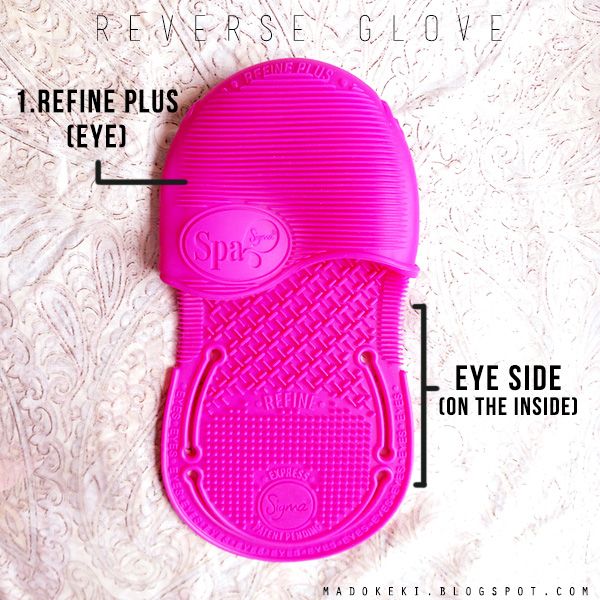 5. REFINE PLUS (EYES)
after flipping the glove inside out, the REFINE PLUS texture for eyes is revealed. now, the rinse/wash/refine for the eyes are on the inside of the glove, not accessible unless you flip the glove inside out again.
INSIDE OUT, BACK FACE: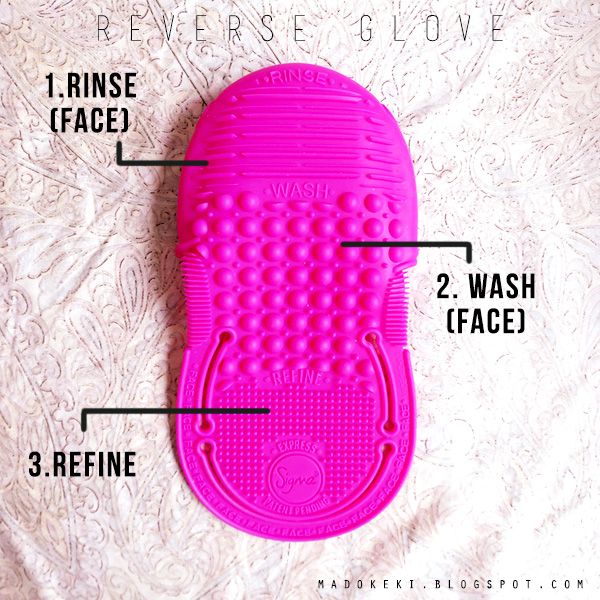 6. RINSE (FACE) | 7. WASH (FACE) | REFINE
for the face textures, the RINSE and WASH are sturdier and larger, most likely to accommodate to the larger and denser brushes.
STEPS:
taken from the official website
WASH (Face or Eyes Side) – Add a small amount of cleaning solution and water to mat and swirl brush on 'Wash' texture to begin deep cleaning the brush(es).
RINSE (Face or Eyes Side) – Place brush under running water and sweep brush back and forth on the 'Rinse' texture of the mat to remove makeup residue & soap.
REFINE – Swirl brush on the 'Refine' texture of the mat for an added deep cleaning
RINSE (Face or Eyes Side) – Place brush under running water and sweep brush back and forth on the 'Rinse' texture for a final rinse.
REFINE PLUS (Face or Eyes Side) – Repeat cleaning process for a deeper clean
RINSE (Face or Eyes Side) – Repeat rinsing process to remove excess makeup residue and soap.
MY EXPERIENCE:
you'll discover that you don't actually have to follow the 6 steps that's been outlined in the official website. you just have to follow go from top to bottom when washing your brushes, and if you have enough patience, all that sweeping and swirling of your brushes will get rid of the most stubborn bit of makeup off your brushes.
my overall experience has been good so far, as the grooves proves to be a better tool than my palm when washing my brushes. i don't like to touch soap, so having a layer of barrier between the soap and my skin is always good in my books.
one thing to take note of is the tendency for the soft silicon textures to bounce back and flicker water droplets in all directions. as i as doing it on a table instead of at the basin, it proved to be more messy than i expected.
VERDICT:
the SIGMA spa express brush cleaning glove does what it states - it
manages to deep clean my brushes without too much of a hassle
. all you really need is a bit of patience with each brush. i did notice i used lesser time cleaning my brushes while using the glove. the different textures make the brush cleaning process more fun than it normally would be, plus the hot pink colour lifts my mood. do note that this is coming from someone who hates washing her brushes. with this glove, i think i hate the process a little less :P
i've only used it once so far, so i'll likely update again after using it a few more times.
at the end of the day, i think the 7 types of different textures might probably be a way to pack on more "features" so that it can become more attractive to a consumer. i say this because i believe that
even with just 1 texture, it can do the cleaning job just as well
. the idea of a deep cleanse is to maximize the surface area that the bristles come into contact with such that it's easier to dislodge any residue makeup. technically speaking, any kinds of grooves can do that for you. but that's just me speaking from the technical side. one can argue about the different fluid mechanics on the different textures and how it affects the efficiency of cleaning a brush. if it makes any significant difference, so be it.
on a side note, this silicon glove is USD25. it's
a little pricey, but if you can afford it it'd be worth investing in
. if you can't afford it, i'm pretty sure you can find cheaper alternatives like the plastic facial cleaning/massaging devices you can find in daiso, which also have textures and stuff sticking out for you to run your brushes against. it's just a crazy thought i have and i've yet to test that out. but you know i'll write about it if i do lay my hands on one, because who doesn't like a cheaper alternative!?
also, i think it's
a bummer that they decided to put the refine plus (face) on the outside, and the refine plus (eye) on the inside
. isn't it just more convenient if all the eye textures are on the outside, then i wouldn't have to flip my glove around just to use that surface for the eye? not that it matters to me anyway, because like i said, all the surface will work the same for either purpose. but for sigma, it's obviously a design flaw.