Kate Mineral Powder Foundation OC-B Swatch and Review
call me a risk taker, i bought this from adambeauty without any idea how the actual colour look like. the word "mineral" drew me to this series. i didn't like the previous foundation powder i was using as it's too cakey (why am i surprised? i bought the canmake concealer foundation UV!).
i really like the white and simple casing too. i added some crystals onto the face to personalize it :D
this powder is supposed to be moisturizing as they have infused some olive oil, jojoba oil, and almond oil into the concoction. what's more amusing is the "W effect", i have no idea why they term it as that, but they mean for the powder to 1) protect the skin from friction, 2) cover up pores by diffusing light.
IN A NUTSHELL
1. finely milled
2. light to medium coverage, buildable
3. not cakey
4. leaves face feeling very smooth
5. not long wear
6. matte finish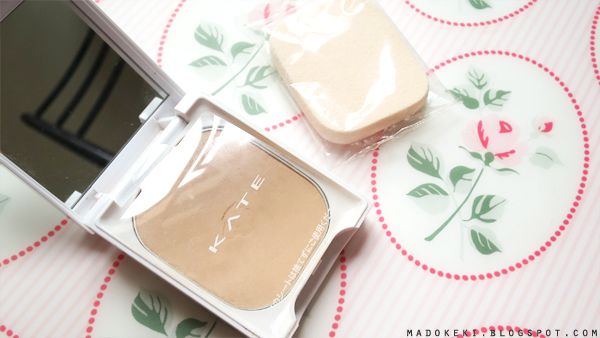 the casing has a mirror within, a piece of plastic sheet to separate the sponge from the powder. i never opened the sponge though, not a fan of using sponge after my bad experience with the canmake foundation (i feel like sponges apply too much powder too quickly).
afterall, i actually use foundation powder to set my concealer, not really for the coverage anyway. this was a few years ago, before i actually studied the differences between the different type of products. i always think that marketers were trying to get me to buy things i don't need you see.. so getting this fouundation is akin to killing 2 birds with 1 stone - getting some coverage when i need it as a foundation, and setting my concealer with a little bit of coverage.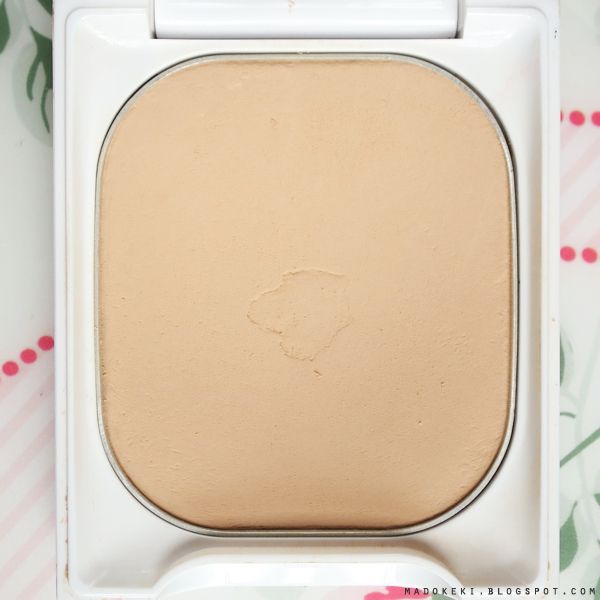 OC-B is a bright ochre colour - the lightest shade they have in the collection. it looks rather peachy in the pan, but on my skin it takes a slightly different shade. japanese makeup brand makes it easy for us to differentiate between foundation shades. all ochre shades are neutral. if it has a "beige" embedded, it's warmer and yellowish.
this series has a total of 3 shades according to their
official website
. B is the lightest, while D is the darkest.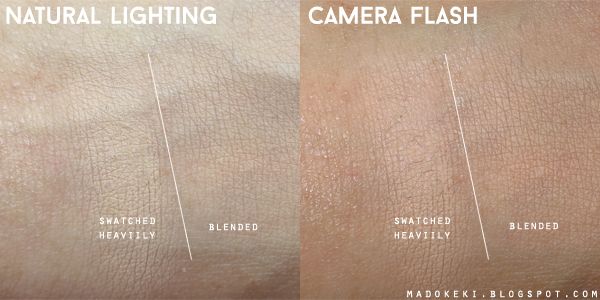 on my skin the powder looks less peachy, instead it has a whitish cast. under flash, it appears a little pink.
IMHO
the powder is much more smoother than the canmake one i've used in the past. in fact, i was really happy with my purchase, the powder is fine and smooth, it makes my skin so smooth after application.
on the official website, they claim they accomplish this smoothness by encasing mineral particles with a coat of kanten, which also helps with moisture retention. of course i can see that on the powder with my naked eyes! (hahaha i'm just kidding) i don't know how true it is, but i won't deny the effects i experienced - smooth skin like a baby's butt. as for moisture retention.. take that with a pinch of salt - just how moisture retaining can a powder be, really?
as for covering pores, i managed to achieve that with the help of a flat top brush. i can't say much about the light diffusing properties, in fact, i sometimes feel like the powder made my face look very one dimensional. perhaps it's due to the matte finish, and the slightly whitish cast when seen under certain lighting.
the powder provides a light to medium coverage, depending on how much you slap on. it can cover my blemishes (slight hyperpigmentation) when i buff it with a flat top brush. dusting the powder will result in an even lower coverage.
the powder definitely looks a lot better after it soaked in some of my oils throughout the day. but at the end of a long day, my face doesn't look as bright anymore. i'm not sure if it's because i've sweated most of the powder off or what.
as this is not a long wear powder, do expect it to come off when you perspire, especially if you tend to rub your face with a tissue. light patting is fine though, some powder may come off, but not all.
i bought this from adambeauty, it was a while ago and i've forgotten how much it cost, but it was having a special bundle promotion that time, i got the case and the powder at a much lower price than if i were to buy it separately.
will i repurchase this? not at the moment, as i want to try another one before i can do a comparison.