What's In My Make Up Bag
i've always been interested in other's stuff, i guess it's some kind of innate curiosity that i had as i kid, but tried so hard to tame along the way because somehow, it felt "wrong" to want to peek into other people's belongings.
the internet has told me i'm not alone in this! while it's wrong to rummage through other's things, it's not wrong to look with the permission of others :P
if you're just like me, here's a look into my humble makeup pouch that i carry with me when i head out. contrary to popular belief, i do not carry my entire makeup collection with me.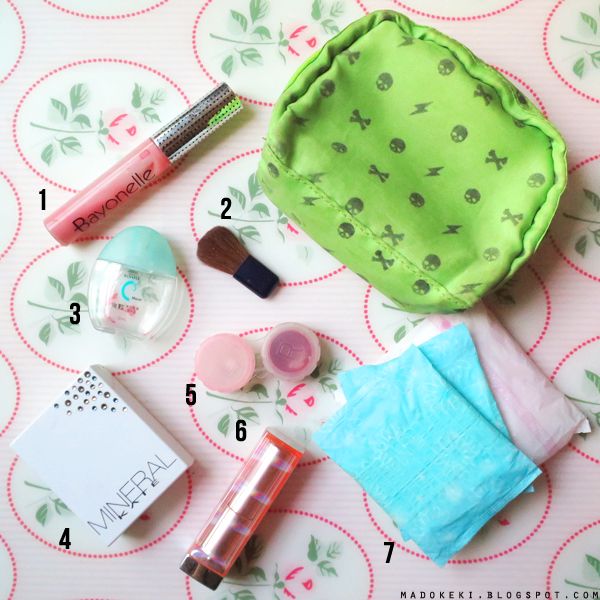 1. bayonelle lip gloss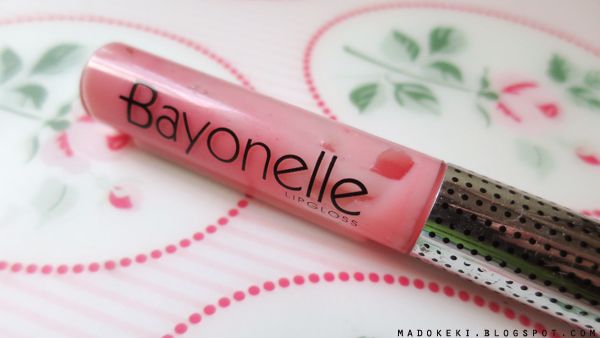 i received this as a gift from my gf. she said it's a pretty good australian brand! i'm not that huge a fan of a lip gloss girl, only using it very occasionally for added moisture. this has been with me for quite some time, but i've not ran out of it yet. i do have other lip glosses, but i carry this around with me most of the time for a very special reason.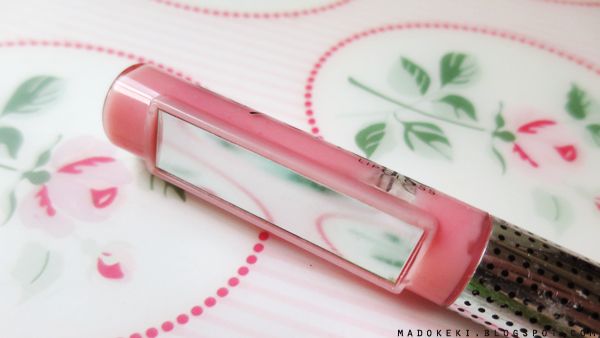 it has a tiny little mirror as part of the packaging! this is probably the most brilliant thing i've seen, it's tiny, very portable, and always leave people staring at me when i look into the mirror because they wonder why i'm staring so intently into a tube of lip gloss. it's quite funny :P
2. blush brush from the media cheek color blush
i like its small size as i can use it to touch up my lower lid area, where concealer tend to crease because i have wonderful laugh lines there :D this come in really handy for that purpose! plus the hair is really soft too!
3. rohto c3 moist eye drops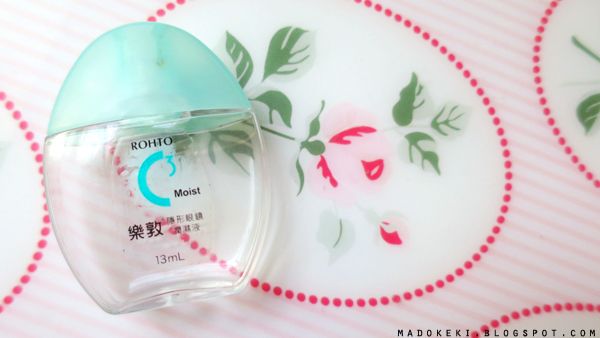 since i wear contact lens 99% of the time, i bring this as an insurance to ensure my eyes don't get too dry towards the end of the day. this is hydrating and soothing, but not long lasting. i would love to try the lycee contact lens eye drop some day! but if all else fails, i won't mind buying this again.. matter of fact, i've just emptied it.
4. kate mineral powder foundation
i'm only carrying it to touch up the area under my eyes as it tend to crease. i don't usually touch up other part of my face (except for my lips) because i'm bad ass like that. i don't apply foundation on my entire face, so the chances of a meltdown is greatly reduced. i don't like to add anymore powder to my face after i'm done with my makeup because i like the dewy and glowy look as the day goes by, you know that effect you get when powders meld into your skin to look more like your skin? i adore that! natural look FTW!
5. vaseline in a contact lens case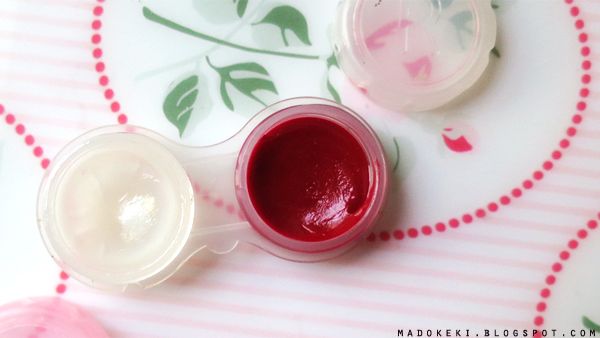 i bring vaseline with me everywhere i go because it's a multi function item - lip balm, wound protectant, skin protectant, emergency makeup remover. days without lip balm is a tragedy, so i make sure this little thing is with me at all times. on the right side is a DIY red lip balm - i mixed vaseline with a really unflattering red lip stick so i can give myself a tinted red lips look in case i forgot to bring my lipstick of the day out with me for touch ups.
6. lipstick of the day
it changes depending on which one i'm using that particular day! the one in this photo is the maybelline so nude in NU34S. it's the only thing that i know i'll need for sure because face it - lipstick aren't meant to stick onto your lips throughout the entire day. is it that hard to just reapply when necessary? here's where the vaseline comes in handy - it's perfect for removing lipstick before reapplying it again!
7. sanitary pads
don't judge me for putting them altogether, sanitary pads are probably cleaner than my makeup products (before they're used and soaked up)! it's for emergency situations - just in case it arrive unannounced. and my girlfriends will probably thank me for that when they need it!
8. eyeshadow (optional)
i seldom carrying my eyeshadow out with me unless i know it'll be an extremely long and hot day for me. i usually just really need that shimmery shade which i use to highlight my inner corners of my eyes! if my eyeshadow creases along my eyelid folds, i just pat them out evenly with my finger and i'm good to go :P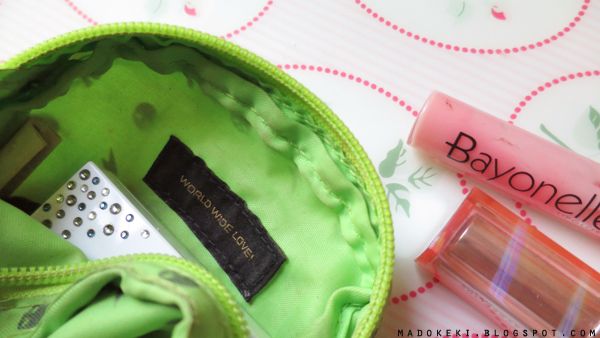 i got my makeup pouch from a japanese brand called world wide love. i've never hear of this brand prior to getting this pouch. the year was 2009, i was at a gigantic AEON shopping mall with my grandmother in hong kong, it houses a slew of japanese brands. so i was walking around aimlessly holding my grandmother's hand, and all of a sudden this neon green coloured pouch with cute skull pattern appeared in front of my eyes. i could not ignore it because right next to it is a sign that has my favourite four letter word - SALE. i can't remember how much discount there was, probably more than 50%. i end up paying around 50HKD for this pouch!
this pouch didn't begin it's life as my makeup pouch - it used to hold my other miscellaneous items. my previous makeup bag was much larger, but proving to be too much for me as i find my shoulder aching as i carry my 2kg bag around town. i'm bringing too much makeup when i head out, stuff i didn't even get to use once i'm out of house! so i down sized to this pouch and it's just perfect.
it's small size restricts me on the number of items i bring. for example, i do not need to bring my mascara out with me because there's no way i'll reapply it throughout the day (it'll turn clumpy!). absolutely no need for that lash curler too (my lashes will become too crunch and may break!).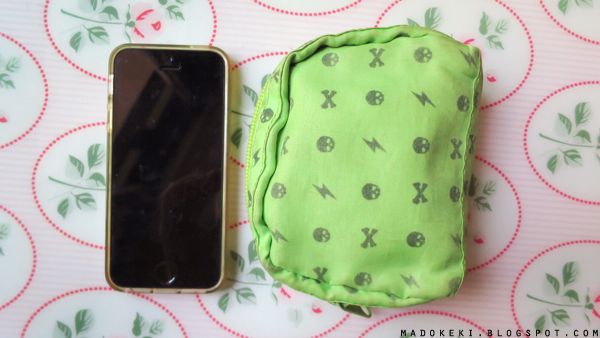 the pouch is as long as my phone.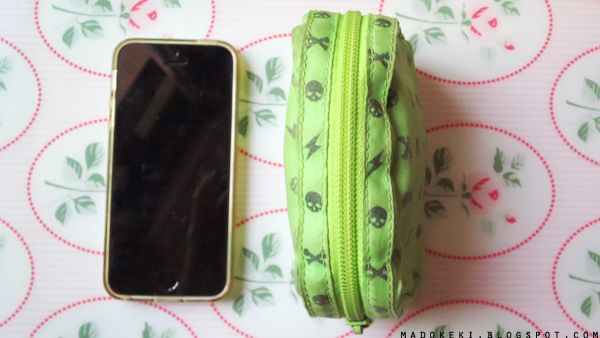 and as thick as my phone's width too.
i've been on the look out for a new pouch but haven't seen one that felt right for me yet. this is still really functional, other than the fact that i should really give it a good wash!
what's in your makeup bag? if you've an entry on that, leave a link below so i can see it!
xoxo