Canmake Color Stick Concealer (09 Skin Beige) Swatch and Review
in an attempt to search for another concealer that can perform what the sonia kashuk hidden agenda concealer is doing for me, i picked this up when it was on sale at a sasa event. i got this for $5!
IN A NUTSHELL:
1. lightweight, creamy and super blendable
2. light to medium coverage for natural look
3. colour most suitable for hiding dark circles
4. not long wear formula, but stayed on for at least 6 hours on my skin with a proper foundation and setting powder
read on if you'll like more details.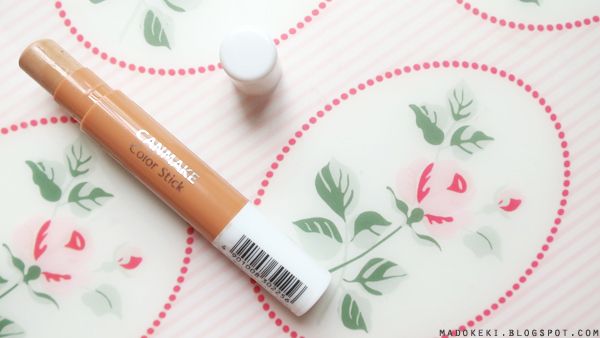 the tube is in a colour that's similar to the content - a slightly darker beige with orange undertones.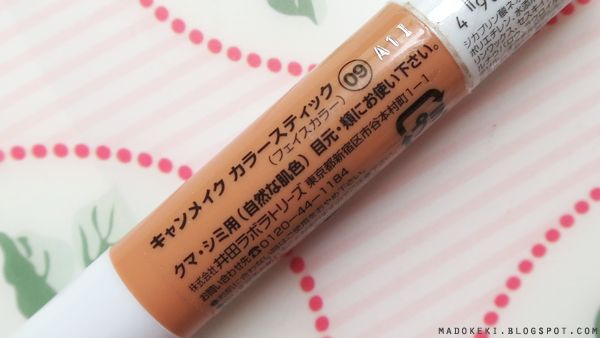 on the tube it did suggest that this colour is meant for covering dark circles, and it has a natural skin colour.
swatched on bare skin, the left side is unblended while the right side is blended out slightly.
09 is a dark peach colour.
IMHO
the coverage isn't full coverage, in fact it sheers out quite a lot after blending into the skin thanks to the lightweight formula. the coverage is buildable although i won't recommend it as this is a very creamy product, the chances of it creasing and enhancing the lines around the eyes are very high.
what i like most about this product is its colour and spreadability. it is lightweight and creamy at the same time - making it very easy to sheer out. the colour is very suitable for covering dark circles under my eyes, i'm not sure if it's because of the slight orange tone (which isn't that obvious once it's on my skin), i think it's most probably due to the slightly darker colour that made it work better than the brightening concealers i own.
the best way to use this concealer is to layer it over a brightening foundation. brightening foundations tend to make the under eye area look greyish, this concealer will return some natural skin tone to the area to make the dark circle less glaring, what you get is a very natural look at the end of the day - no more tired look eyes, but people won't be able to notice that something is weird because this lightens the appearance of dark circle instead of eradicating it altogether.
as the consistency of the concealer is thin, don't expect it to work wonders like achieving full coverage.
this is not a long wear formula, so it's best to set it with a powder after using. to prevent creasing, it's best to use just a thin layer of it.
i'm really surprised at its blendability as my experience with drugstore concealers told me they tend to be slightly stiffer and thicker. this defied my expectations. now, if only it's more pigmented..
i purchased this for SGD$5 when it was on sale.