Fall Makeup #2: Korean Ulzzang Style Burgundy Eyes
i must be honest here: i purchased the
etude house look at my eyes cafe eyeshadow in PK004
thinking it's a burgundy shade because it look like that via my monitor (i'm wrong). it turned out to be more of a wine shade, meaning it has more purple than red to make it burgundy-ish. just when i thought i can't rock this colour (because it gave me a case of bruised eye look), i managed to find a way to use it. it has gotta be korean style because by confining the colour within the eyelid fold, the wine shade suddenly look gorgeous instead of bruise looking!
you may wonder, what exactly is burgundy? it's just another name for ox blood (in the west). it's a reddish brown colour.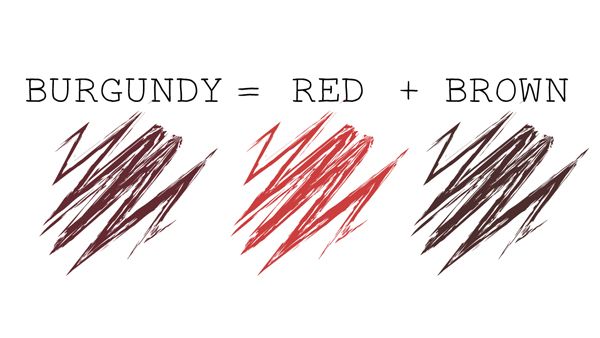 by mixing in some brown, it can make the wine look more burgundy-ish. this can also work for red/brown colour combination. pink brown may be stretching the limit but you can give that a try!
the entire point of this video is to show you how you can make use of whatever colour you have on hand to achieve a burgundy colour instead of buying one. well, no one usually buys a wine eyeshadow anyway, if you don't own one, i got you covered. you can use a lipstick or blush from the reddish/wine-ish spectrum. i think the chances of someone owning a lipstick in this shade is way higher than owning an eyeshadow in this shade. if you wanna learn how to work an lipstick as an eyeshadow, you can watch
this tutorial
where i used my wine lipstick for the look.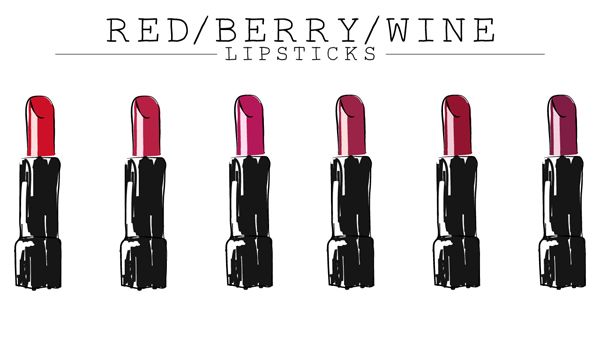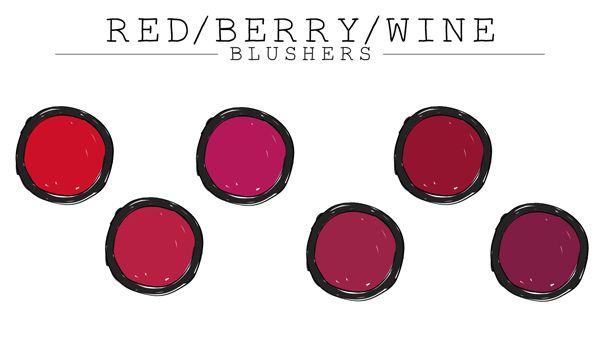 i illustrated the products above because i don't own so many colours, yet. :P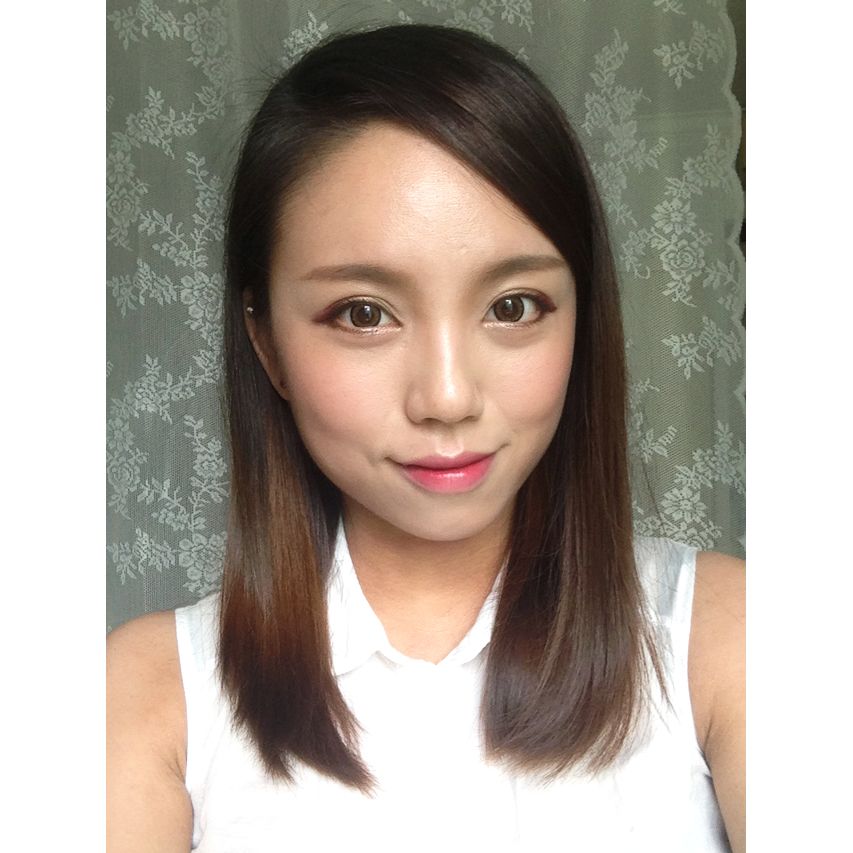 the end result! you can't really see the colours when my eyes are open. :P
watch the video tutorial here!
PRODUCTS USED____________________________________________________________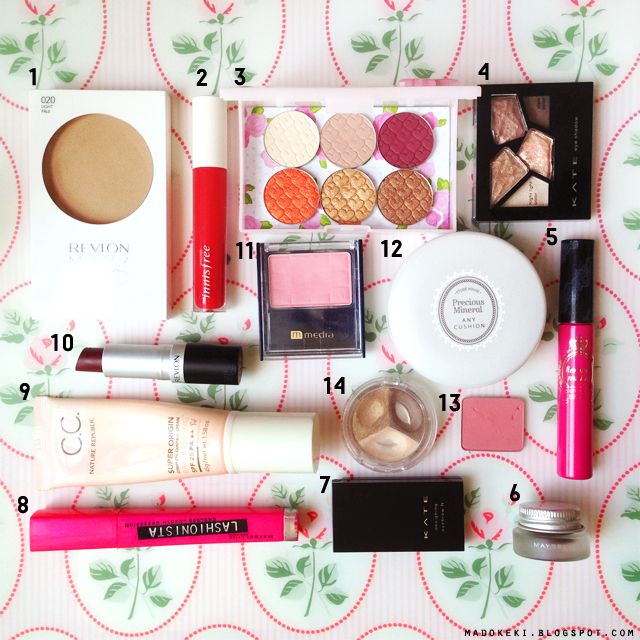 from left to right, clockwise:
1.
revlon
nearly naked 020 light pale
2.
innisfree
creamy tint lip mousse 05 vitamin red
3.
etude house
look at my eyes cafe PK004
4.
kate
colorcious diamond BR-1
5.
heroine make
volume and curl mascara
6.
maybelline
eye studio creamy gel eyeliner 02 brown
7.
kate
designing eyebrow N EX-4
8.
maybelline
lashionista mascara
9.
nature republic
brightening CC cream
10.
revlon
super lustrous matte 010 wine not
11.
media
cheek color A PK-1
12.
etude house
precious mineral any cushion W13 natural beige
13.
lancome
blush subtil (rose sable)
14.
canmake
eye nuance 13
BRUSHES USED: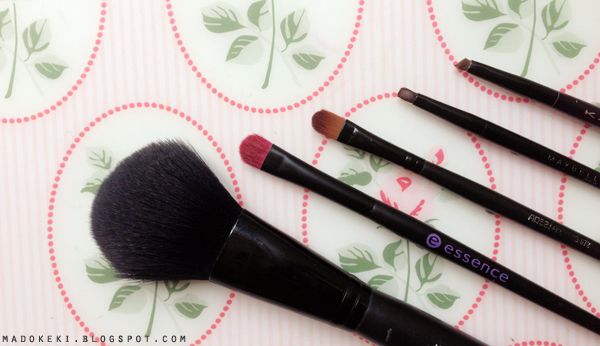 from left to right:
1.
elf
studio complexion brush
2.
essence
eyeshadow brush
3. generic eyeshadow brush (flat and has a rectangular surface for picking up colours)
4.
maybelline
eyeliner brush
5.
kate
eyeliner brush (cut into an angled brush for eyebrow)
EYESHADOW COLOURS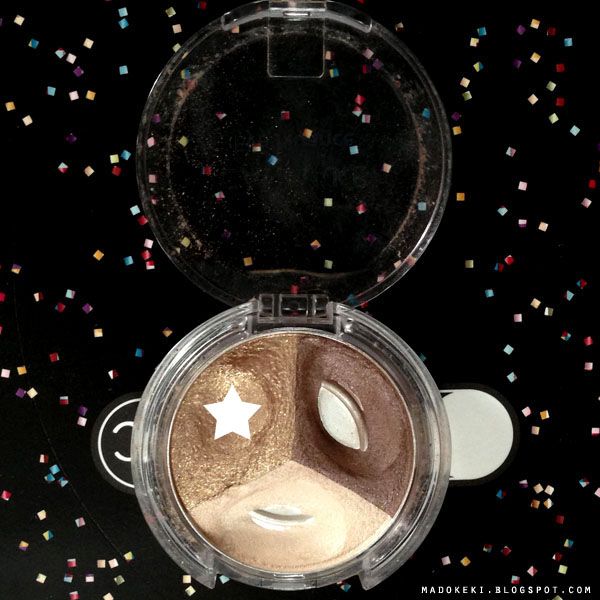 from the canmake eye nuance (13) - gold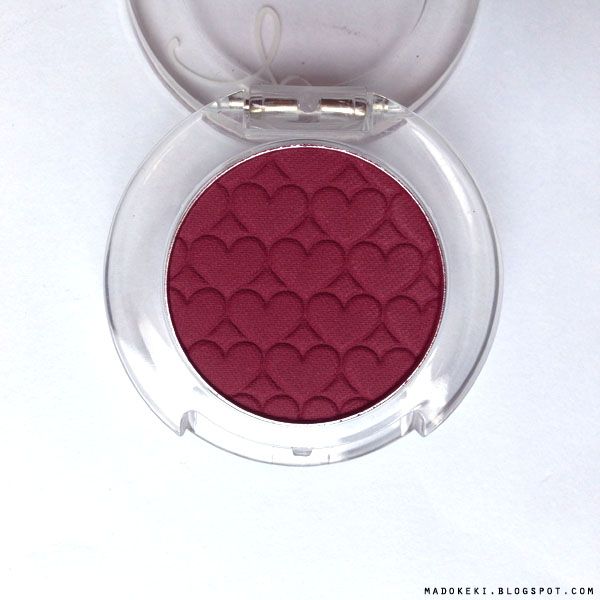 etude house look at my eyes cafe (PK004) - wine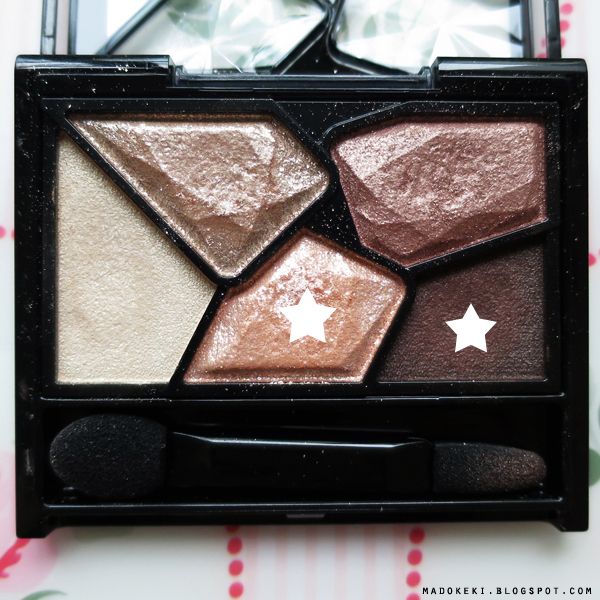 from the kate colorcious diamond (BR-1) -
shimmery peach and dark brown
COLOURS AT A GLANCE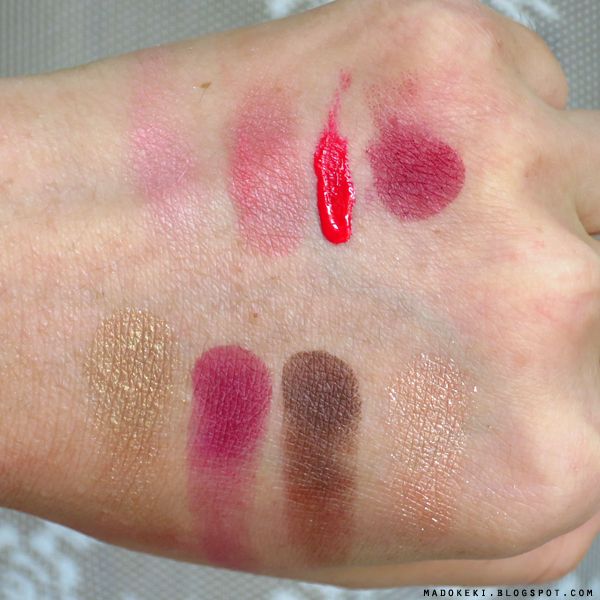 the combination of colours for this look!
PICTORIAL_________________________________________________________________
simple pictorial for the eye to supplement the video! i've marked out all the different areas for different products!
FACE:
keep it hydrated and moisturized as fall tends to be drier. the brightening effect of the foundation allowed me to skip out on concealer this time round.
i went for two layers of foundation over my eyes to prepare it for the reddish/purplish colours as they tend to look like a bruise on my yellow skin.
EYEBROWS:
straighter eyebrows for a more korean look! i've done a
tutorial
on this before already so i won't go into much details.
remember to contour your nose after all that brightening.
EYES:
a little note:
KEEP THE EYESHADOW WITHIN YOUR EYELID FOLDS
.
this is the only reason why the wine shade can look good on my eyes. if i did the smokey effect like i did for my
previous look
, the purplish tone will seriously make me look like i was punched.
the magical step is probably when we add the dark brown to the wine, it changes it into a burgundy shade :D
extend the eyeliner according to your original eye shape (extend it horizontally when your eyes are half open). if you need a more detailed guide, you can find the eyeliner in my
eyeliner tutorial
. it's a combination of the "natural" and the "kpop" eyeliner.
use the glittery shade to help blend out any edges or boundaries (as shown in step 9).
for this look i used two mascaras - the waterproof volumnizing one for holding the curls, and a lengthening one to lengthen. i didn't use the latter on its own as fibre mascara tend to have a sucky holding powder. using the waterproof mascara as a base helps to hold the curls in place before i load up on the fibres.

click on image to enlarge!
CHEEKS AND LIPS:
i use two tone for both the cheeks and lips.
for the cheeks, it's baby pink on the apples of the cheeks and a darker rose shade on the outer half of the cheeks, swept along my cheek bone.
the lips uses a red as a base and the center of the lip is darkened with a wine lipstick. the red was too bright originally, while there are no rules saying i can't wear red in fall, i wanted to darken it just a little to suit the mood. adding the darker colour in the inner half of the lips is a good way to do that while retaining some youthfulness to the overall look.
FINISHED LOOK____________________________________________________________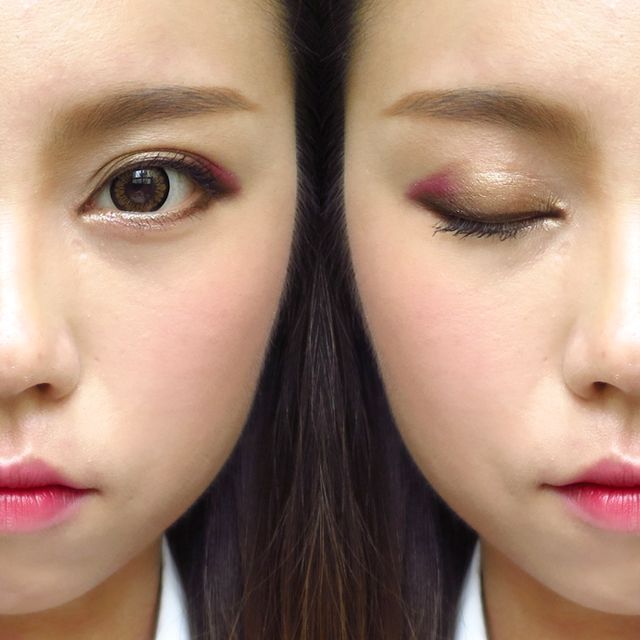 i'm wearing my geo angel brown for a slight enlarging effect.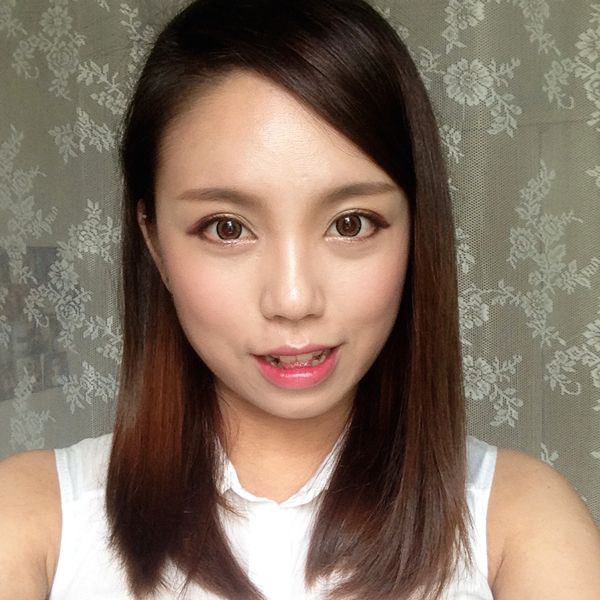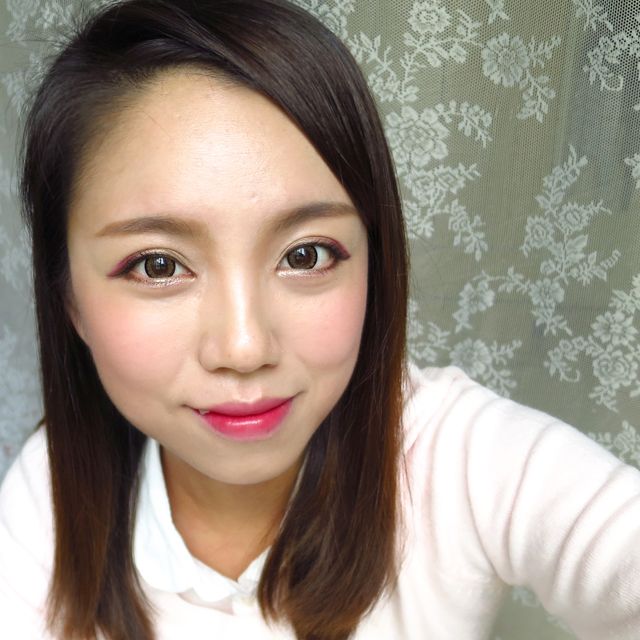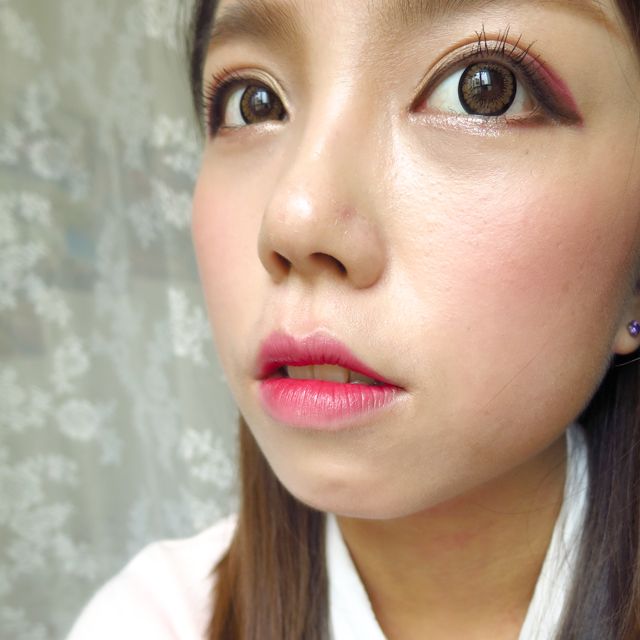 hope you like this look and tutorial! I LOVE IT! well, there isn't a time i don't like my look, right? hahaha! tweak this look to suit yourself!
xoxo
karman