Essence Sun Club Shimmer Bronzing Powder 10 Sunkissed (Swatch and Review)
definitely an impulse buy. i was lusting over a bronzer for some reason a while ago (and i still am). i'm not one who tans, so i'm actually looking for a shading powder.. but.. i must have gotten them mixed up. i ended up with this shimmery bronzing powder - not only does it NOT shade my face appropriately (as my skin isn't thaaaaat fair), it's also loaded with shimmer so... shading? nope. not gonna happen.
essence is pretty new in singapore, however i've seen them online before. they originated from germany and it's aim is to provide affordable and trendy makeup. it's so affordable that.. this purchase was made entirely on impulse, and that happens very rarely to me because i usually think thrice before buying anything cosmetics. at SGD$5.50, i didn't see any reason to NOT give it a try. even if it doesn't work well as a shading powder for me, i'm sure i'd find some other use for it.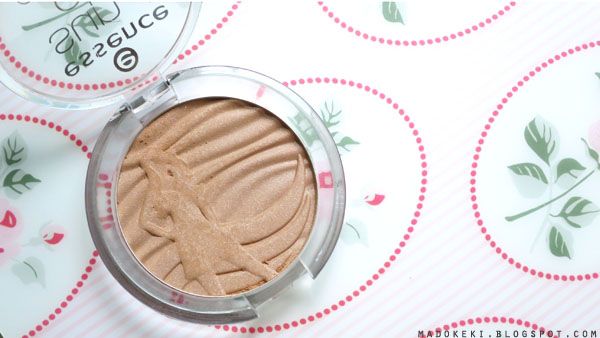 ooh-la-la, there's a sexy lady embossed onto the powder.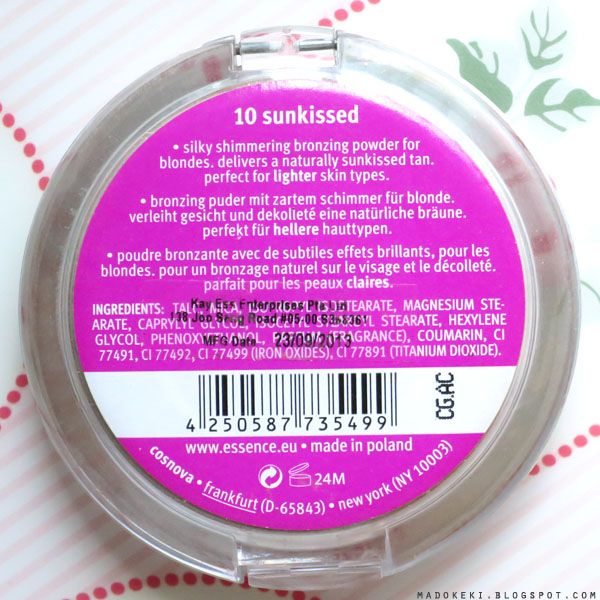 i got it in 10 sunkissed meant for people with fair skin.
in the pan it looks like a beige with a yellow undertone.
concentrated swatch on the left, blended out on the right.
when swatched, it appears a little more orange-y on my skin
. when swatched heavily, the colour is quite striking. however,
it blends out to a subtle sunkissed glow
.
this product is pearly AND shimmery.
however, the micro shimmer is really fine and isn't captured by the camera. the sparkles is quite subtle and really very very fine (when i rotate my hands, i can see tiny specks of light being reflected back, it's actually kinda pretty).
the powder is very smooth and soft to touch, a lot of product comes off by swirling my brush (and finger) over it!
VERY IMPORTANT NOTE: this product is scented - smells like vanilla to me. i don't like it. but it wears off after a while. i don't enjoy my face product smelling so artificially sweet.
seen from three different angles to show the sheen and finish.

IMHO:
while this product is definitely not suitable to give me more defined cheekbones, it works as a blusher for me! that is if i used my brightening foundation prior to that to lighten my skin tone a little first. otherwise, it looks too close to my skin tone and i look a little washed out - but with shimmer.
maybe i can get it to work by going really strong handed when applying this along the hollows of my cheek? but.. i'd not risk that. i think this powder can be used on my body to give it that glow! i've yet to try that though.
now i wish i've gotten this a shade darker, perhaps it can give me the effect that i was looking for. still on the search for a shading powder.
i bought this for SGD$5.50.