Revlon Colorstay Foundation 200 Nude (Swatch and Full Review)
i just checked back, the
first time i tried this foundation
was in mid april. it's now mid august, a good 4 months. it's about time to do a full on review on this foundation, which has quickly risen to become my favourite foundation out of the few that i have. bye bye dr jart bb cream!
a little recap on the product: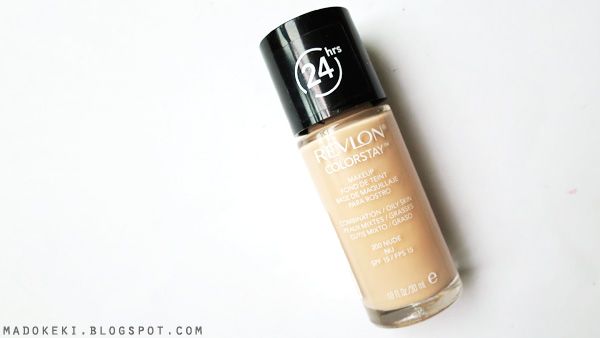 i got it in the shade 200 nude.
the foundation comes in a glass bottle with a black cap. i like simple packaging! a lot of people complain about the lack of a pump. initially, i detest it as well because i find it difficult to control how much will end up flowing out. BUT! after 4 months of our loving relationship with each other, i've learnt to overcome the difficulties and to devise ways to make things work out for us (just like another other relationships huh!).
i find that it's easiest for me to shake the bottle so that the product will hit the root of the cap, and then i just have to open the bottle and dip my finger into the pool of product on the bottle cap and VOILA! it's even better than a pump that way because some pumps may dispense too much products at one go, and isn't that friendly about letting you do a half pump.
the only issue that may still concern some will then be the hygiene issue.
some of the claims off the bottle:
1. wear for up to 24 hours.
2. flawless look, lightweight feel.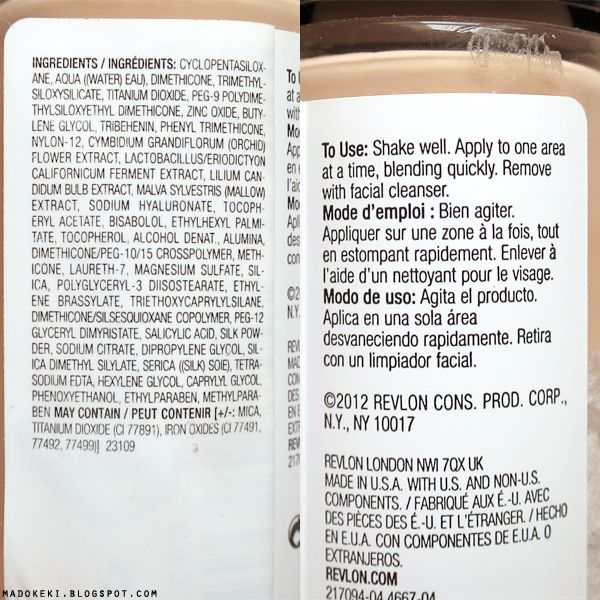 ingredients and usage instructions concealed within the white sticker that can be peeled open.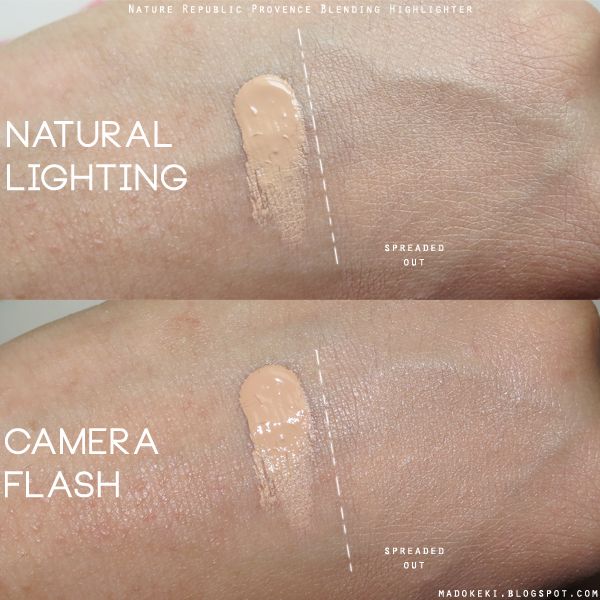 taken in two different lightings: natural and camera flash.
200 nude
is a light peach colour with a tinge of pink undertone. 180 sand beige has more yellow in it, but just as light.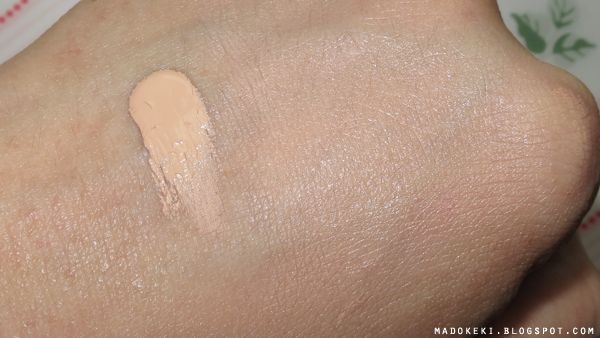 close up in flash lighting.
you can see the blended foundation as a slight sheen to it. it's a very lovely and natural looking foundation that imparts a slight sheen to it. i find that a fully matte product looks way too unnatural on me. this is just perfect for my needs.
IMHO
i did like it after trying it out the first time because it's incredibly sweat resistant, but i was quite aghast at the white cast it gave me (because i applied too heavily and over an area too wide). i must admit that this colour is not matched to my skin tone, that's why it had that kind of effects on me. i got this foundation because i wanted to use it on the centre of my face as brightening. my complexion is okay enough to skip a full face foundation routine.
after so long, i can finally declare my love for this foundation. i feel like it's a MUST HAVE for me because i simply sweat too much. being sweat resistant earned it a lot of brownie points. the fact that it stayed bright on my face after the entire day makes me love it even more - it doesn't oxidize on me.
also, in my first impression video i spreaded this thing out with my fingers, not the smartest move. i've since learnt to use my foundation brush to blend it out after dotting it on my face with my fingers. you can watch how i do it when i demonstrated my
summer proof makeup
. the coverage is light to medium coverage. when blended out with a foundation brush, i get a really light coverage which helps with brightening.
i can't be happier with my purchase because the peace of mind this foundation gives me is worth more than anything. i don't need to worry about foundation being blotted off by my tissue paper, uneven skintone after some time roaming outside.. :)
just do note that my skin isn't SUPER OILY to begin with. this foundation is meant for oily combination skin, but i've read reviews that it's not as efficient in the oil control department. i don't remember seeing my face looking very shiny at the end of the day (maybe because i blotted the oil and sweat off all at one go?). if you fall into the group with horribly oily skin, an oil control base would definitely be your best friend. if you sweat a lot like me, consider investing in this drugstore gem.
i find myself reaching out for this foundation subconsciously whenever i know i'll be out in the heat for an extended period of time.
i bought it from watsons when it was having a sale for $24.90.
IN A NUTSHELL
1. very sweat resistant
2. acceptable oil control properties (but i'm not a good gauge)
3. doesn't oxidize on me
4. wear for at least 8 hours on me.
MAKEUP LOOK
i've worn this many many times by now :D you'd have known if you saw my instagram! i wear this on the centre of my face only.
xoxo
karman