Revlon Colorstay Foundation First Impression
i finally bit the bullet and purchased this foundation after much consideration. it's been on my mind for a very long while (along with a lot of other makeup products that i will slowly hunt down in time to come).
in case you don't already know, i'm living in a sunny and humid tropical island called singapore. perspiration is my biggest enemy when it comes to making up because it threatens to wash away any product i have on my face. the claims that this foundation makes is therefore very enticing to me.
watch my first impression on it! i found my reaction rather funny while editing the video.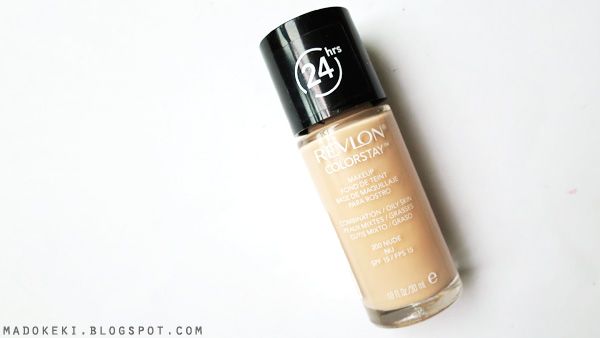 i got it in the shade 200 nude.
some of the claims off the bottle:
1. wear for up to 24 hours.
2. flawless look, lightweight feel.
a before and after comparison of my face.
i have a few red spots which the foundation covered up slightly, it evened out my skintone (as can be seen, my forehead is slightly darker than the rest of my face) and brightened it up a hell lot (wassup with the white ghostly face? hahaha). i did not set the foundation with any powder, nor used a concealer that day.
the foundation is not so watery when i tried to pour it out of the god damned bottle, but it's more watery than the dr jart bb cream i usually wear. it spreads a little too easily, and i made the mistake of overestimating the amount of products i needed. i have yet to find the sweet spot - too little and it sets too quickly before i can spread it well, too much and it spreads too far and wide beyond the areas i'd like to restrict it to.
the application is very thin and lightweight indeed! coverage seems to be buildable, but i don't recommend it because this thing sets pretty quickly. i tried to layer more on top and it ended up looking a little clumpy. :(
this was just the start of my crazy perspiration session. i really perspire A LOT. more so than any normal human i know.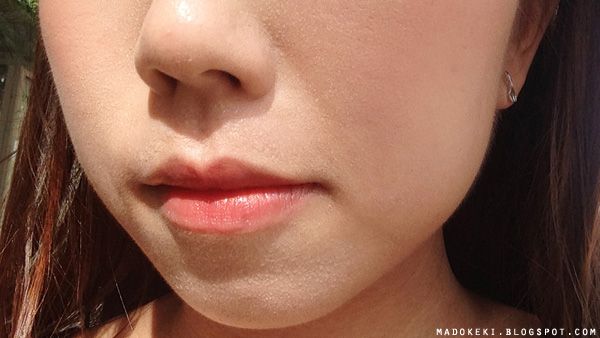 baby droplets of sweat forming around my lips, and on my cheeks too!!! DAMNNN!!!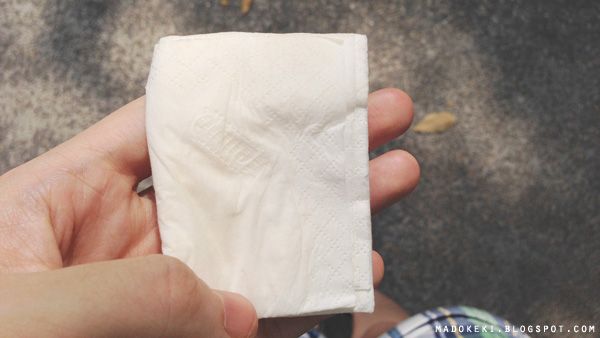 blotted the sweat off my face and.. the tissue remains white! :D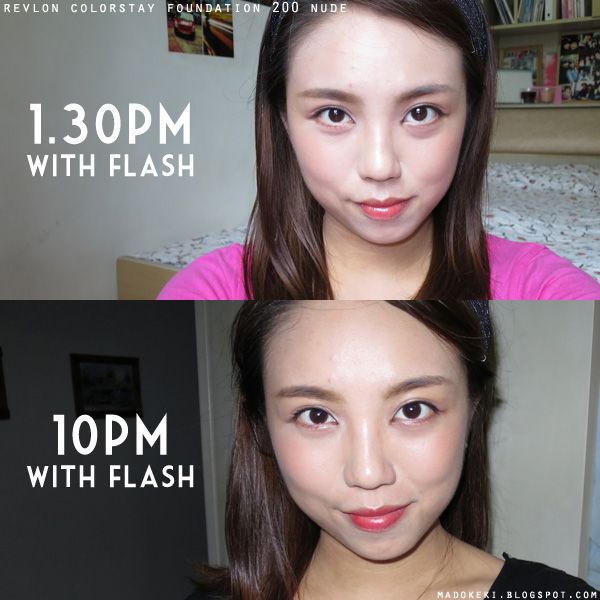 just to show you guys how my face look the same after the entire day. pretty impressive huh?
i took the photo with flash to show the oil control power of this foundation, and i have to say i'm impressed because my forehead remained relatively normal! i mean, it doesn't look like an oil slick.
also, you can still see my blush!!!
i want to reiterate myself again that i don't usually wear foundation over my entire face. i know i look like a noob with a ghostly white face, you're probably thinking i got myself the wrong colour (well, the selection of colours is smaller in singapore, offering only 6 shades), which may or may not be true, but this is what i intended in the first place - to have a brighter foundation so that when i use it on my centre of my face, it'll give my face a natural lift. the foundation looks fine over my entire face until i get flashed. geez.. some contouring would have helped with that, but i'm not a fan of applying so much stuff on my face.
IN CONLUSION:
1. this foundation sets pretty fast, so i can't apply it as i normally would when working with bb creams.
2. do not rub face after it set. it'll clump.
3. it's really long lasting and lightweight!
full review will be up some time later after i try this out more extensively :)
xoxo
karman