Fringe Braided Hair Bun
i have no shame when it comes to hair bun, but i dare say i'm the queen of buns. :P
i mean, i've been doing the bunned up hair since 2009 before it was even in trend (and it is probably out of trend by now..). of course, i used to have much longer hair in the past and my bun is in epic proportions.
i've since added a slight twist to the boring hair bun by incorporating my
handy dandy fringe braid
!
watch me do it here!
i've also put together a step-by-step pictorial (is this how they call it? PICture-tuTORIAL?) because i actually like how they looked ever since making my first one! it's like there's this secret attraction to be able to see everything in one glance. but do watch the video if you're unsure about anything! :)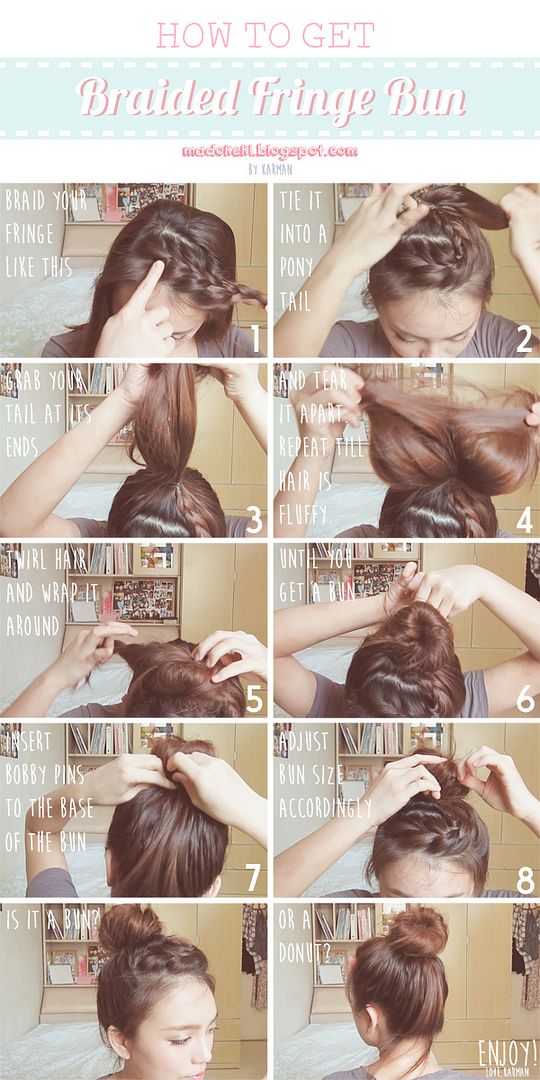 you can check out my
previous hair tutorial
to learn how to get that braid!
getting the bun is relatively easier if you can tear your hair right. the fluffying of the hair will really help to create a bigger and messier hairbun. the semi-tangled hair will provide a good mesh for the bobby pin to hold on to, giving you a more secured hair bun with lesser pins.
the hair is not actually tangled, it's just being held in place due to friction against the other hair. it can be easily dislodged by running your hand through your hair loosely and gently. just make sure to condition your hair after you wash it to repair your hair as the friction from the tearing actually ruffles up our hair cuticles.
good luck on getting this awesome hair!
do you like hair tutorials/pictorials like this?
xoxo
karman