Revlon Just Bitten Balm Stain
if i buy more than 1 lip colour from the same collection, i think it's a sign that i really like it. the just bitten balm stains are nothing new in the beauty scene, as they were first released in mid 2012. that's almost 2 years from now.. they're renamed the colorburst balm stains by now.
as the name suggest, it's a lip balm and a lip stain. PERFECT COMBINATION! revlon claims that it's a lightweight lip stain, and it surely is.
i only got them last may in 2013, and 1 is not enough. i went on to get my second.. and my third. i really love them.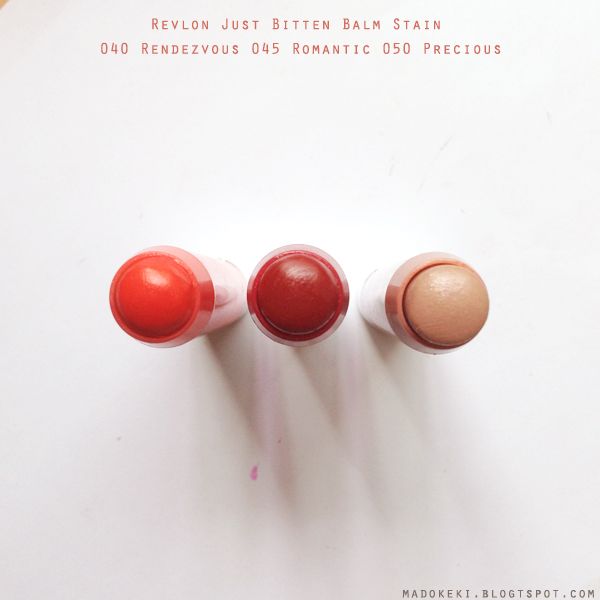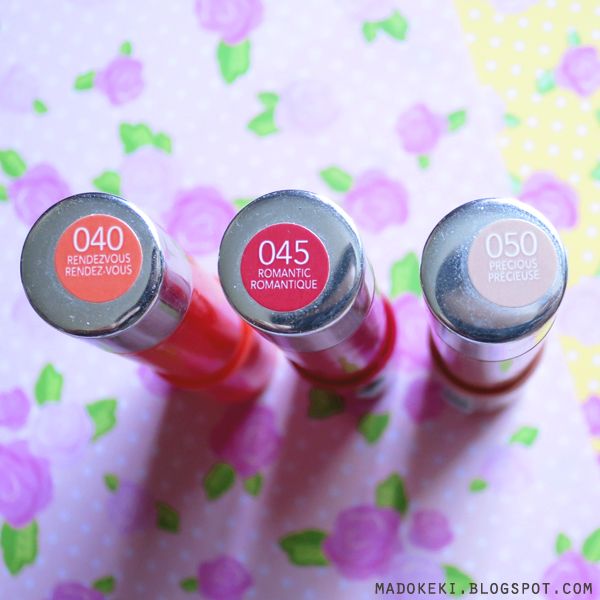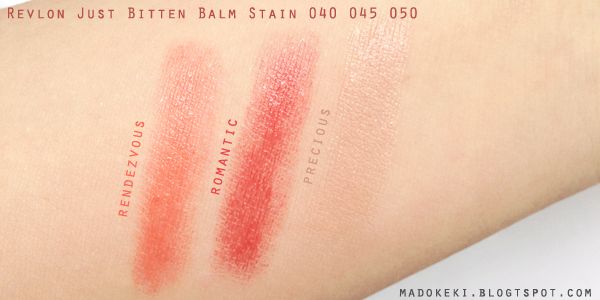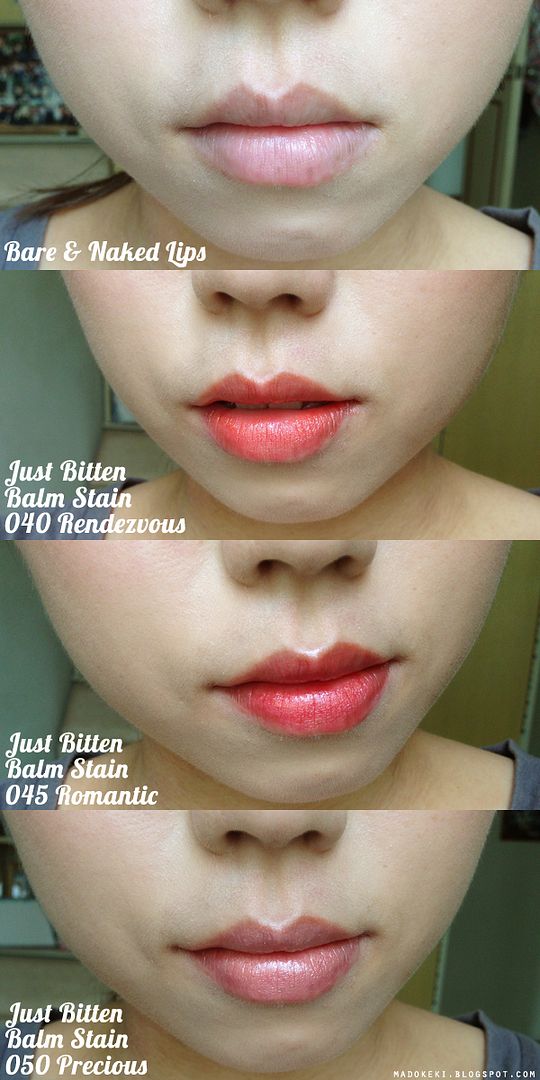 040 rendezvous
is a bright orange, slightly flourescent due to the addition of some white pigments. it also contains a small amount of shimmer.
045 romantic
is really just a balm with a neutral red tint. no shimmer. no fillers. almost like a red jelly.
050 precious
is a beige colour with a tiny tinge of peach, if i want to be more technical, it's a warm beige, as you can see it disappears into my yellow skin. it contains the most shimmer.
the balm stains have a sheer coverage. romantic applies the best with no visible streaks, most probably due to the transparency of that colour. both rendezvous and precious will streak and appear uneven on my lips, rendezvous being the more streaky one. but there's nothing a lip-smack can't correct :P
the products leave a sheen on my lips. it's not sticky or tacky, just lightweight colours with a slight sheen. it's interesting to note that the different colours have a different hardness. romantic's bullet felt the hardest, followed by rendezvous, and then precious. i think its melting point is altered by the proportions of colour pigments, i'm not surprised at all. therefore, romantic feels like it deposits relative lesser products (and hence a lighter weight application) as compared to precious (as precious melts off too much, resulting in a slightly heavier application). while precious and rendezvous may feel like it's sitting on top of my lip if applied to heavily, romantic doesn't have this problem at all.
moisturizing? extremely. i'm surprised how this lightweight formula is able to keep my lips soft much longer than the loreal shine caresse. i guess it's the formula of the moisturizing ingredients.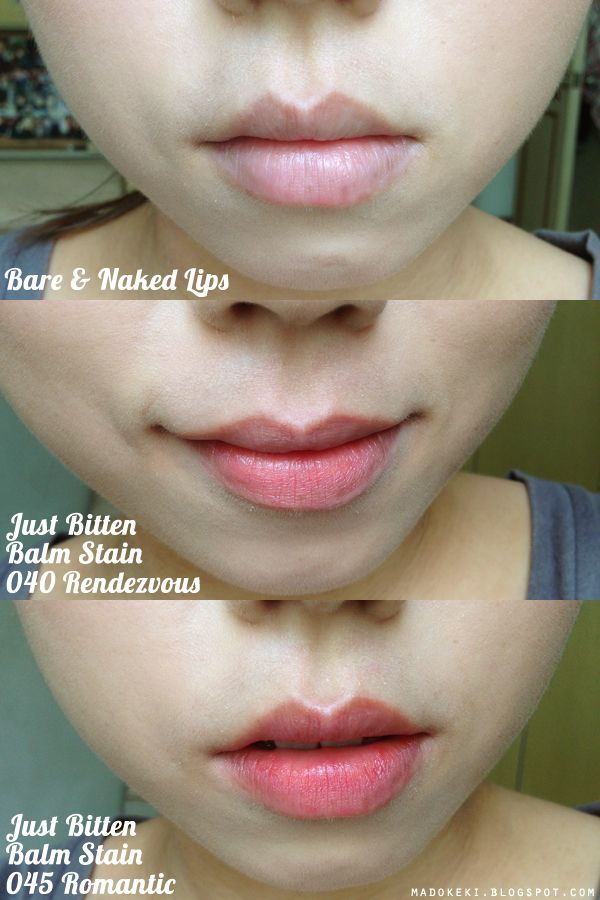 as they are lip stains, here are how they stain my lips after a brief application. they stain much quicker than the l'oreal shine caresse! this was within 5 minutes of application only. the longer it stays on the lips, the deeper it stains.
the balm stains have a faint peppermint scent to it, it's kinda refreshing when i sniff them, but they go undetected once it's on the lips. it's really very very faint.
IMHO:
romantic is my first red lip colour, i wasn't bold enough to try a full on red lipstick, so this toned down balm stain version worked great for me. it allowed me to create that healthy looking lip look, as though i have baby lips. i usually only swipe it once across my lips to achieve that natural tint (it's about 2-3 swipes in the photos to show you the colour better), but the colour is very buildable if you so desire to get a more intense colour. i love this series so much, in fact they are my most worn lip products (as you can see from the photo of the bullet, i've used them so much that they're no longer pointy) because it's a really good everyday lip product.
another reason why i love these balm stains so much is because they give me better control over the staining of my lips. liquid lip stains stain too quickly before i can even spread they evenly (i think it's just my lips), resulting in a patchy appearance. the balm stains are solids, giving me more precision to just how much product and gives me enough time to work them out before they start to develop a stain.
if you're looking for a moisturizing and natural looking lip colour that can fool others into thinking that you're not wearing anything on your lip at all, look no further, give these drugstore gems a try.
i got them in hong kong's sasa and watsons for $98 and $68 (they were running some promotions).

MAKEUP LOOK
040 rendezvous
040 rendezvous
045 romantic (as a very light tint)
045 romantic (slightly stronger colour)
050 precious
xoxo
karman