Dollywink Eye Shadow 02 Grey Pink
dollywink is a cosmetic line produced by a japanese gyaru model, masuwaka tsubasa.
i think they are most famous for the eyelashes, as she was one of the first to produce a line specifically for gyaru? i'm not too sure on this, please don't quote me!
my girlfriend picked this palette up from japan when she was travelling. i believe dollywink was clearing their own stock as they recently underwent a brand and pacakaging renewal, so she got this palette for a steal!
the eyeshadow palette is encased in a black plastic case with some girly twirls embossed around the transparent heart shape window which allows you to see the shades directly.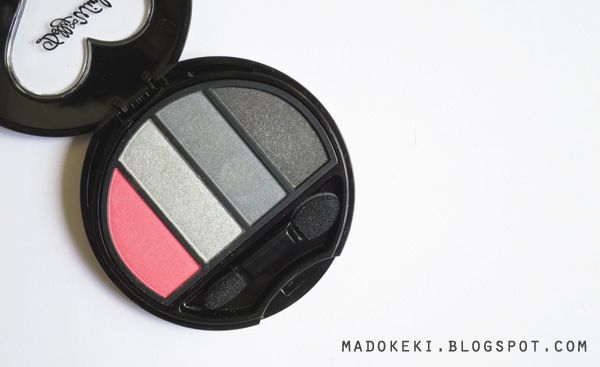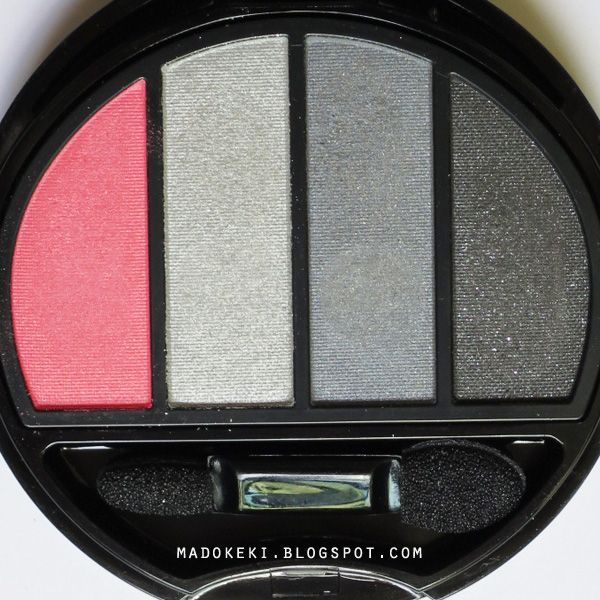 swatched over powder foundation
over all, the shades are rather soft and blends easily, but not very pigmented, it requires 2 swipes to get the above intensity.
the
first shade
is a blue based hot pink and has a satin finish.
the
second shade
is a silver/grey shade with a slight metallic finish.
the
third shade
is a greyish blue with silver micro glitter and has a satin finish.
the
last shade
is a darker grey that has a satin/matte finish. although the colour blends out easily, but not as dark as it looks in the pan.
IMHO:
as the pigmentation of this palette is relatively lower than the other palettes that i have, it makes it a little harder to work with the colours as a washed out blue and grey will easily make it look as if i have a dirty eye instead of a made up eye. i know right.. it's just that easy for the makeup to go wrong!
however, if i follow the instructions given by this palette to create the look that it's meant for, it turns out pretty fine! i wish the pink is more pigmented though, because it's such a pretty pink, and i like it's finish!
with regards to the texture, it's not as soft as kate's eyeshadows. those are still the softest i've ever encountered, making them the easiest to be picked up by an eyeshadow brush. these required more effort.
i got this as a gift from my gf when she was travelling in japan.
MAKEUP LOOK
xoxo
karman