HOW TO: Glowy Skin With Powder Foundation (ft. My Go To MakeUp)
i put together this video because i struggled with unnatural and flat looking skin before i adopted this method. everything is pretty much trail and error and this is what i've got so far! i love the glowy effect these powder products gave me! it can't compare to the effects of liquid and moisturizing products, but i can't always rock those looks as it'll just melt off in Singapore's climate.
powder foundation is in fact one of the fastest thing that i can apply onto my face (as compared to liquid products), and i've found that a flat top brush gives me the best finish as of now. the buffing motion probably polished my face somewhat, the powder are sticking really close to my skin (thanks fo the moisturizing step prior to that) and it's pushed into every visible pore.
the secret to getting glowy skin is none other than the highlighter (and a shimmery blush too). the highlighter makes our skin shiny and a little more specular-reflective. i'm not saying matte foundation powder don't reflect light - everything that you can see (that don't produce its own light) reflects light, but powder foundation tends to produce scattered light, whereas highlighters produce more of a
specular reflection
. IN LAYMAN'S TERM, highlighter is making our skin more "mirror like".
i think an image would explain this better.
image taken from the
world wide web
.
as always, be creative! if you only have a matte blush, use the blusher before the highlighter! the highlighter will go on top of the blusher to give you that glow.
and i just had to throw in my "daily" 10 minutes makeup look. i call it daily because that's my default look if i'm not intending to look fancy, i would have called it my auto-pilot look but i'm not sure if anyone can relate to that. it took longer in the video (like 18 minutes?) because of the extra cuts. otherwise it's just 10 usually!
watch the video here!
PRODUCTS USED____________________________________________________________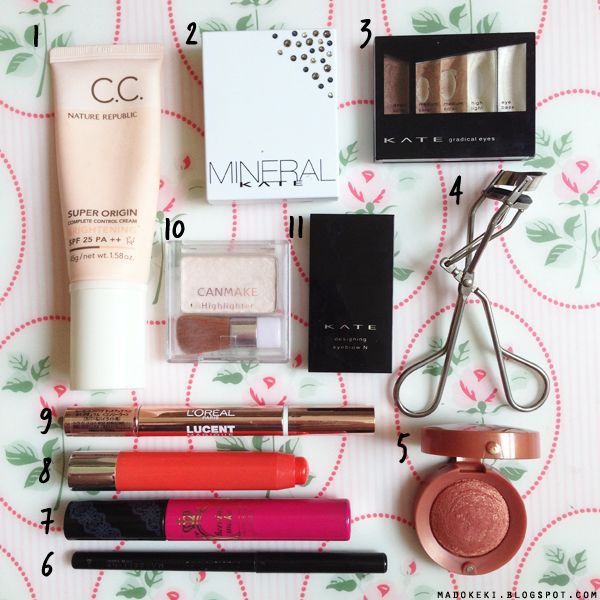 from left to right, clockwise:
1. NATURE REPUBLIC super origin brightening CC cream
2. KATE mineral foundation powder (OC-B)
3. KATE gradical eyes A (BR-1)
4. KOJI eyelash curler (73)
5. BOURJOIS little round pot blusher (32 ambre d'or)
6. MAYBELLINE masterliner (brown)
7. HEROINE MAKE volume & curl mascara
8. REVLON just bitten balm stain (040 rendezvous)
9. L'OREAL lucent magique highlighter pen (fair)
10. CANMAKE highlighter (05)
11. KATE designing eyebrow N (EX-4)
BRUSHES USED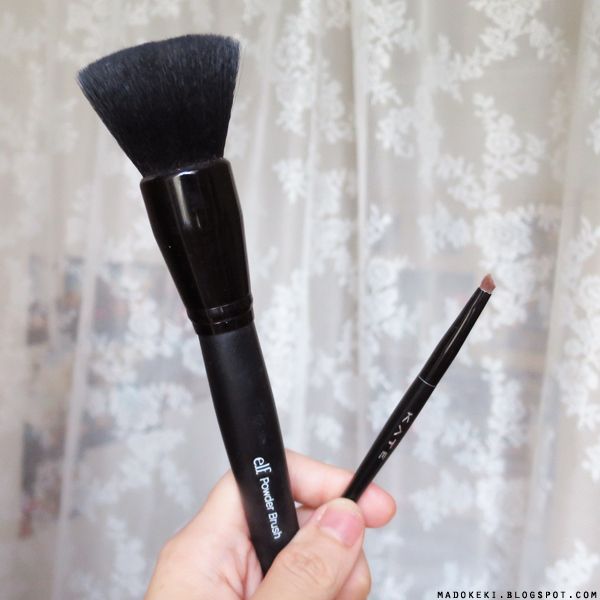 face: elf powder brush
eyebrow: kate eyeliner brush (cut into an angled brush by me)
the elf powder brush is a flat top brush, awesome for buffing in products.

PICTORIAL_________________________________________________________________
i just put the more important things into image form for easy reference!
BASE MAKEUP: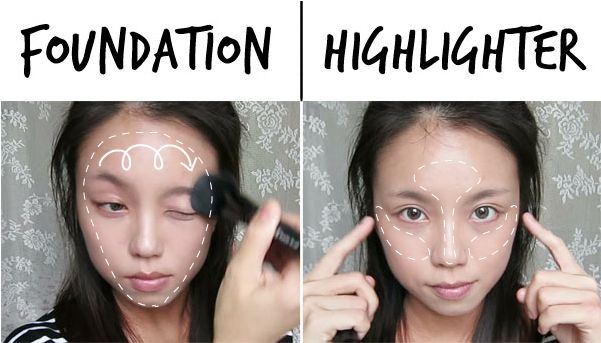 1. FOUNDATION
i tend to apply foundation on on the centre of my face for a more natural effect. that already helps to bring the centre of the face up due to the brightening effect of the foundation (i use a tone lighter than my skin tone). buff it out in small circular motions for a polished and tight fitting look.
2. HIGHLIGHTER
buff the highlighter onto the highest point of your face, namely the T zone and along the cheekbone. without makeup, these places will appear lighter in colour due to the amount of light they reflect. since we "flattened" our face by unifying the colour on our face, we need to lift these places up.
i think pearly highlighters are more natural as they only reflect more light under direct light source. if you want a more theatrical look, you can opt for a light coloured concealer to do the job.
buff it in for a tighter fit, the effect will be more obvious than if you were to use a fluffy brush to dust the highlighter over your skin.
EYE MAKEUP:

click on image to enlarge!
this is my most used colour placement. i tend to use this for most of my eyeshadow quads:
1. lightest colour as a base,
2. medium colour on the outer half for depth,
3. darkest colour along outer half of my lash line, blended upwards for a gradient effect, same colour applied on the outer third of my lower lash line too.
4. highlight colour either on the centre of my lid or just my inner corners.
FINISHED LOOK____________________________________________________________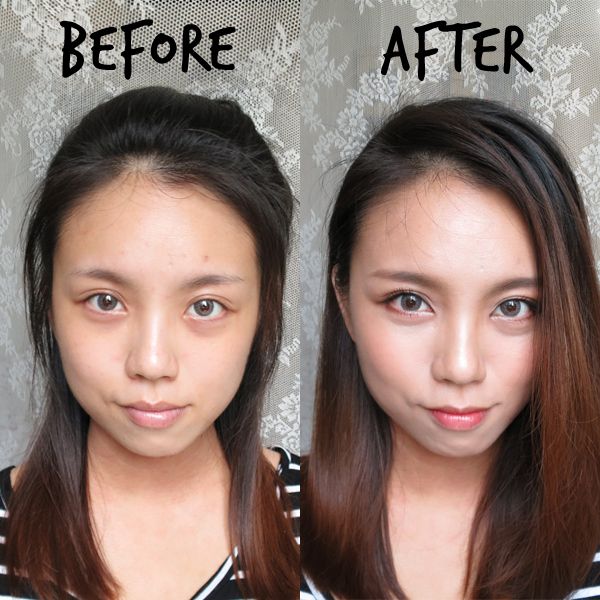 because i find it hilarious to do a side by side comparison :X
flashed from the front.
the highest point of my cheek is being brought "forward" as it looks lighter in colour.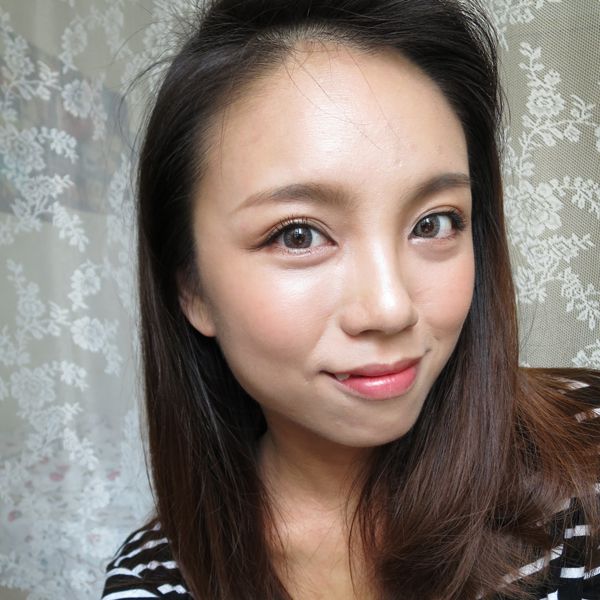 natural lighting from way above me.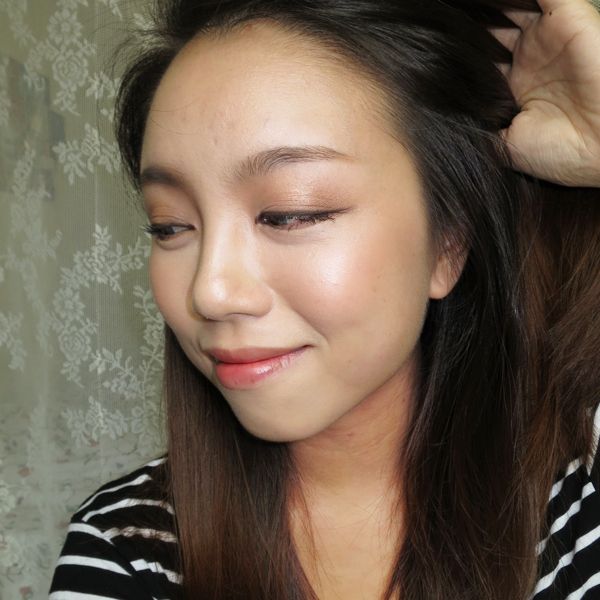 flashed on the side of my face.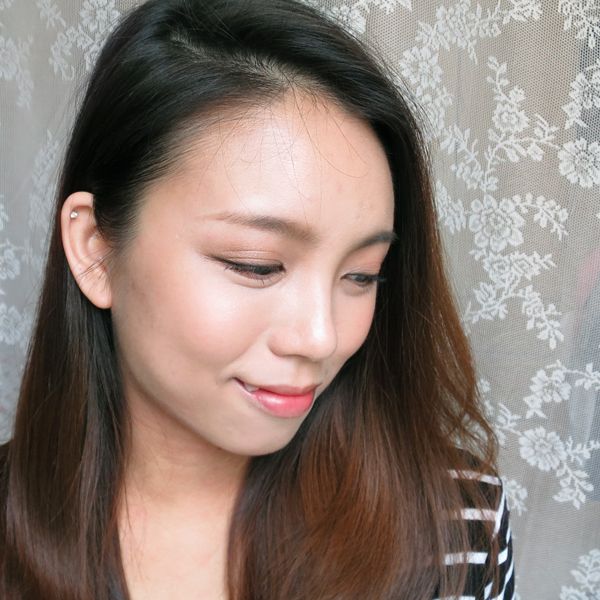 natural light on the side of my face.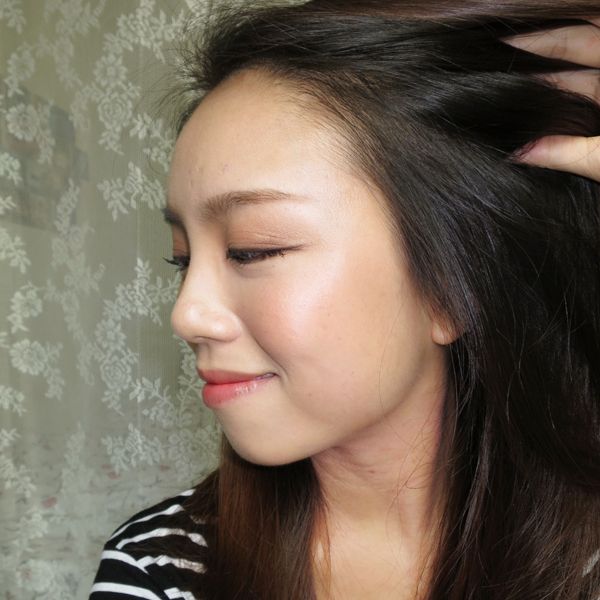 flash on the side of my face. see that "C area"? that's the highlighter! you don't see it in the previous photos because pearly highlighters only reflect light when it receives a direct light source.
natural light. i think the highlighter helped to make my cheeks look fuller and more three dimensional!
hope you found this useful for days when you're rushing but still wanna look good!
xoxo
karman