Pupa Multi-Effect Baked Eye Shadow Duo 30
this is another eye shadow that is gifted to me by my girlfriend.
you know she's a keeper when she feeds my addiction without me asking!
i'm not too familiar with pupa then (even now), she just picked this colour for me thinking it'll suit me.
it's a eye shadow duo that comes in two shades of blue.
anything baked has a good colour payoff. this is no exception.
it comes in a clear plastic case, and a dual ended sponge tip applicator.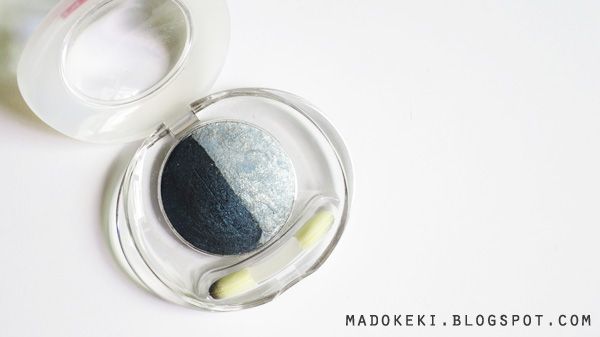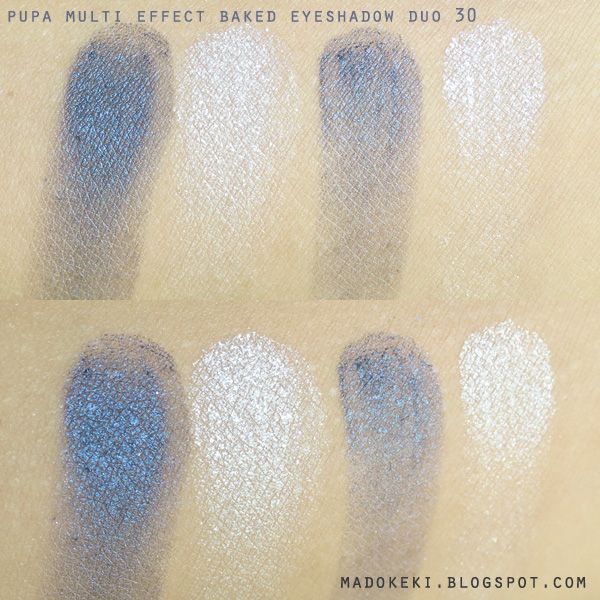 swatched over powder foundation.
the two swatches on the left are wet swatches, while the two on the right are dry swatches.
the
darker shad
e is a electric blue that has a iridescent/metallic/chrome finish (i can't find the right word to describe it, there is a this sheen when seen at different angles). i see some red micro glitter in it!
the
lighter shade
is a shimmery wash of light blue, almost a frosted finish but contains a lot of silver micro glitter and shimmer.
both the shades are very soft and pigmented, of course if it is applied wet the colour will be even more solid.
the powder are picked up easily by either a brush or fingers. i seldom use the sponge tip applicators, but when i did use it, it sort of took away that metallic sheen to the darker blue shade.
IMHO:
i seldom wear this palette on its own. i usually pair it up with the kate diamond cut palette to create an electric blue eyes. i like that the finish of the dark blue shade, for it shows its true colour as compared to shimmery or glittery shades.
this palette is so versatile as it can be worn dry or wet.
i usually apply the lightest shade on the centre of my lid to make it standout, while using the dark blue shade as an electric blue eyeliner on the outer corner of my eyes.