Dr Jart+ Black Label Detox Healing Blemish Balm
just how long do i keep my makeup products? for quite long. i've retired this bb cream as of late, but i want to note down a little bit more about this product first.
i got this about 4 years ago and it's my first full sized bb cream. i remember seeing my cousin use it and i love that it has a higher coverage than most bb creams in the market at that time (back then the skin79 was really popular, but too watery and thin for me).
it has served me well the past few years. by now,
dr jart
has already changed their packaging (i realize they have a slight different packaging for the
american market
) and offer a lot more selections in their base makeup line. back then it was only the silver label (meant for oily skin) and black label (for drier skin).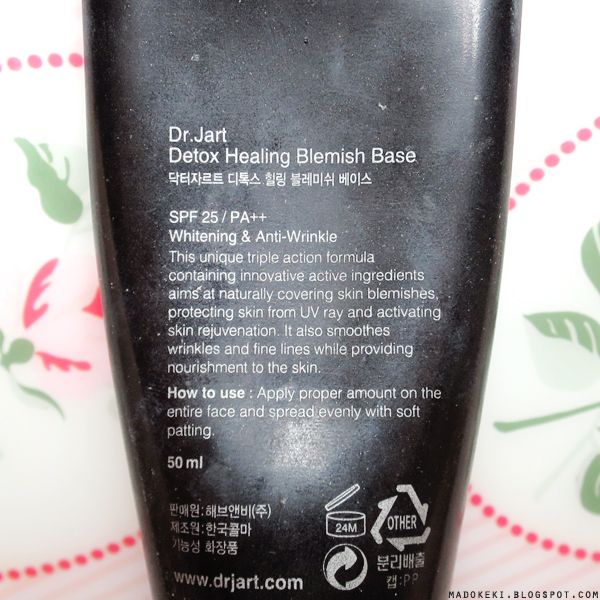 product description at the back of the tube.
1. whitening
2. anti-wrinkle
3. sun protection (SPF25)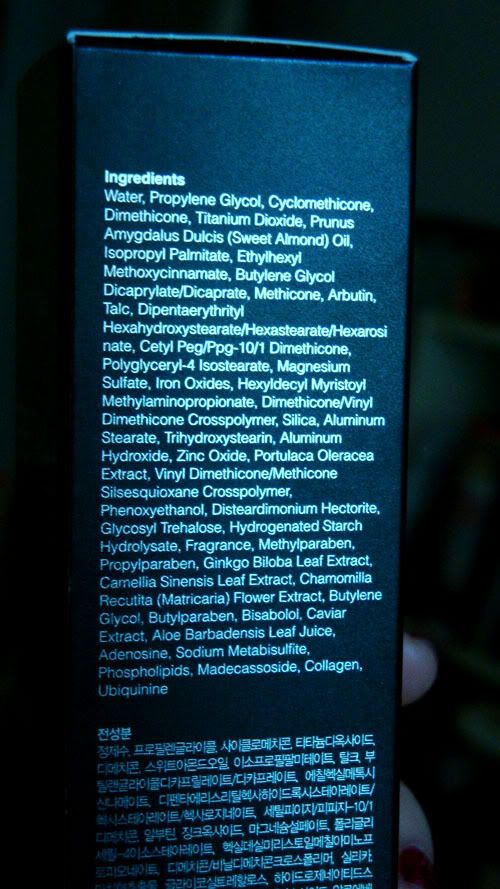 ingredients list from a while ago.
the things that stand out to me are: sweet almond oil (for moisture), arbutin (for whitening), all the other floral extracts are pretty much at the bottom on the ingredients list, i doubt they have said effects. collagen and Q10 (ubiquinine) too? wow, i just realize how much skin care stuff is in this product, at such a minute concentrations (lesser than the preservatives, also known as parabens). can't dispute the "detox healing" branding of this product! but efficacy? that's another story.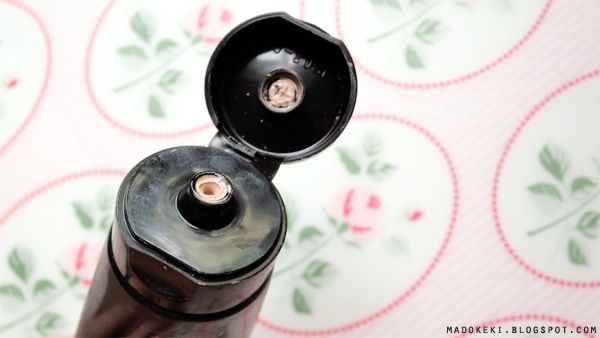 comes in a squeeze tube with a rather huge opening.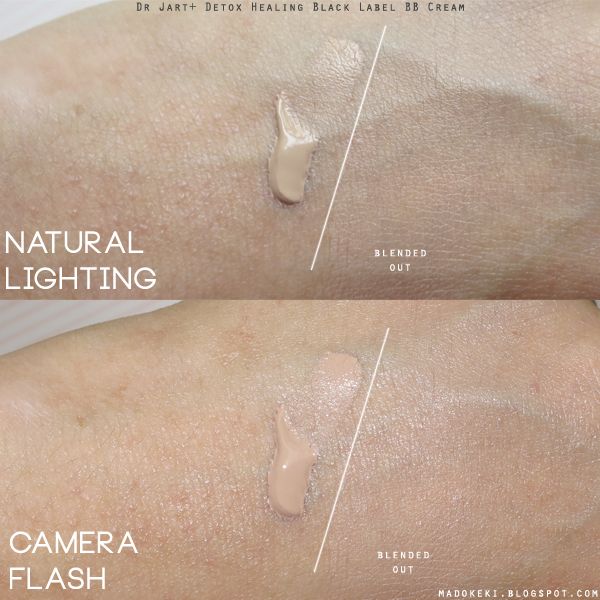 taken in two different lightings: natural and camera flash.
the bb cream has a greyish undertone to it (but do not be alarmed! more on that below!), but blends out to offer a slight hint of brightening for the skin. it doesn't appear warm nor cool after blended out - just neutral.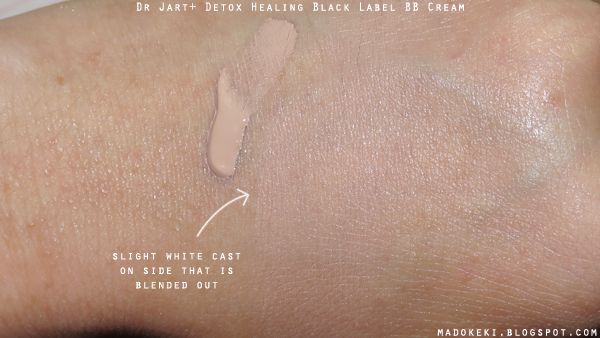 close up in flash lighting.
this bb cream leans on the moisturizing side, so there's a slight sheen to it. there'a also a slight greyish/white cast in flash lighting.
the product is scented.
IMHO
firstly, even though it appears very greyish on my hands, it is able to brighten my face pretty well. i think it's because the grey is able to counter the pink and yellow tones on my skin and neutralizes it to give an illusion of fairer and brighter skin. it is rather mind boggling because the bb cream appear to dark coloured and grey on my hands in another swatch i did (will be up soon), but on my face, it looks just fine!
secondly, perhaps it's the age of this product, or it could be the weather (and the constant blotting of my sweat), this product can't stay on my face for too long - it loses its brightness after a few hours in the heat (even after powdering). however, in an air-conditioned setting, my face stills look bright and fine! this is a very moisturizing bb cream, so i think it's best for cold and dry weathers instead! for the hot and humid weather in singapore, i'm better off with my revlon colorstay foundation.
thirdly, the coverage of this product suits me pretty well. it's consistency is a little stiffer than normal bb creams, it's pretty much like tooth paste! like i said, i got this because i needed something of a higher coverage to lighten my dark circles, and i got what i wanted :D
i can't say much about the anti-wrinkle and whitening effect of this product. don't bank so much hope on it, really. i use it for its higher coverage so that i can lighten my dark circles and brighten my T zone and inner cheek area. assuming that the maximum concentration of parabens allowed in the product is 4g/kg of product (meaning 0.4 w/w%), the concentration of said skin care benefits must be even lower than that. not sure if that will be enough for anything to happen.
i purchased this from hk for HKD$120~.
IN A NUTSHELL
1. able to brighten up my face even though it has a strange grey cast on my hand
2. creamy and blendable
3. slightly higher coverage than watery bb creams
4. scented
5. moisturizing (and thus, not long wearing)
MAKEUP LOOK
i used to wear this very often in the past as it was the only foundation i have. i still use it when i want to create a very moisturized and dewy look.
xoxo
karman