Canmake Cream Cheek 05 (Swatch and Review)
these blushers are constantly in the top 5 of the
cosme ranking
, and it has been that way since the year i bought it (back in 2010 OMG). it topped the chart in 2013, and now it's taking the number 3 spot. not bad huh!
canmake is a drugstore brand in japan, and for their petite price (japanese way of saying really affordable price), they offer really good quality products. these are sold in japan for a mere 580yen, of course it cost a lot more in hong kong (HKD$76) and singapore (~SGD$18), but it's still cheaper than many other brands.
in summary, these cream blushers are easy to blend, true to colour, and has buildable pigmentation. in fact, the colour is pretty strong, so you only need a tiny bit to give your face a healthy glow. the formula makes it a breeze to blend on my cheeks without any patchy-ness. it's super easy to work with even for beginners as you won't have to worry about leaving streaks or marks on your face if you don't work it in quick enough.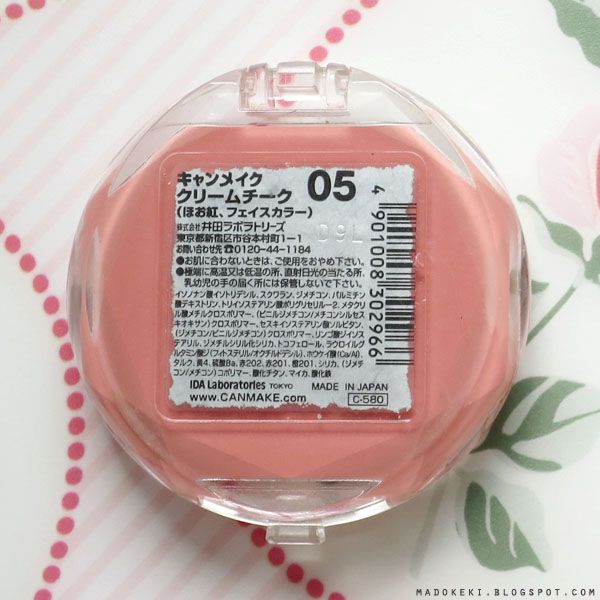 i got it in shade 05 sweet apricot. it's a coral shade.
please ignore the two tone differences, the product has aged so the colours appear darker on the untouched surface. the true colour is the well in the middle - a peachy coral shade.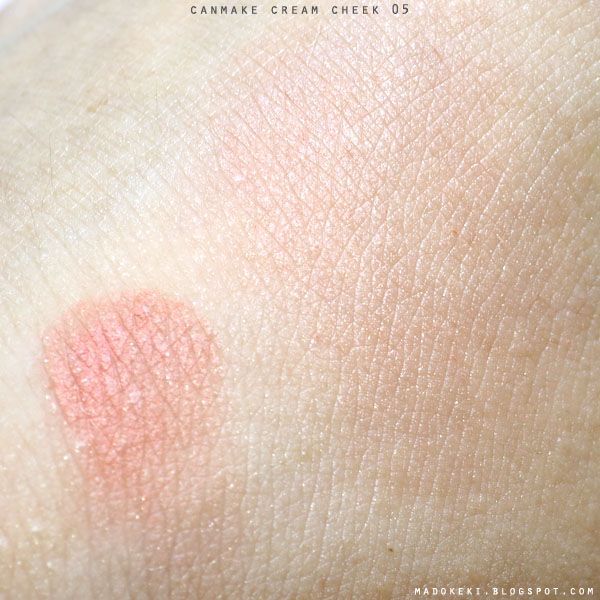 concentrated swatch on the left, blended out on the right.
when applied on my hand, it is a
healthy glow of reddish orange colour
. it
comes with glitters
, however they're quite invisible when viewed from afar. i feel like
the product goes on matte, but it doesn't mattify the face
. it feels like a super finely milled powder after blending out with my fingers.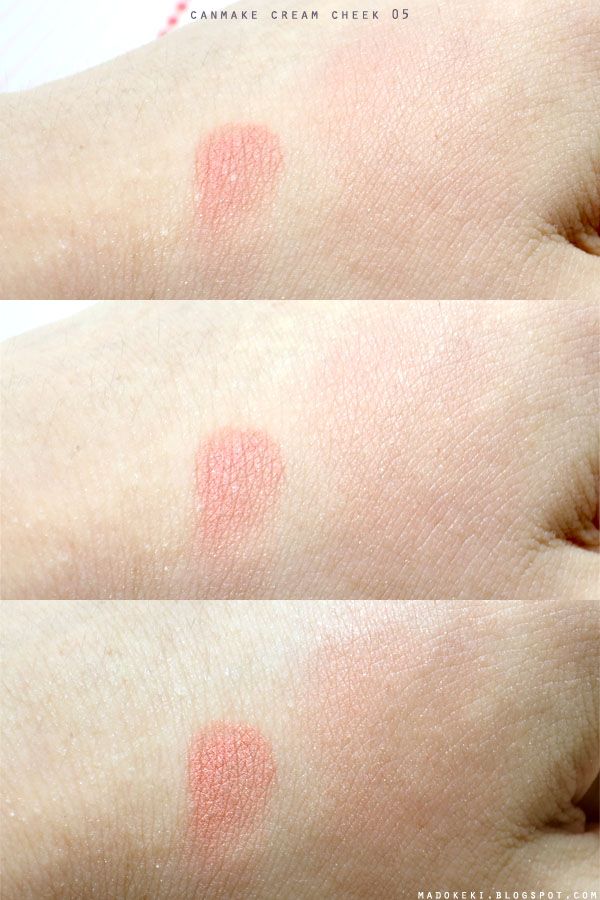 seen from three different angles to show the sheen and finish.

IMHO:
i can totally understand why the japanese love this product so much - the formula is easy to work with and the colour is just amazing. application is smooth as breeze as there're no issues with patchy-ness or product not staying on the skin nicely. the effect is super natural, just what the japanese likes. it actually makes my skin looks as though it's glowing from within. the fact that it's a cream (slightly moussy) formula makes it blend into my skin that much better to give off that illusion.
the product is also really pigmented such that i only need to tap my finger lightly to get a little product for my two cheeks. a little goes a long way (i learnt this the hard way).
i like to dab and tap this in a circular motion until it's spread throughout my cheeks. it would be best to apply this prior to any powder products. if you must use a powder foundation, all the more you should tap (instead of rub) the product onto your skin to prevent caking.
i used this a lot more in the past as compared to of late, i think it's time i show it more love again.
i bought this for HKD$76.
MAKEUP LOOK:
applied lightly.
applied very lightly.