Canmake Eye Nuance 13
so this is my first ever eye shadow palette that started it all.
i know right, what's the point of swatching something that's already so old (the letters that were printed on the cover are now gone with the wind) and discontinued!? (yea, i checked their website, they only have colours from number 20 onwards now!)
i realize how many eye shadow palettes i have, i thought it'd be fun to start swatching them and sharing it here!
so what if the products are discontinued, i still like to see the pretty colours all at one glance!
the canmake eye nuance eye shadow palette is meant for make up beginners who have not much idea about the different colour variations. canmake gives you 3 colours that complements each other well, all you have to do is to apply it from light to dark to create a soft gradation on your eyes. considering the make up noob i was 6 years ago, i really do agree that this palette is make up beginner friendly, and extremely easy to use.
the eye shadow comes in a clear plastic round case, there are no applicator or brush coming along with it.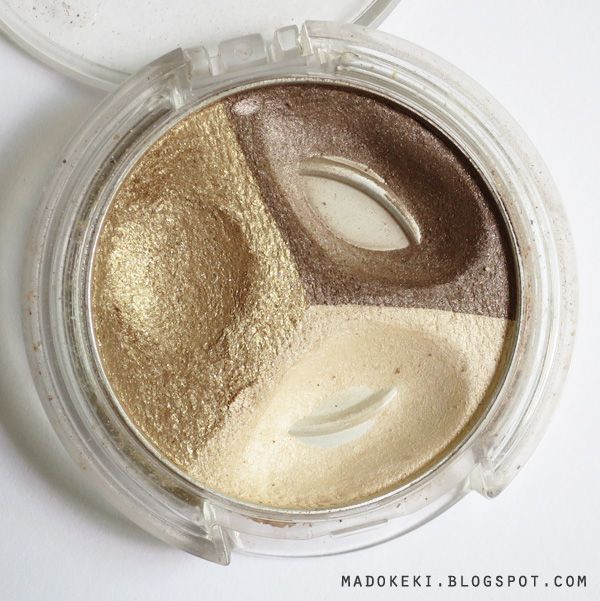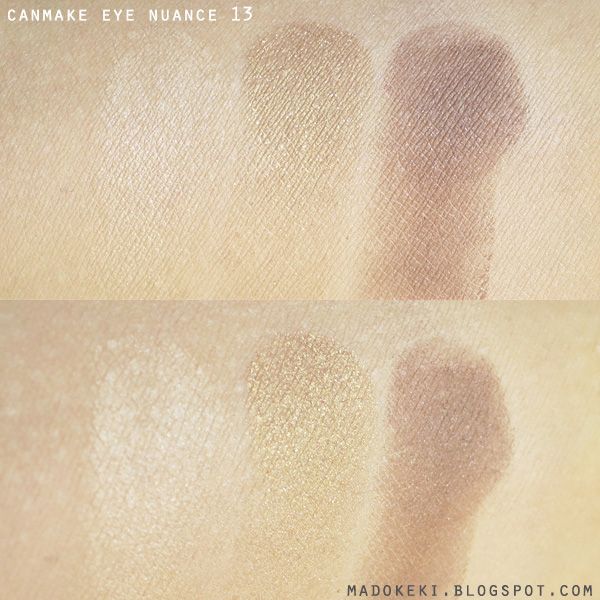 swatched over foundation powder.
the palette contains 3 colours,
the
lightest shade
is a light milky beige colour of a satin finish, no glitter or shimmer.
the
medium shade
is a metallic gold shade,
and the
darkest shade
is a brown with a slight red undertone. it has some micro shimmer over a satin base.
all three shades are very soft and smooth and can be picked up easily with either my finger or a brush. the lightest shade however, does not show up that well on my skin as its colour is too close to my skin tone. it does work as a very good blending colour to soften any harsh edges.
the gold shade is very pigmented, while the darkest shade acts more like a translucent brown on my skin. its intensity can be built up by adding a few more layers. i used to layer it over my eyeliner for added intensity, and to soften the look of my eyeliner, lastly, to set my eye liner so that it stays the entire day!
IMHO:
i like this palette, in fact it was the only eye shadow palette i had for a very long time. you can totally tell which shade i used the most.. haha! this palette can help me create a soft brown eyes that looks very natural. the gold shade adds a metallic sheen to my eyes, i love using it on my inner corners and the inner half of my lower eyelids.
the powders aren't the softest i've ever used, but it's much better than maybelline's hyder diamond eyeshadow, those are diamond hard (not sure if that's a good thing for eyeshadows). it's easily picked up with my brush and finger.
note: this particular shade is discontinued.

Follow my blog with Bloglovin