Kate Gradical Eyes A BR-1
ever since i got this palette, i sort of neglected the
canmake eye nuance
.
yet another brown eye shadow palette!
the palette features 4 shades to help create a gradation eyes (hence the name, gradical eyes). it includes an eye base that helps the eye shadow adhere better, it also allows the colour to show better on the eyelids. as with all other kate eye shadows, there is a simple instruction on the back of the outer packaging (which i've thrown away) to teach you how to use this palette.
i adore this palette as it is as easy as it can get. it is slightly better than the canmake eye nuance in a sense that it has more "middle shades". well, there are 4 shades as compared to just 3 shades after all! plus, the highlight colour actually does highlight well, unlike the lightest shade in the canmake palette.
i might sound a little biased as you read on in the future, because i have a liking for kate products. their packaging is one of the reason why i like the brand so much! a sleek black plastic case (i think this is part of the cool girl image they try to construct, and i declare myself to be a cool girl :P) that has grooved transparent "windows" that adds some dimension to the eye shadow. the whole thing just looks so pretty even before i open it up.. of course, after you open it up, you will realize there are no embossing on the eyeshadows. the appearance of them being dome like is due to the casing. what an illusion! albeit a pretty one.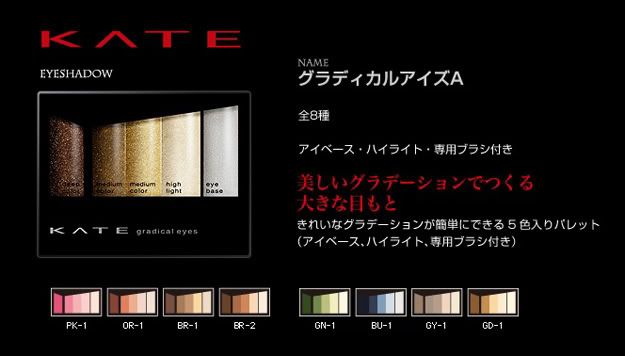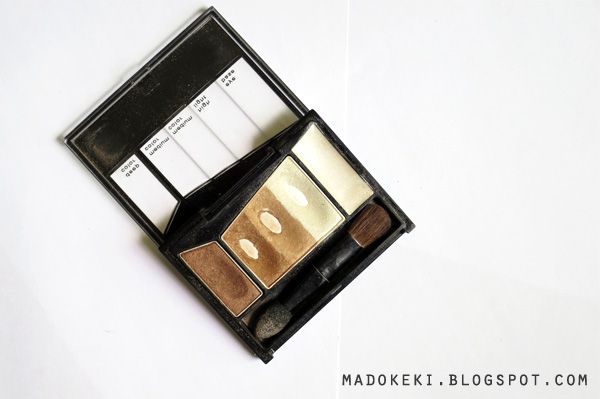 the eyeshadow palette comes with a dual end applicator: sponge tip chip and a horse hair brush for blending purposes!
i love the brush as it works extremely well! the hair is fine, and it's soft and fluffy too!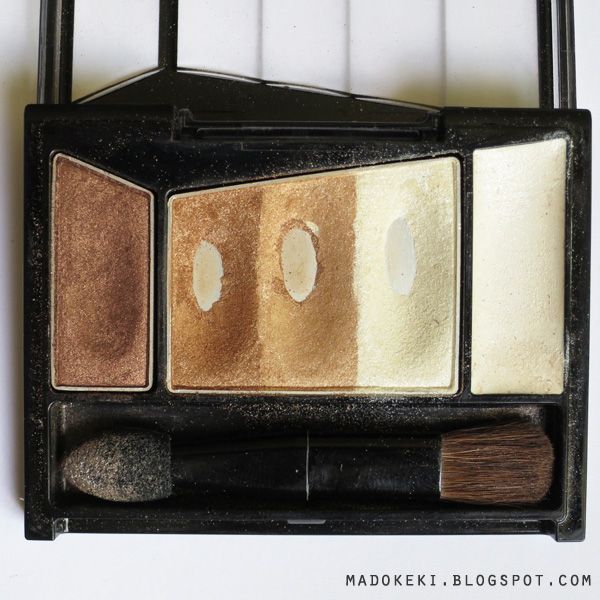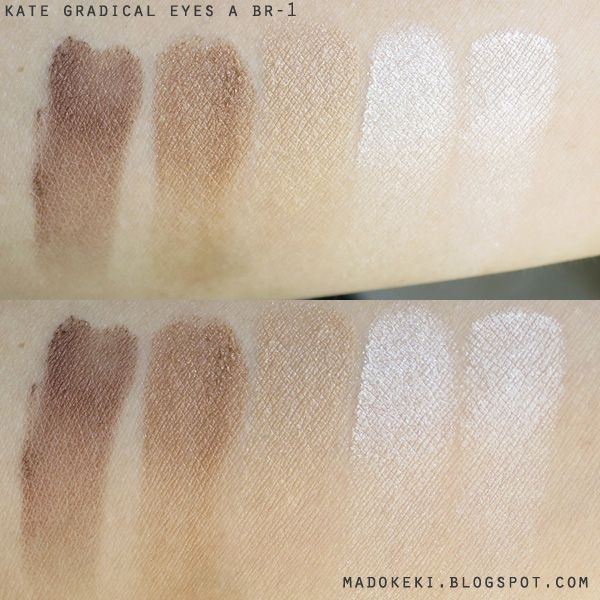 swatched over foundation powder.
the powder is soft and easily picked up by either a brush or fingers. all of the shades have a satin finish, with a slight translucent shade (when applied with the brush) that can be built up. for a more solid colour, it can be applied with the fingers or the sponge chip. it will then have a slight pearly sheen to it.
from the left to right,
the
deep color
is a brown with red undertones. when applied heavily, it may look slightly metallic.
the
darker medium
colour is a copper shade.
the
lighter medium
colour is a champagne gold shade.
the
highlight
colour is just a wash of white that contains micro shimmer.
the
eye base
has a pearly finish, it actually reflects more light than the highlighter!
IMHO:
judging by the fact that i touched pan on this eyeshadow in a mere two years, i think you won't doubt that i really like this palette. in fact i was thinking of stocking up on this palette as i believe they are going to be discontinued soon (if not, already discontinued :(..). japanese eye shadow palettes tend to be on the translucent side to add to that natural factor, but building up would not be a problem at all. i like the finish of this palette - the satin finish makes the look look very smooth and natural, yet adding some dimensions to the eyes as compared to matte finish eye shadows. the powders are soft and easily blendable, no more harsh lines on the eyes!
i also realize i severely under utilized that eye base. it's not really there as a primer per se as it doesn't help in preventing creasing, however it allows the colours to show through better after using it.
AND! how can i forget that brush!?!?!?! the fluffy brush is really good for blending out the eyeshadows, and i have been using it instead of my own eyeshadow brush (which is the elf eyeshadow c brush) as it is more precise and fluffy. perfect for blending.
i bought this for HKD$100~ from hong kong sasa.
MAKEUP LOOKS