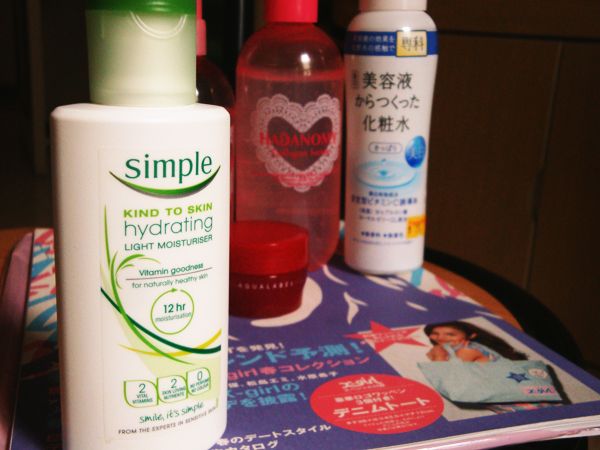 this is my 6th or 7th bottle already.
nuff' said.
i just can't live without this little gem!
price:
SGD$6.80
i bought this from the toiletries shop located in chinatown people's park complex.
it retails for twice the price in watsons or guardian.
what it claims:
- 12 hour moisturization
- contains vitamins
- borage seed oil
contains gamma linoleic acid, some good stuff for the skin!
- no fragrance or color
so it's suitable for those with sensitive skin
sometimes i feel that this brand tries to promote the image of not using a lot of chemicals in their formulation, but when i look at the ingredient lists, i seriously doubt that because i see quite a long list of chemicals being used!
Aqua

,

Glycerin

,

Paraffinum Liquidum

,

Polyglyceryl-3 Methylglucose Distearate

,

Cetyl Palmitate

,

Dimethicone

,

Cetyl Alcohol

,

Panthenol

,

Borago Officinalis Seed Oil

,

Carbomer

,

Potassium Hydroxide

,

Bisabolol

,

Methylparaben

,

Pentylene Glycol

,

Tocopheryl Acetate

,

Acrylates/C10-30 Alkyl Acrylate Crosspolymer

,

Disodium EDTA

,

Propylparaben

,

Lactic Acid

,

Sodium Lactate

,

Mica

,

2-Bromo-2-Nitropropane-1,3-Diol

,

Serine

,

Sorbitol

,

Urea

,

Titanium Dioxide

,

Sodium Chloride

,

Allantoin
source:
simple website
i'm not joking when i say the ingredient list is long. kind of opposes the brand 'simple' because it's not that simple after all..
amongst the well known hydrating agents and humectants in most creams (such as aqua, glycerin, and paraffinum liquidum, sodium lactate and urea), the rest are either additives to soothe the skin, or to control the viscosity/pH/texture of the cream, and some preservatives (propylpareben and the 2-bromo-BLAH!-diol).
what sets it apart from other creams is the addition of more natural ingredients, in this case, the borage seek oil.
the vitamins it contains are vitamin E (tocopheryl acetate) and pro-vitamin B5 (panthenol).
the rest are really just.. fillers, in my opinion.
oh well..
however i've never once reacted to the cream, and it did keep my skin well moisturized, so i don't really care!
my experience with it:
i used to use this every night back then when i sleep in air conditioned rooms.
it was able to keep my skin moisturized throughout the night, i will wake up to smooth and moisturized skin!
these days i no longer use my a/c, so i use this fortnightly.
perhaps it's because i don't sleep in a/c anymore, my skin actually releases a small amount of oil throughout the night.
natural moisturizer? :)
i love it's texture. it goes on smoothly and is absorbed into the skin quickly, leaving my skin soft and supple.
it doesn't make my skin feel sticky or whatsoever!
i still use this before i do my makeup because it preps my skin up into a smooth canvas, my makeup goes on a lot easier with this on!
plus it's so affordable, it doesn't hurt my wallet to use this cream at all.
whether the cream really hydrates me for 12 hours.. i can't test that claim.