How to enlarge your eyes with makeup
people always say make up does wonder, and boy it sure do!!!
with a little help from circle lenses, falsies, and eyeshadow, everyone can get bigger eyes!
do note that this look will require double eye lid tape if you have narrower double eyelid folds, this is because the added double lid width will add "height" to your eyes, making them look bigger.
check out this week's video tutorial ;)
read on for more info!
PRODUCT USED:________________________________________________________________
1. media cheek color A (PK-1)
2. canmake highlighter (05)
3. kate designing eyebrow N (EX-4)
4. catrice made to stay highlighter pen (010 eye like)
5. heroine make smooth liquid eyeliner
6. heroine make volume & curl mascara
7. maybelline eye studio gel liner (brown)
8. revlon colorburst lip butter (080 strawberry shortcake)
9. loreal shine caresse lip stain (801 princess)
10. kate gradial eyes A (BR-1)
11. demi lashes
12. (NOT IN PHOTO) GEO hurricane brown HC-104 circle lens.
i actually cut up a piece of false lash to get the pair of demi lashes,
just make sure the original lash is shorter on the outside and longer at the center.
the eyeshadow palette used for this look is the gradical eyes palette from kate,
it allows me to achieve a smooth gradient across my eyes easily :)
COLOUR MAP_______________________________________________________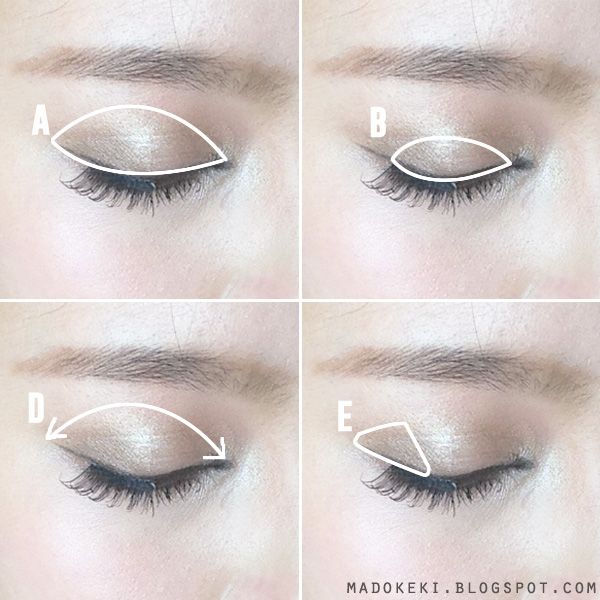 1. apply the eyeshadow base A over the entire lid.
2. apply B, the highlighting shae on the centre of the lid.
3. using D to contour the eye lid fold/crease area.
4. add more depth to the outer corner of the eyes using E.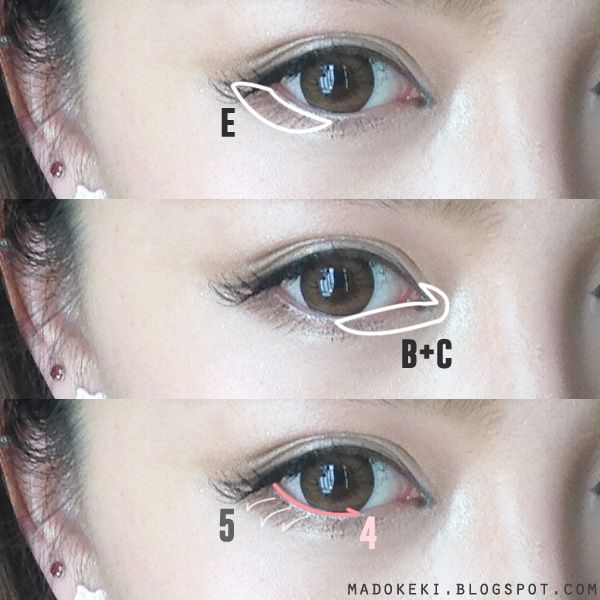 1. apply E onto the outer half of the lower lash line.
2. mix B and C together to highlight the inner corner and the inner half of the lower lash line.
3. using the liquid liner (5), draw tiny strokes on the lower lid to make it look like long lashes.
4. apply the pink highlighter pen (4) to the lower water line to open up the eyes.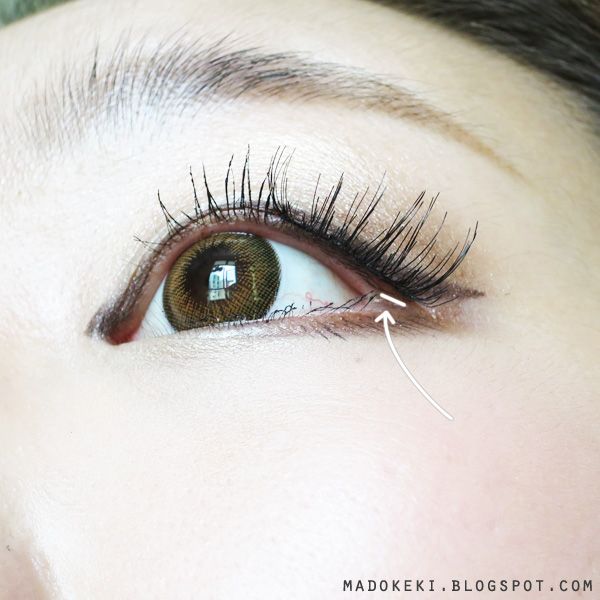 when apply the falsh lash, extend it beyond the original lash line slightly as shown in the image above,
this will lengthen your eyes!
i also stuck them slightly away from my lash line towards the end to open up my eyes more.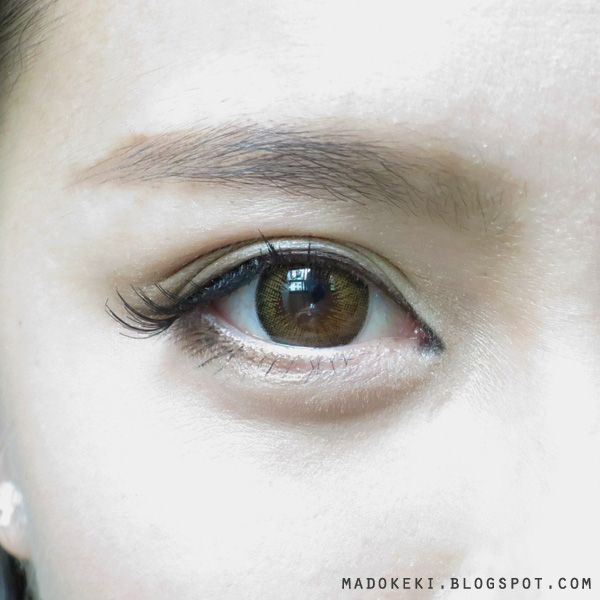 the lashes look quite subtle form the front even though from the top it looks long and kind of unnatural.
the longer ends pulls the eyes longer, making them look bigger than they actually is :P
FINISHED LOOK________________________________________________________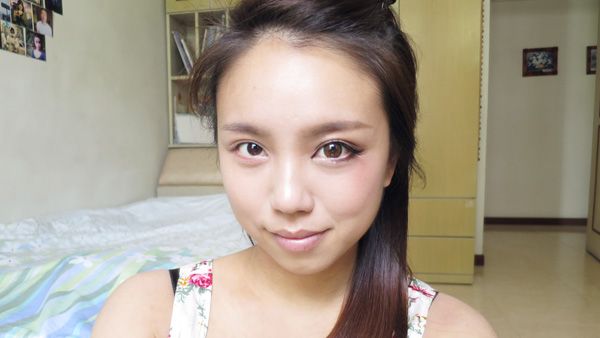 before,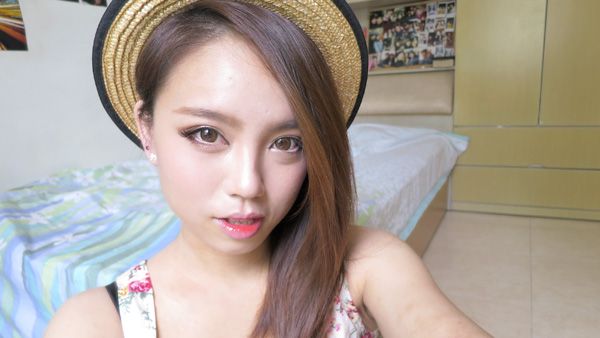 and after!
PICTORIAL____________________________________________________________
a step by step pictorial for the eyeshadow i did for instagram!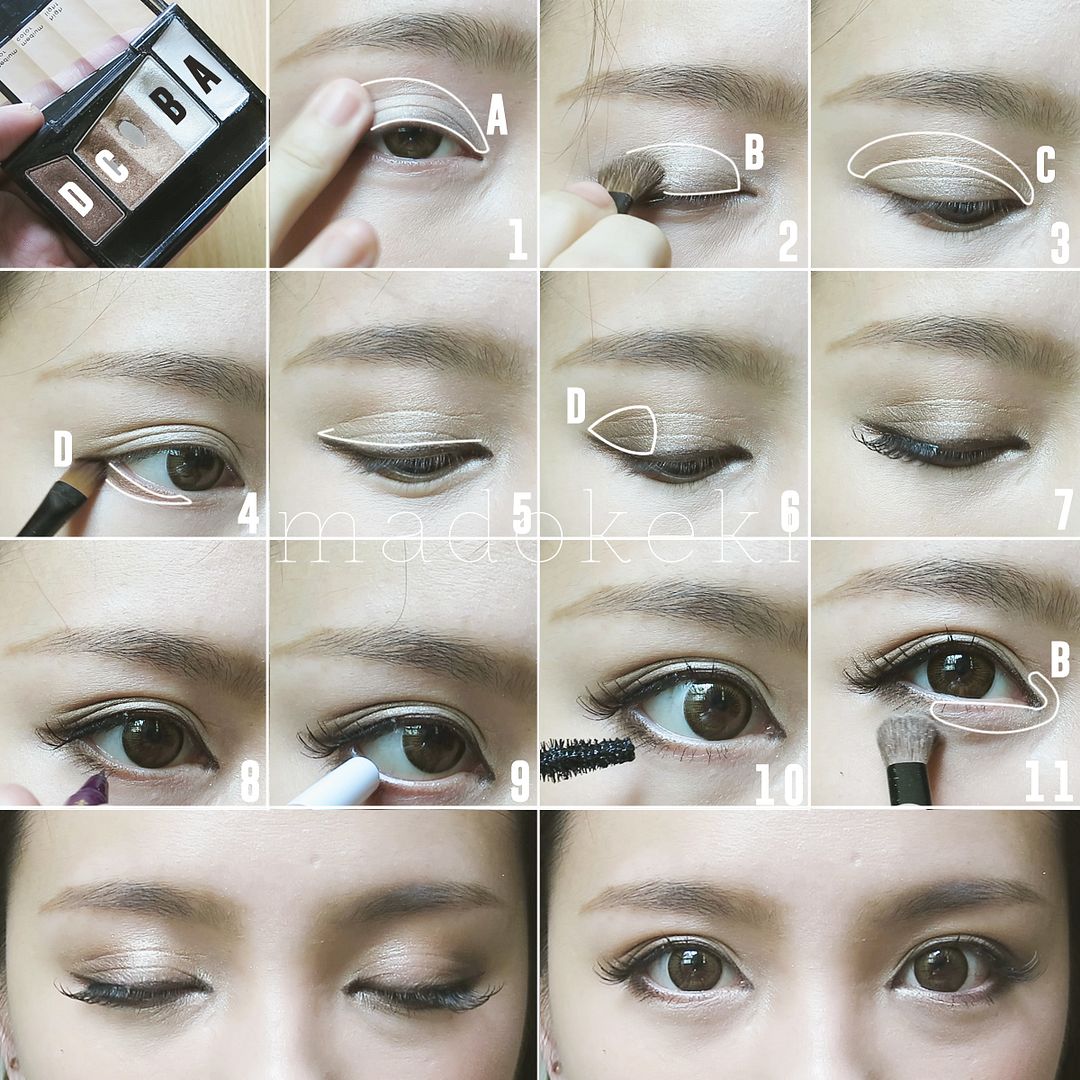 click to enlarge!
hope you enjoyed this look!